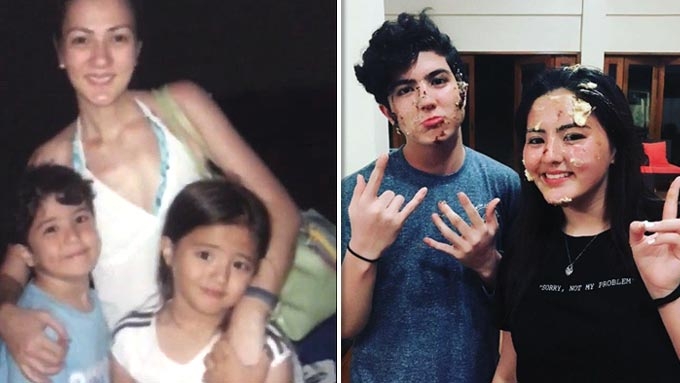 IMAGE mina_villarroel / zoren_legaspi on Instagram
---
Twins Cassy and Mavy Legaspi marked their 16th birthday last year with a Coachella-themed swimming party in Nasugbu, Batangas.
For their 17th birthday this year, they opted for a much simpler family celebration which was held at a fancy restaurant.
Carmina Villarroel got sentimental with her birthday message for her kids, and also collated printed photographs of Cassy and Mavy when they were still toddlers.
On Instagram, she wrote, "Happy Birthday Cassy and Mavy!
"I still wonder how I carried you both in my stomach for nine months.
"One will cry, the other one will be quiet, one will be asleep and the other one will be wide awake, one will be dry and the other one will be wet.
"Sometimes both of you will get hungry at the same time.
"Those memories will be forever precious and will always be in our hearts."
Carmina also shared a quote she read somewhere, "20 tiny fingers, 20 tiny toes, 2 babies to cuddle, 2 babies to snuggle, 2 babies sleeping by side side, 2 babies growing side by side, 2 heart melting smiles, 2 heart melting kisses, 2 babies chatting, 2 babies giggling, 2 best friends to share their life together with double the hugs and double the love.
ADVERTISEMENT - CONTINUE READING BELOW
"We love you both so so much. (heart emoji) from tatay and mommy (heart emoji)"
Dad Zoren Legaspi kept his birthday message short and sweet.
Along with a photo of the twins' faces smudged with their birthday cake, Zoren wrote, "Bye 16 hello 17! I pray to my God to protect you and guide you from this crazy world. Stay TRUE and HUMBLE...I LOVE YOU TWINS!"
Happy 17th birthday to Cassy and Mavy!
---
Stories We Are Tracking
---