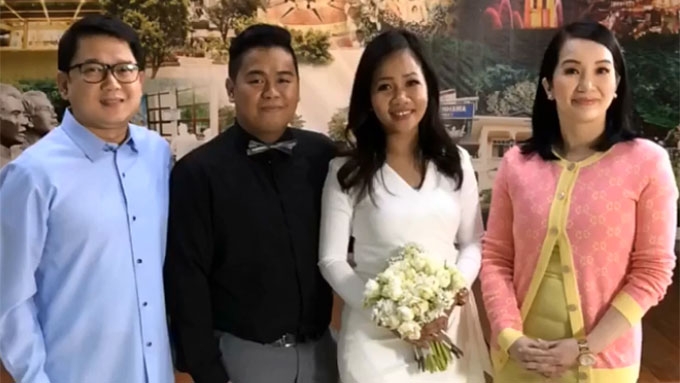 IMAGE @krisaquino on Instagram
---
Raquel Luntayao, Bimby Yap's nanny, is finally married.
She tied the knot with Junaries Confesor in a civil wedding ceremony early today, January 10, at the Quezon City Municipal Hall.
Yaya Raquel took over Yaya Gerbel's nanny duties after the latter got married in 2015.
Quezon City Mayor Herbert Bautista officiated the ceremony.
Kris posted a video on Instagram and captioned it, "Another Luntayao sister is leaving us... Raquel who took over for Gerbel in taking care of Bimb got married today and is now Mrs. Junaries Confesor.
"Special thanks to Mayor HB's Alice for helping Jack & Rochelle coordinate everything. And of course thank you Mayor Herbert for officiating."
The 46-year-old host/endorser also noted that Bimby was more composed this time.
Kris said, "Poor Bimb, he didn't cry anymore the way he did when Gerbel got married—but he was asking me for a heart to heart talk at 3:30 AM, telling me to please explain why things have to change and how come people he loves and gets attached to end up leaving?
"Can anybody really ever answer that? I just embraced him & told him we should be happy that people we love have found true & lasting love..."
To end her Instagram post, Kris quipped, "And now we just have to pray extra hard that Bincai doesn't fall in love, amen."
Bincai has been in the household staff of Kris since 2007.
More photos taken during Yaya Raquel's wedding: