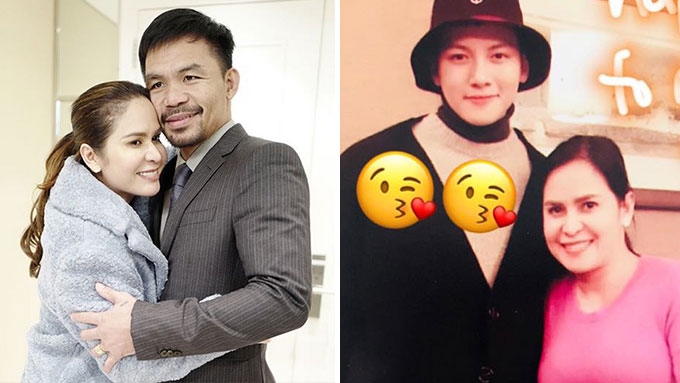 IMAGE @jinkeepacquiao / @janetjamora on Instagram
---
Jinkee Pacquiao and her twin sister, Janet Jamora, are celebrating their 39th birthday today, January 12.
But the twins already received one of their most memorable gifts last Christmas.
In an Instagram post of December 27, 2017, Jinkee said she received the "sweetest surprise" from her husband, Senator Manny Pacquiao, during their Christmas vacation in Seoul, South Korea.
She wrote, "I am grateful for my husband for giving me the most sweetest surprise. The sweetest and happiest surprise ever!
"Thank you, Babe! Love you! (i will reveal it soon!) #Abangan! #happiestChristmaspresent?? #dreamsdocometrue #happiestdayofmylife"
Entertainment columnist Lolit Solis revealed in her Instagram post that Pacman's surprise to his wife was a dinner with South Korean superstar Ji Chang Wook—who, at that time, was on a break from his military duties.
Lolit wrote, "Naku Salve cry ako, hitsura ng bagyo , mas malakas cry ko huh huh."

(Salve refers to Salve Asis, tabloid entertainment editor, who is close to Lolit.)
Continuing, Lolit said, "Si Jinkee Pacquiao nag-dinner sila Ji Chang Wook during his military christmas break huh huh, sana nag-asawa ako boxer para dinner din kami Jo Insung, huh huh, unfair, unfair.
"Hindi nag-overtime guardian angel ko , hindi niya nagawan paraan na magtagpo ni Insung.
"Mas busy angels Jinkee, nagawa agad paraan meeting Jinkee at Chang Wook, kainis, huh huh, di ko sila give bonus, hah hah angels takutin ng bonus, hah hah.
"Hay naku feeling ko breakdown ako, maloka na, hitsura new year.
"Naku Jinkee, buti na lang takot ako sa knockout para Manny kundi sa sobrang inggit hay naku ewan ko baka sabunutan ko na lang Bernard Cloma huh huh huh. @jinkeepacquiao #instatalk #lolitkulit #70naako #jolit"
(Bernard Cloma is Jinkee's perennial travel buddy.)
Though Jinkee has yet to post a photo from her dinner with The K2 actor, her twin sister has already uploaded her wefie with the actor.
ADVERTISEMENT - CONTINUE READING BELOW
On her Instagram stories, Janet wrote, "Happy to meet you, when I'm in Korea."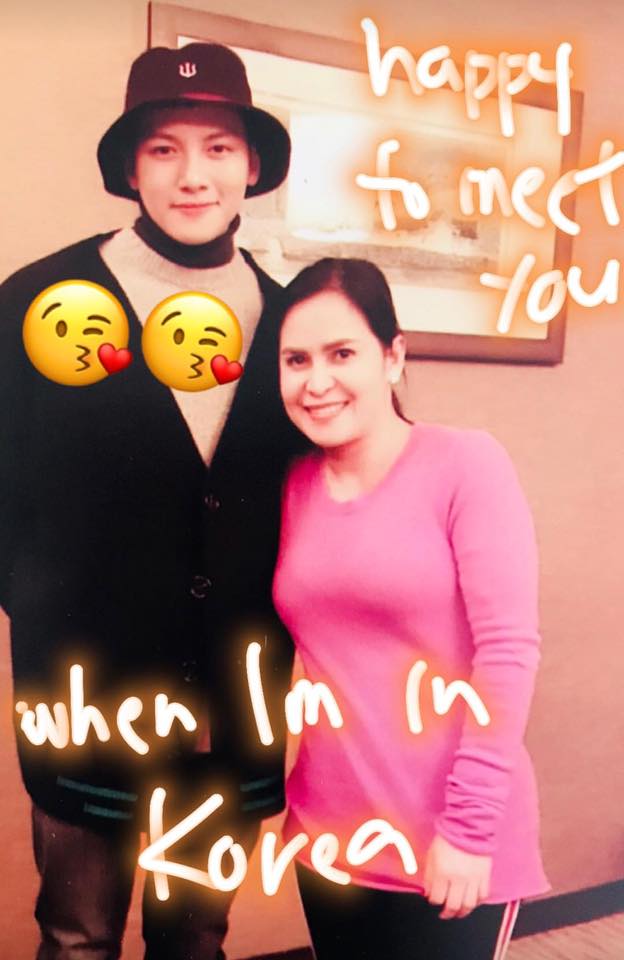 Before their meet-up, Jinkee received a package from her husband's friend containing a CD, photo, and calendar signed by Ji Chang Wook himself.
She uploaded it on Instagram last December 9, and wrote, "OMG!!!!!OMG!!!! Isa sa pinakamasayang araw ko ngayon dahil sa surprise na binigay sa akin.
"As in super ang saya saya ko! Salamat sa kaibigan ni manny na nagpunta kay Ji Chang Wook para dito at may cd pa!
"#smallthingsthatmatter #iamahugefan #happy #jichangwook @jichangwook."

Now, imagine her swooning when she actually has dinner with him!
Jinkee became an instant fan of Ji Chang Wook after watching some of his drama series.
Ji Chang Wook is best known for his portrayals in the hit Korean drama series Empress Ki, Smile Again, Healer, and Fabricated City.
The 30-year-old actor is currently on hiatus, and will serve in South Korea's military until May 2019.