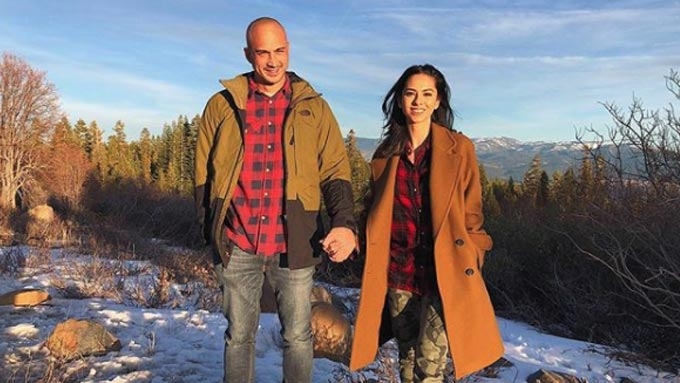 IMAGE stephaniedods on Instagram
---
KC Montero "didn't really have a plan" when he proposed to beauty queen-model Stephanie Dods in the snowy hills of Truckee, California.
According to him, Stephanie already had an inkling when they flew to the States to celebrate Christmas with the Montero family.
KC recalled, "I had the ring, which my fiancée knew I had.
"She would wake up every day, knowing that something could happen."
And since she could guess what was to happen, his game was to try and surprise Stephanie.
PEP.ph (Philippine Entertainment Portal) caught up with KC, together with his brother, Troy, when they were doing the rounds for their upcoming travel show, The Worst Vacation Ever, on Discovery Channel Asia.
KC recounted his conversation with Troy about the proposal, "I told him that I was gonna propose.
"And he was, like, 'How? When?'
"I was, like, 'We're gonna to do it today. We're gonna go out.
"'And we're gonna take Instagram pictures on the top of this mountain, okay?'"
But it turned out Stephanie had other plans on the day KC suggested a mountain trip.
She wanted to go downtown and buy something from the supermarket.
KC recalled telling her, 'So, do you want to go and take pictures or do you wanna go to the supermarket?'
"She said, 'I wanna go to the supermarket.'
"'Okay, so we're gonna propose tomorrow…'" he told himself.
THE PROPOSAL. KC had found an ideal spot where he wanted to propose.
All that the former MTV VJ needed to do was bring his girlfriend there without arousing her suspicion.
KC narrated, "I was trying to find this place. I was driving, and then she goes, 'Where are you going?'
"I said, 'There's this little area I know. We can get out and take our pictures.'
ADVERTISEMENT - CONTINUE READING BELOW
"And she goes, 'Do you just wanna propose to me in the car?'
"'Shh! That's not what we're doing here! Instagram is what I'm doing here!'
"So, when we're up there, we're trying to take our pictures and the wind kept blowing our cameras over.
"I'm trying to set up for a different shot. She's trying to set up for a different shot for Instagram.
"I kept putting my Go Pro [camera] on a tree, it keeps falling down, and she kinda knew what I was up to.
"She felt kinda bad that the cameras kept falling down from the wind."
But KC finally got his Go Pro in position, "She thought I gave up...
"She was, like, 'You know, we can go. We can go some other place.'
"And I was, like, 'I don't know what you're talking about.'
"Then I was, like, 'Look! Look over there, it's a glacier.' And she's like, 'What?'
"When she turned back around, I was already down on my knees.
"Sipon was dripping down—it was super cold! It was like -5 degrees.
"I was, like, 'I have a lot to say, but I forgot. It's really cold. Will you marry me?'"
Both KC and Stephanie were shivering from the winter cold, and he only heard her sniffling.
He recalled asking the former Miss New Zealand, "Is that a yes?"
Stephanie did say 'yes' and KC received the best Christmas gift that day.
He told PEP.ph, "She said yes, so that's pretty cool. That's a bonus.
"You ask somebody to marry you and they agreed."
THE RING. KC related he had difficulty finding the perfect ring for Stephanie, and he had been looking since October last year.
He said, "I couldn't find the right kind of center stone and the kind of cut.
ADVERTISEMENT - CONTINUE READING BELOW
"First, she wanted a pear [cut], and then she wanted an oval, so it screwed me up.
"At the end of the day, I just let her choose her own ring—but she didn't see it!
"We went to the jeweler together and she told them what she wanted.
"I didn't show her how much it cost, I didn't show her the ring until I proposed."
KC did not disclose how much he paid for the ring, but he mentioned it had a special box.
"The box had a light in it! You open it and the light shines on the ring.
"I was like, 'That is awesome!' I kept the box.
"Whenever I give people anything, it's in the box!"
---
Stories We Are Tracking
---