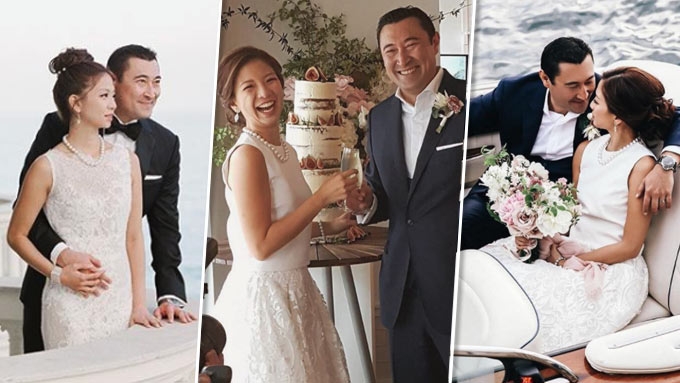 IMAGE joannaluihickox on Instagram
---
What happens when a couple couldn't decide on a wedding location?
For most brides and grooms, the only option would be to meet halfway—and for couple Joanna Lui and Troy Hickox, this was taken literally or figuratively.
Instead of choosing between Hong Kong (her hometown) and Sydney, Australia (his birthplace), they decided to celebrate their union in both places.
On top of that, the groom also wanted to marry in dream destination Monaco.
Joanna shared, "Troy studied French and lived in France in his youth, and he had visited Monaco in his younger days. He had long harboured a dream to return to Monaco one day to marry—albeit probably to quietly elope!"
And so, Troy and Joanna held their first wedding at the European city-state.
The couple had access to "one of Monaco's most exclusive and beautiful mansions: Villa La Vigie, Karl Lagerfeld's former home," which is almost never available.
According to Joanna, they decided to carpet the outdoor areas of the villa to "soften" its look, and "went heavy on the flowers."
Perrine of Miss Rose, who's done royal weddings in the past, "embellished with a palette of dusty pink and soft lavender [flowers]."
The food was prepared by Michelin-starred chef Paolo Sari. He worked with the couple to make sure the "each course was inspired by ingredients from some of the destinations that were key moments in [their] relationship."
For their second wedding, Joanna and Troy flew to the bride's hometown in Hong Kong.
They had 900 guests!
ADVERTISEMENT - CONTINUE READING BELOW
It was held in a ballroom at the Grand Hyatt.
Then their final wedding was held at the groom's hometown in Sydney.
Unlike the first two, their Australian union was more like a getaway.
Again, the flowers stole the show: "The flowers in Sydney by Sophia Kaplan really wowed us, and we had her set up a wrapping station at the end of the event so people could take them home with them."
Source: Hong Kong Tatler
This story originally appeared on Cosmo.ph.
* Minor edits have been made by the PEP.ph editors.