Starting April 26, Boracay will be closed down to tourists for six months, and undergo an environmental rehabilitation.
This could lead to at least 36,000 people losing their jobs and over PHP56 billion loss in revenues.
As the target date looms, PEP.ph (Philippine Entertainment Portal) listed down some of the grandest weddings the island has witnessed over the past years.
Boracay, indeed, has become the dream wedding destination of our local celebrities.
RACHELLE ANN GO AND MARTIN SPIES
The Hamilton star was the last celebrity bride to tie the knot on the island before its shutdown.
She and her American fiancé, Martin Spies, got married yesterday, on April 18, at Shangri-La's Boracay Resort & Spa.
The couple officially got engaged on September 8, 2017, during a short vacation on the island.
MAXENE MAGALONA AND ROB MANANQUIL
The couple had an all-white garden wedding ceremony early this year, January 11, at Shangri-La's Boracay Resort & Spa.
This was the couple's second wedding. They had a church wedding at the Santuario de San Antonio Parish in Forbes Park, Makati City, on January 8.
Maxene got engaged to Robby during their trip to Japan in February 2017.
KIM JONES AND JERICHO ROSALES
The blogger-host and the ABS-CBN star had an intimate wedding at the Shangri-La's Boracay Resort & Spa on May 1, 2014.
Kim and Jericho were introduced to each other by a common friend, and they officially became a couple in 2011.
On August 4, 2013, Jericho proposed to Kim during their Sunday service at New Life Church in Alabang.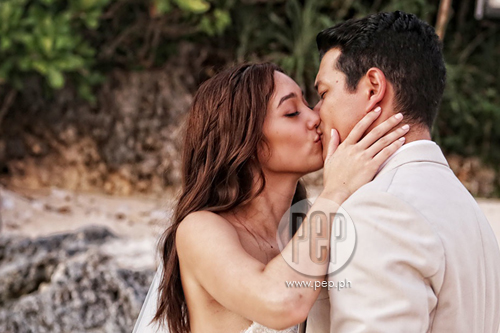 PEP Files / Courtesy of Melo Balingit
RACHEL ALEJANDRO AND CARLOS SANTAMARIA
The singer-theater actress married the Spanish newscaster on April 9, 2011, at Shangri-La's Boracay Resort & Spa.
After their wedding, the couple flew to Maldives for their honeymoon.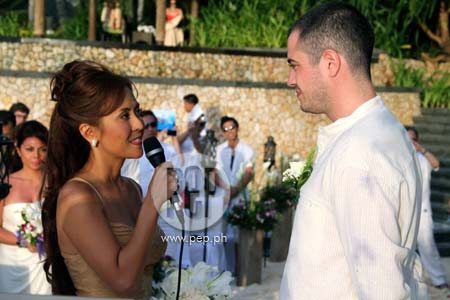 PEP Files / Courtesy of Girlie Rodis
EHRA MADRIGAL AND TOM YEUNG
The couple exchanged wedding vows in front of their closest family and friends at the Holy Rosary Parish Church in Boracay on March 3, 2017.
Their wedding reception was held at The Lind.
BANGS GARCIA AND LLOYD BIRCHMORE
The two held their dream beach wedding at Asya Premiere Suites on January 24, 3017.
It was also in Boracay where they first met in 2015, and got engaged in 2016.
The couple now reside in the United Kingdom, and have a baby named Amelia.
G TONGI AND TIM WALTERS
The TV host and her American husband's beach wedding took place on February 19, 2005, at the Nami Resort in Boracay.
The couple first met in Los Angeles, California.
In her interview with YES! magazine, G said, "Our friendship is really what sealed our relationship.
"We both knew that we were attracted to each other and yet, because we were friends, we tried to deny our brewing emotions for each other."
They have two kids: Kenobi Benjamin and Sakura Anne Marie.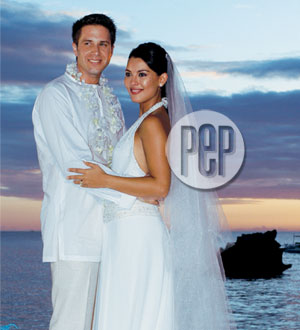 PEP.ph Files / Courtesy of Emerson Sy
TUEDAY VARGAS AND COY PLACIDO
The comedienne-wedding planner and her husband had a Christian wedding by the beach on June 19, 2010.
The ceremony was held at Discovery Shores in Boracay.
Both Buddhists, Tuesday and Coy said it was their second wedding.
They were "technically married" after receiving the blessing of a "mahout" (an elephant trainer and keeper) during their visit to Bali, Indonesia in 2005.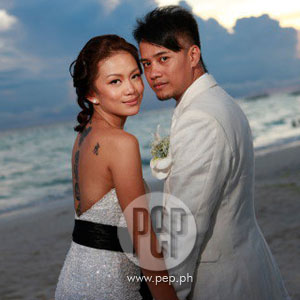 PEP.ph Files
PATTI GRANDIDGE AND JON HERRERA
This April 26, host-model Patti Grandidge and DJ Jon Herrera will celebrate their fifth wedding anniversary.
Patti and Jon officially tied the knot in a beach wedding held at Shangri-La's Boracay Resort & Spa in 2013.
Photo courtesy of Mango Red/brideandbreakfast.ph
FRANCIS LIBIRAN AND CHRISTIAN MARK JACOBS
Francis and Mark celebrated their love with an art deco-inspired wedding by the pool side of The Lind last March 18, 2017.
The long-time couple wore matching suits as they exchanged vows with the beautiful sunset as their backdrop.
MIRIAM QUIAMBAO AND CLAUDIO RONDINELLI
It was in 2002 when the former beauty queen first met her former husband, Hong Kong-based Italian businessman and restaurateur Claudio Rondinelli.
It was love at first sight, the beauty queen said, and their whirlwind romance led to a beach wedding in 2004.
Miriam stayed with Claudio in Hong Kong, where the latter owns a number of restaurants.
But in June 2006, she returned to the Philippines and announced their separation, citing lack of time and third party as the reasons.
Miriam is now happily married to Christian motivational speaker and author Roberto "Ardy" Roberto.
The couple tied the knot in March 2014 in Tagaytay.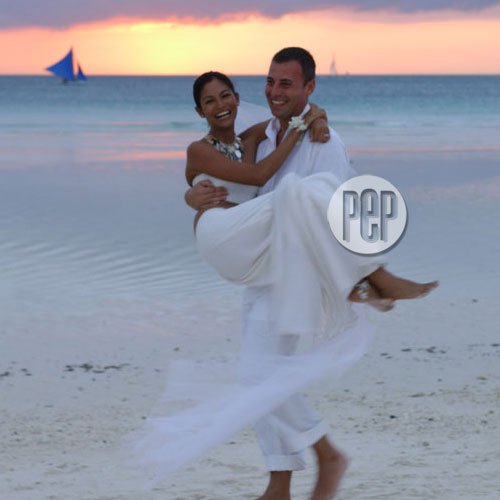 TRICIA CENTENERA AND GAB VALENCIANO
Boracay also witnessed the union of Gab and Tricia.
Their "celebration of love" took place at Discovery Shores on March 31, 2015.
This was the couple's third wedding ceremony.
Gab and Tricia first got married in the U.S. in 2014. It was followed by a garden wedding at Tagaytay Highlands Golf Club on March 27, 2015.
A year later, the couple announced their split, which, according to Tricia, was caused by a third party on Gab's side.
EULA VALDEZ AND RICHARD LITONJUA
The actress married the Australian-based electrical engineer in Boracay in 2003.
The couple, however, announced their separation in 2008.
In her previous interview with Startalk, Eula said their long-distance relationship didn't work out.
Eula and her current partner, model Rocky Salumbidez, have been together for nine years.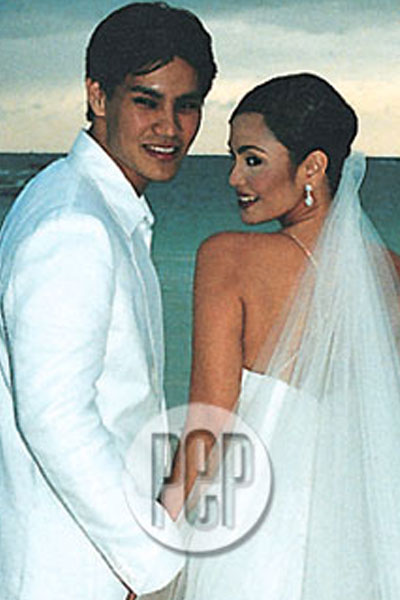 Courtesy of YES! magazine