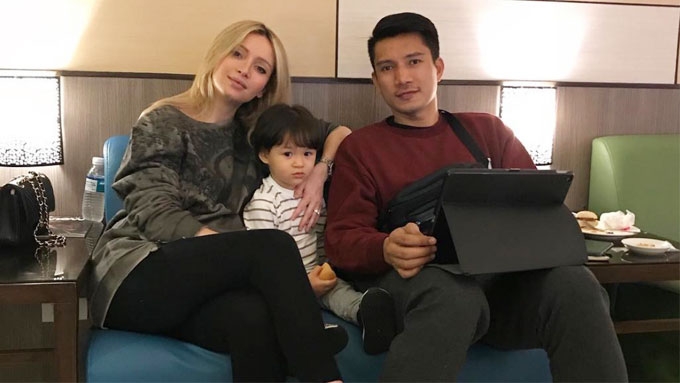 IMAGE @michelacazzola on Instagram
---
Just as James Yap and Italian partner Michela Cazzola started talking about having baby number two, that's when they received a beautiful surprise.
Nearly two weeks ago, the basketball cager posted on Instagram a sweet photo of them with his hand resting on his partner's tummy.
He simply captioned it with, "Growing family" along with a pink ribbon emoji.
James and Michela have a one-year-old son named Michael James or Baby MJ.
Asked if wedding plans are on the way, she quipped, "we were saying after MJ, so now you need to wait after the baby girl."
BABY NUMBER TWO. On her second pregnancy, Michela told PEP.ph (Philippine Entertainment Portal) via Instagram Direct yesterday, April 16, 2018, that they didn't really expect it to happen this soon.
"James was surprised," she told PEP.ph. "And me too actually… we were talking about having two children fairly close to each other.
"We were happy of course, we wanted another baby.
"So it was a very happy surprise."
Now on her seventh month of pregnancy, the Italian beauty confirmed they'll be having a baby girl.
She said, "I just told him, I actually had a feeling already it was a girl, but he was sure he was another baby boy.
"So up to now I think he's conditioning his mind we will have a baby girl.
"I think he's a bit concerned 'cause he's used to dealing with the boy, the way of playing, and all."
ADVERTISEMENT - CONTINUE READING BELOW
As for the new baby's name, the expectant mom said that they have tons of Italian names on the list but haven't picked any yet.
On the other hand, Michela was proud of James's efforts for their growing family.
She told PEP.ph, "Actually I don't really ask for too much.
"What I appreciate the most is that he spends time with MJ so when [I'm] tired, he's the one bringing him to the park.
"That's the help he is giving me."