Before giving birth to her son, Cristalle Belo received three baby showers—with the latest one leaving her and husband Justin Pitt slack-jawed with happiness.
Organized by her best friend, PR veteran Frank Briones, it was a jungle extravaganza!
"I really thought it was gonna be a simple one," she told PEP.ph (Philippine Entertainment Portal) in an interview via messaging app Viber.
"So I was so overwhelmed when we arrived at the venue! It felt like a baby shower on steroids!"
She further explained, "I was informed that there was going to be a baby shower, but I was given strict instructions not to intervene in the planning. I was only given homework—to fix the Belo giveaways for the party."
PEP.ph also got in touch with Frank, who planned the entire event.
In an SMS exchange, he said, "I intentionally did not involve her in the planning.
"She has this tendency of wanting to know everything about the event coz she is a control-freak," he added with affection. "So I made sure she knows nothing."
Frank partnered with Portia Cruz of Eventique Manila to execute the baby shower's safari theme down to the last detail.
"Everything turned out to be a surprise for [Cristalle]. All I wanted is to throw her a baby shower like no other."
On May 26, Saturday, the Pavilions 3 and 4 of The Shangri-La at The Fort in Bonifacio Global City, Taguig, was transformed into a jungle filled with lush greenery, stuffed safari animals, a throne for the couple, a fantastic stage set-up, and drummers dressed in tribal costumes to boot!
Cristalle shared with PEP.ph exclusive photos of the event, taken by Stork Studio.
Guests entered Safariland and were greeted by an elaborate set-up welcoming Baby Pitt.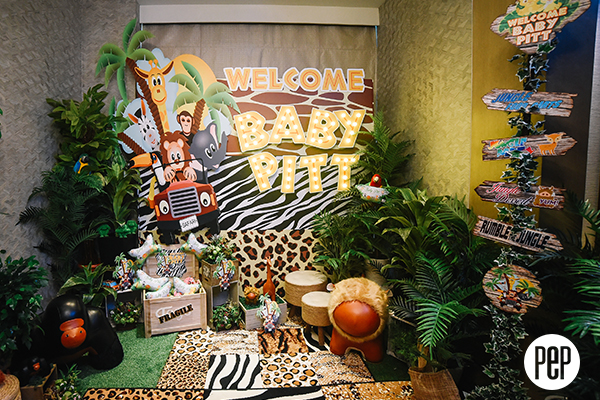 Inside the pavilions, an almost identical stage was set up, complete with hanging vines and a "throne" for Cristalle and Justin.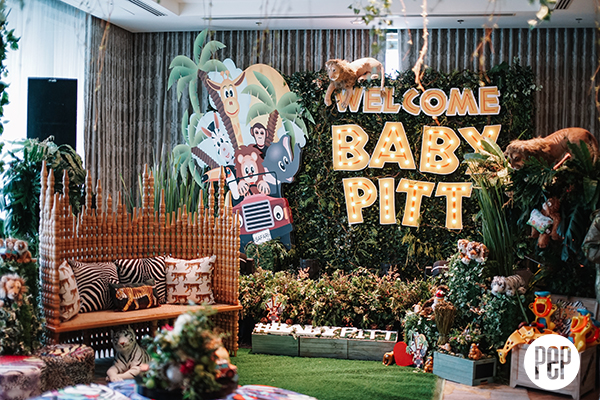 Guests, who all came dressed in their best hunting gear, were provided with hats that were too chic not to wear!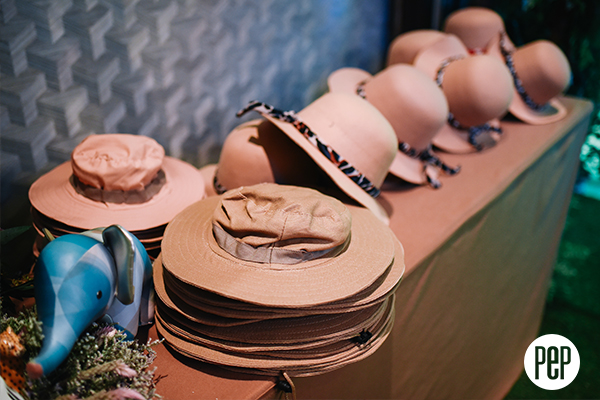 Cristalle, who looked beaming in her mustard yellow, off-shoulder dress, was amazed by the dessert buffet prepared by One Sweet Day...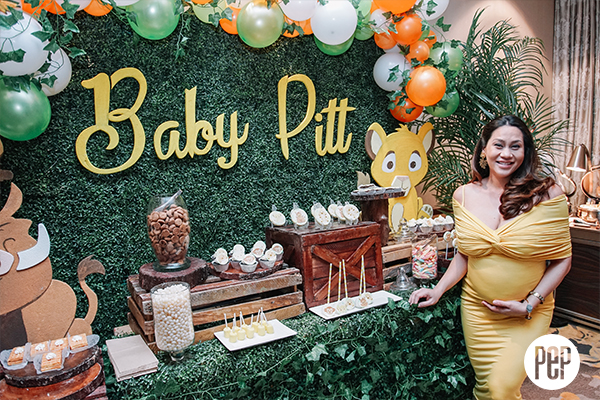 ...filled with Lion King inspired treats like these cupcakes with Timon, Simba, and monkey toppers.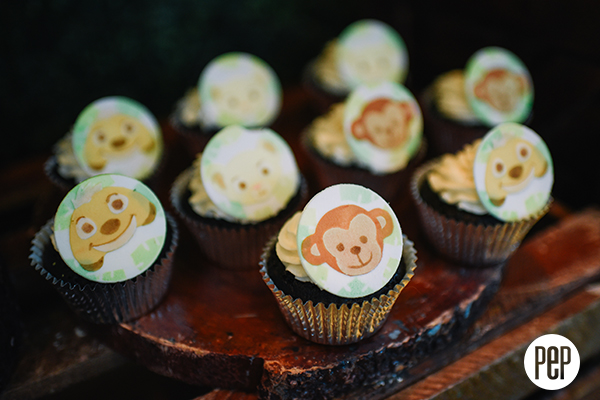 Aside from enjoying food prepared by Shangri-La, everyone also beat the heat with homemade Thailand ice cream from R-Freezy.
Afterwards, Cristalle's friends were all competitive during the games.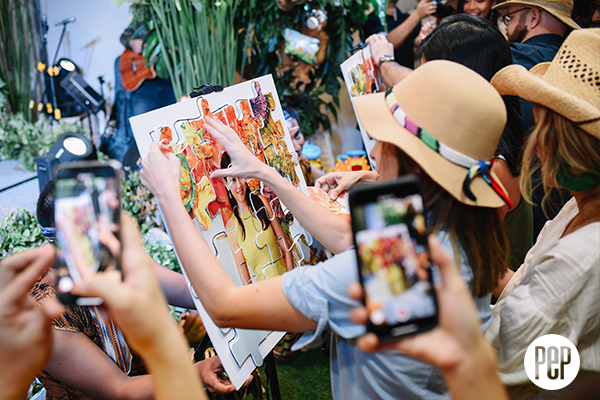 Cristalle and Justin (left) also had a big laugh watching the guests play "name that poop," where they take a guess which type of chocolate or candy bar is smeared on baby diapers.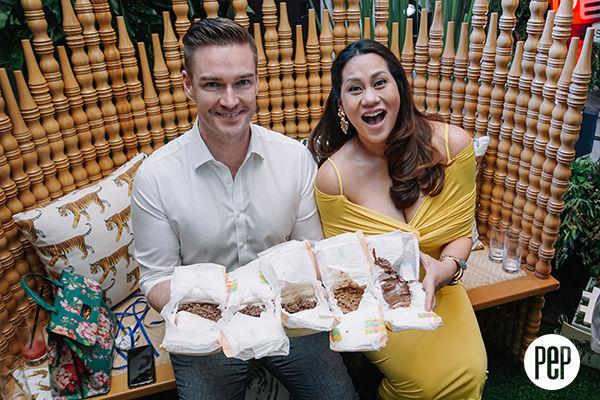 Kapamilya singer KZ Tandingan provided the entertainment, and sang several songs including "Can You Feel the Love Tonight," a song from The Lion King.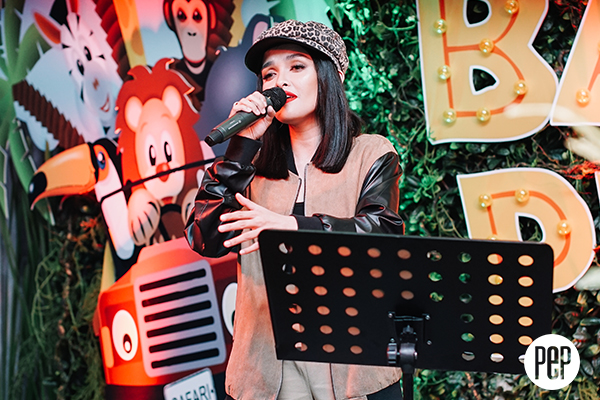 Present at the baby shower was Cristalle's brother, Quark Henares (2nd from right), with his fiancée Bianca Yuzon (leftmost), and Sen. Bam Aquino's wife Timi (rightmost), who was the matron of honor at Cristalle and Justin's wedding in 2016.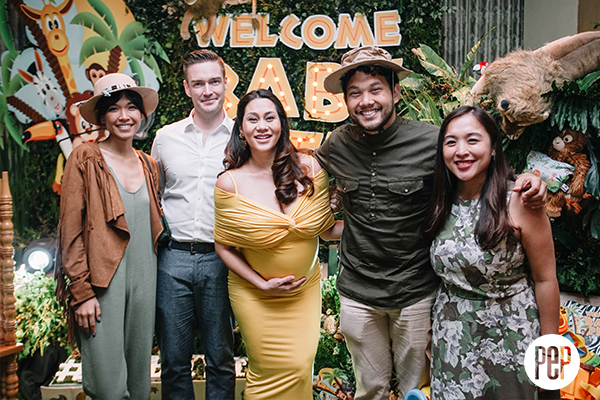 Also at the party was Ruffa Gutierrez,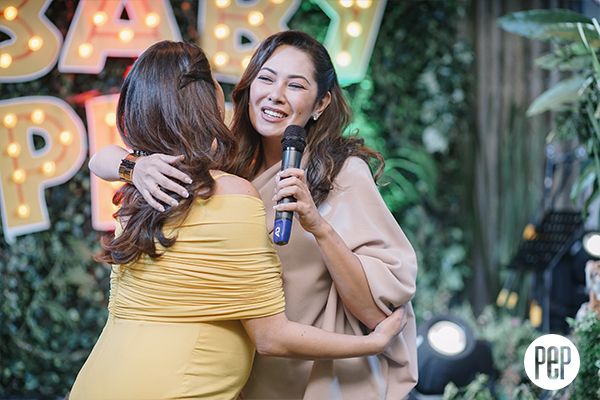 Alice Dixson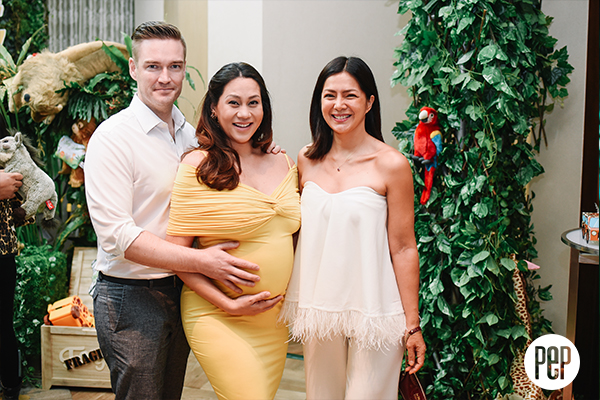 Nicole Hernandez of online show Baby Barangay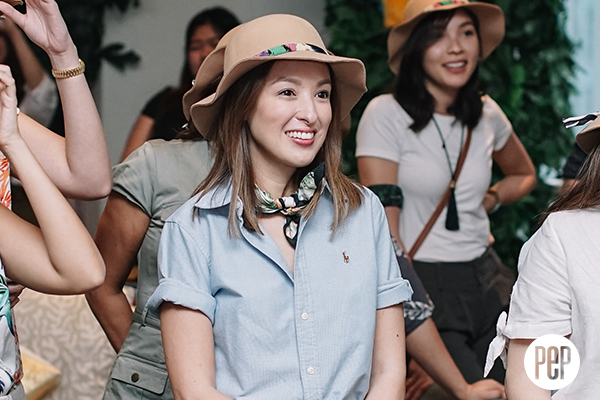 Teacher Georcelle of G-Force and Rhoda Campos Aldanese of Villa Del Conte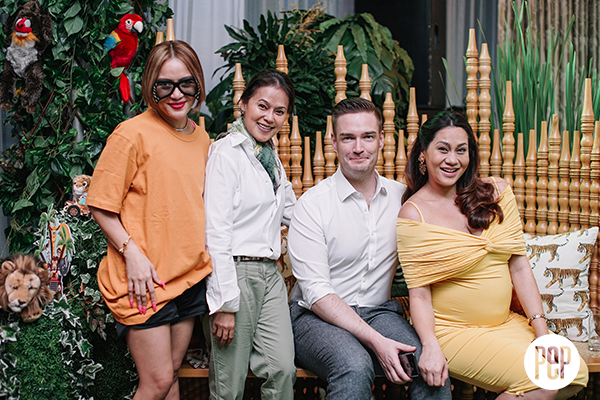 Leah de Guzman (2nd from left), Miriam Quiambao-Roberto (5th from left), Frank Briones (in orange top), and Phoemela Baranda (rightmost)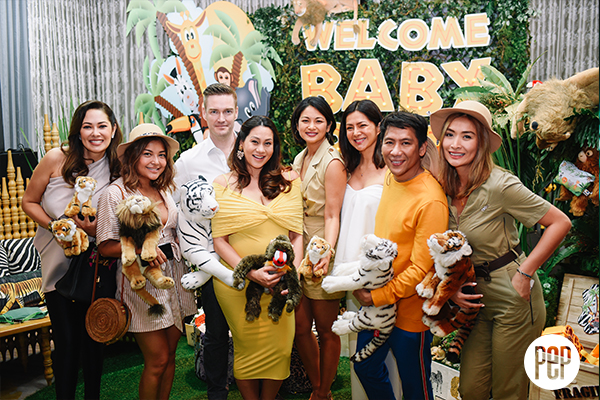 Frank, who is into public relations and advertising, said he planned Cristalle's baby shower like most of his projects.
He told PEP.ph, "In PR, we profile our target audience and we surprise them with an idea that's so spot on, it will create a positive impact on them. Basically, I have employed the same principle.
"The less she knows, the greater the impact will be if pulled off well since it was planned based on her as the target.
"True enough, it excited her... it made her laugh... and it made her cry. Mission accomplished!"
The guests also didn't come home empty-handed as they received treats like chocolates from Villa Del Conte, and safari belt bags and car head rest pillows from Arteegram Manila.
Meanwhile, Mothercare provided all of Baby Pitt's essentials, including a crib!
We also asked Frank what kind of mom he thinks Cristalle would be.
He said, "She is the sweetest friend. I'm sure she will be the sweetest mom. I'm also sure Baby Pitt will be a thrill-seeker like her mommy."
Cristalle gave birth on May 28, two days after the baby shower was held.
At the time, the baby's nursery was not done yet.