Drew Arellano and Iya Villania's eldest son Primo finally met his baby brother Leon!
Iya checked out of the hospital just two days after giving birth to Alonzo Leon on Saturday morning, August 19.
On her Instagram Stories, Iya shared that Primo got to see his baby brother first through a video call, as he stayed at home while his parents were at the hospital tending to Leon.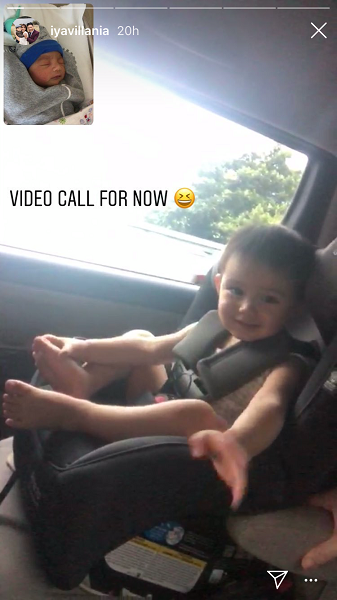 When Drew and Iya were finally back home, they recorded the moment Primo met his baby brother for the first time.
The proud dad of two then shared it on Instagram.
In a series of Instagram Stories, Drew was behind the camera as Iya approached Primo and showed him her tummy, which is visibly smaller now that Leon has come out. Then she told her eldest son, "Let's meet your baby brother, love. Come on, love."
Drew could also be heard saying, "Come on, let's go."
Iya then said, "Your baby brother has something for you. He has a gift for you."
Primo, who's turning two on August 30, repeated the word "gift," and proceeded to follow his Mom to the room.
Holding a pair of toy tongs, Primo climbed up the bed wearing his signature bungisngis, and slowly crawled towards his baby brother Leon.
He then saw a wrapped gift beside Leon.
"This is for Primo. He gave that to you," Iya said, indicating that Leon had a special gift for his Kuya Primo.
Iya told Primo, "Say, 'Hi baby bro'" and Primo waved his little hands hello to the sleeping Leon, who was wearing a navy blue long-sleeved onesie and a baby bonnet.
Primo then clapped his hands with glee, and continued unwrapping his present.
The series of videos ended with Primo giving Leon a kiss on the tummy.
On his Instagram feed, Drew also posted a photo of Leon and Primo, who had a confused look on his face. Drew wrote the fitting caption, "So, who's the new guy? [laugh cry emojis]"
Drew's next post was a series of heartwarming photos of his mag-iina. A smiling Iya carrying Leon, and a grinning Primo laying on her lap, then Primo giving Leon a kiss on the ear.
Drew's caption read, "So far, so good, ladies and gentlemen [laugh sweat emoji] #FamilyOf4."
For her part, Iya also shared on her IG Stories her battling emotions now that she's a mom of two.
She wrote, "Mama bear just had a bit of a cry to herself [confounded emoji] Excited to go home coz I want the boys to finally meet but at the same time I already miss Primo so much [broken heart emoji].
"It breaks my heart knowing I'll have to share my time and won't be able to attend to him should I be busy attending to his baby brother... Haaay... motherhood [see-no-evil monkey emoji]."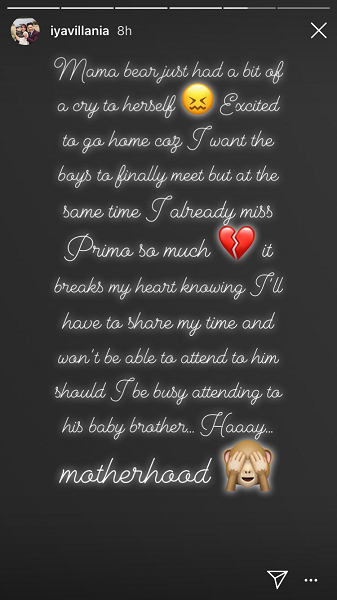 Iya ended her post saying, "Okay... I think I'll cry a little more... [loudly crying emojis] #FreakinHormones #HowCanMyHeartDeal #MissingPrimoSoMuch [broken heart emoji"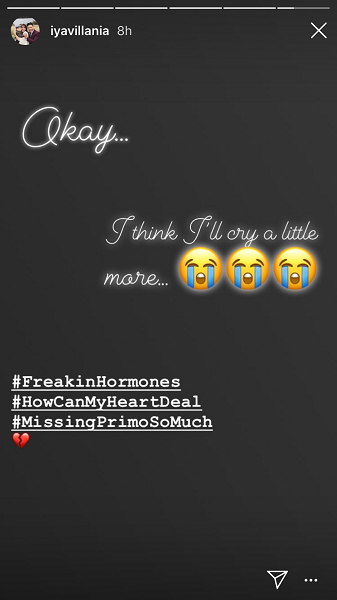 Looks like the new mom and dad of two are taking it one day at a time, and slowly easing Primo into his new role as kuya, hence the gift.
And as Drew's caption goes, every thing is looking good for the Arellanos as a family of four.
We're rooting for you, Drew and Iya!