YouTube and Facebook vlogger Madam Kilay, Jinky Cubillan Anderson in real life, recently announced to her followers that she has been separated from her American husband Paul Anderson for over 14 months.
And while that revelation is still fresh in the minds of the public, the California-based comedienne has since moved on and is in fact dating another guy, only known as "AFAM T" for now.
The viral vlogger shared on Facebook a video of her new lover's Valentine surprise, and it has once again got the netizens talking.
The 12-minute long video started with Madam Kilay's new boyfriend and friends at her house, setting up the surprise.
Madam Kilay's boyfriend said, "I asked them for help in getting all these prepped."
The video then showed the preparation, which ended with the group turning off the house lights and waiting for Madam Kilay to arrive.
When the comedienne entered the door, there were lit candles and rose petals strewn all over the house.
She called for her boyfriend, who came out of his hiding place in the kitchen.
"Open 'em up," he told her.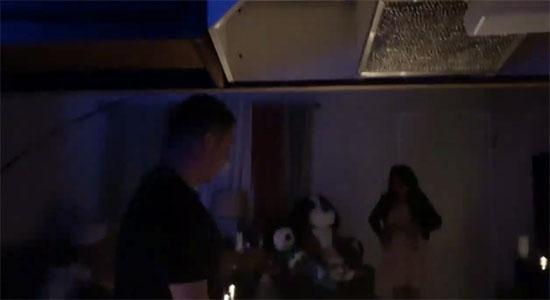 Madam Kilay then proceeded with "a walk to remember," slowly taking steps to open the gifts laid out on the living room floor.
Take note, these were not ordinary gifts, but luxury items that cost a small fortune.
Among the items from AFAM T:
Balenciaga Speed Trainers ($930), Saint Laurent monogram Kate shoulder bag ($1,750), two pairs of Adidas Yeezy Boost 350 V2 in Black ($820) and Beluga ($750), Gucci suede pumps with removable Web bow ($695), Gucci Rhyton leather logo sneakers ($890), Gucci Princetown GG canvas slipper ($792), a Gucci signature leather belt ($450), Gucci Ace leather sneakers ($580), and Gucci double G leather thong sandals ($495).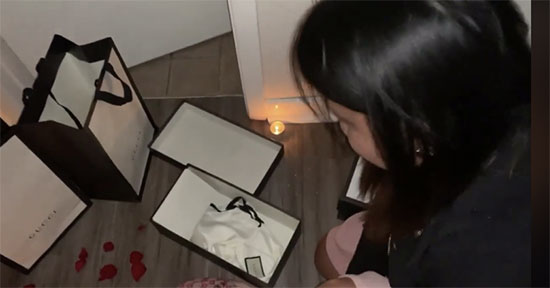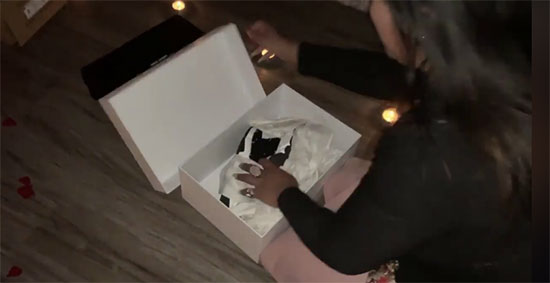 And we have not even gotten to the bedroom yet!
"There's a little bit more," AFAM T told his paramour.
He opened the bedroom door, and Madam Kilay's jaw dropped: The bed was full of orange and black paper bags, and a white box.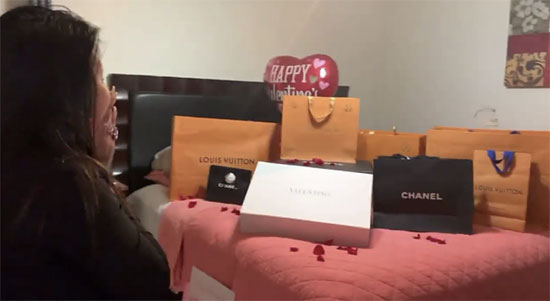 But Madam Kilay zeroed in on a large heart-shaped box on the floor, containing bite-sized pieces of chocolates. She popped one in her mouth and proceeded to open more gifts.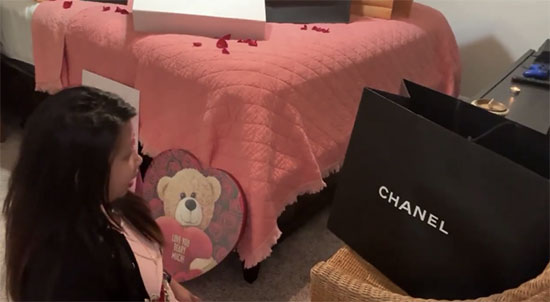 She took a peek at one of the paper bags, went to hug AFAM T, and jumped up and down.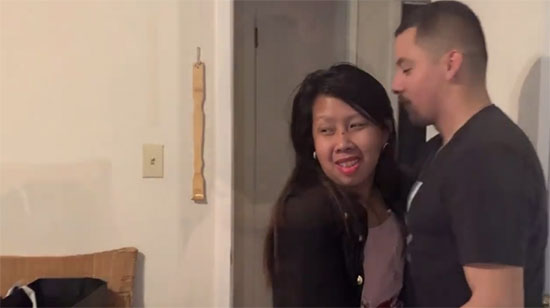 The reason for Madam Kilay's giddiness? A Chanel Gabrielle backpack ($4,100).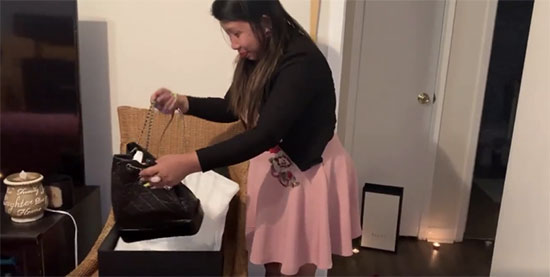 More gifts from Madam Kilay's new beau:
Valentino rockstud ballet flats ($785), Louis Vuitton Frontrow sneakers ($795), Chanel lambskin espadrilles ($725), Louis Vuitton monogrammed belt ($490), Louis Vuitton Sperone backpack ($1,950), Louis Vuitton Josephine wallet ($660), Louis Vuitton chain Louise GM clutch ($2,470), Louis Vuitton Neverfull GM ($1,400), and a Chanel Shopping Bag ($3,000).
Dizzy yet? That's a total of $24,527 worth of gifts, or with today's exchange rate, PHP1,282,762.
Madam Kilay did get a gift that money cannot buy. A giant card with AFAM T's love letter inside. Plus, we guess, unlimited hugs and kisses.
At the end of the video, Madam Kilay made this important note (published as is):
"Love is not all about material things LOVE IS ABOUT how much 'YOU ACCEPT' a person in your life who loves you unconditionally even a small things that he/she can give to you. YOU DONT NEED TO MAKE AN EFFORT TO EXPRESS HOW MUCH YOU LOVE 'EM. cause if they really wanna be with you and be with you 'THEY WILL' cause they love you not need you."
At press time, the video has over 3.7 million views, 32,000 comments, and 97,000 shares.
A lot of netizens left positive feedback—like wanting to be Madam Kilay and praising AFAM T's sweetness—on the comments section.
"Ang haba ng hair ni madam," wrote one follower. A lot of "May nanalo na!" comments also peppered the post.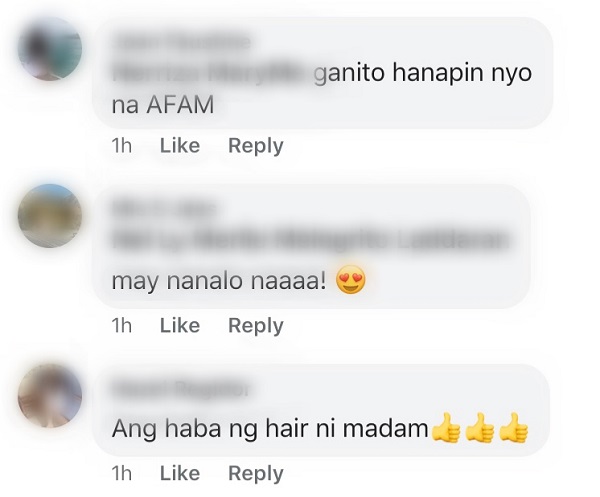 On the other hand, there were also the skeptics, who questioned how Madam Kilay's new boyfriend could afford all the material gifts, and even accused the vlogger of creating the video to garner likes and views.
One Facebook user wrote: "I like ur blogs, but this one is so unbelievable, I live here in USA n who the heck boyfriend will spend that much even the Kardashians will not relate to this. Be real n what is ur boyfriend's job to afford all that?"
Another commented, "Just for d sake of vlog... d ko nga tinapos. D daw scripted pero may lightings pa :)"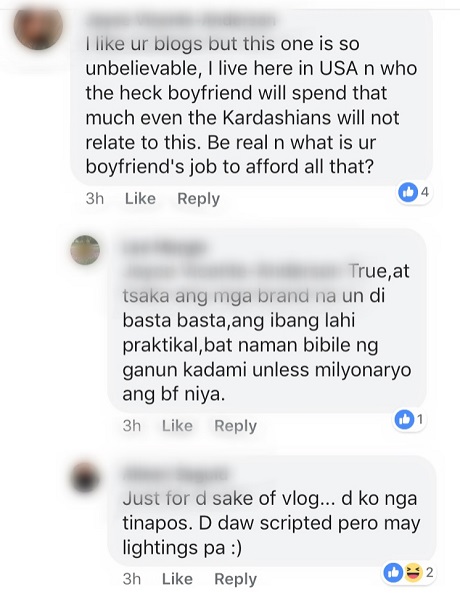 For her part, the content creator had an inkling that not everyone will appreciate her boyfriend's gesture. In the post, one of the Facebook Page's administrators challenged, "Labas mga basherssss!"
Madam Kilay also added this note on the side, "PAG MAGBREAK ULET IBEBENTA KO TLGA TO wahahqhqhqhq.CHAR! Salamat mga Chapsss!!!-MK"
Watch the entire video below: