Today, February 14, our social media feeds are tadtad with either Valentine greetings or hugot. Isang araw lang naman. Hayaan mo na. Pagbigyan.
Some really go all-out, spend on humongous bouquets of flowers, and dine in fancy restaurants.
Can you believe a survey conducted by Picodi.com, an international e-commerce company founded in Poland, revealed that Filipinos spend an average of PHP1,759 on gifts? Make that times two, and a couple easily lose more than PHP3,500 in one day.
Of course, they gain memories, which are priceless.
But browsing through our feeds, the posts that tugged at our heartstrings were not pricey at all. As cliché as it may sound, it is really the thought that counts.
Shai Riofrio was over the moon with Toblerone bars she received from her husband Gail Riofrio.
She recounted two beautiful "core memories" involving her hubby and the chocolate brand.
"Memory #1 (best friend Gail): we were on our way to shang to play billiards when he casually threw a toblerone on my lap as "pasalubong" from his dad's trip. There was awkward silence. Being his best friend, he told me before that one of the signs he likes someone is when he would casually give her chocolates.
"Memory #2 (boy friend Gail): for our first Valentine's, he gave me a sealed toblerone, with a love letter written inside the packaging.
"And now, he casually gave me these. He never fails to make my heart melt."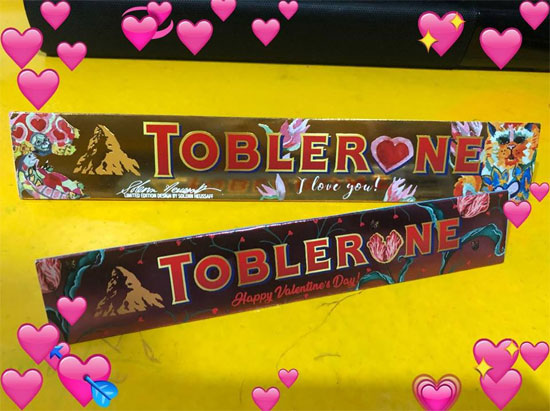 Gian Salvador's video was daig pa ang commercial, given his wife Ruby dela Rosa's reaction as he handed her a bouquet of shrimps and crabs.
He captioned, "Hindi puro Pagmamahal lang... dapat, 'Busog sa Pagmamahal'"
By the way, according to Ruby, "Si hubby ang nagluto, siya rin ang namalengke." Ang sweet!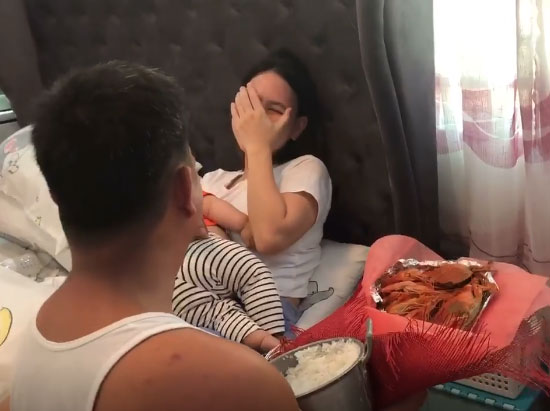 Myra Gorospe's husband gave her kilos of rice and canned goods.
"Na-surprise ako sa effort mo, kakaiba," said the wife. "Hindi man flowers and chocolate, naalala mo pa rin ako i-greet..Thank you. Thank you... I Love you. Happy Valentines day!"
Kay tamis naman!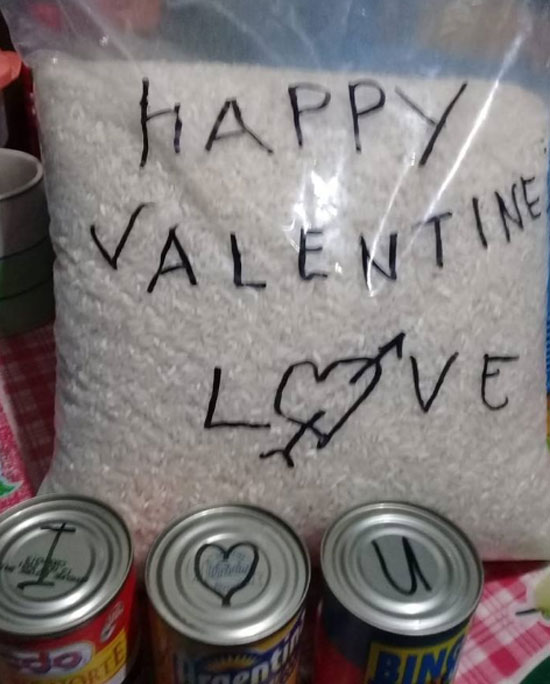 Lawyer Mau de Castro told her husband Gino, "Wag na niya ako bigyan ng flowers kasi sayang."
What the wife got was a picture of flowers, and five one-thousand-peso bills.
"Ganda ng flowers," she said.
"Ang mahal ng flowers," we couldn't help but say.
Rose Garcia is a big fan of South Korean star Lee Seung Gi, and has actually attended the A Korean Odyssey actor's fan meets abroad.
So, her husband Paul Fabregas's greeting was a video, with photos of Lee Seung Gi as the message's background.
Rose was ecstatic!
"I think, this deserve a post. We're not into Valentine's...so I was surprised na may pa-ganito. By this time, he already knew na mas bet ko ang ganitong effort than flowers... (again, accepting rin ng material ha like pandora, bag, shoes) medyo na-confused lang ako kung si LSG ba ang nagpadala ng vid (#umaasa) o feeling niya siya si LSG.
"I Love LSG raw kasi! 'Yan naman!!! To the most supportive & loving hubby (at makulit!) Saranghae Paul Cortez."
How was the paandar of your partner?
Do not forget: Today is not about pabonggahan, okay, but pagmamahalan (nag-rhyme talaga).
Happy Valentine's Day!