Artistas are considered extremely fortunate to do what they love and earn so well, but sometimes they're just like us when it comes to worrying about their future.
They, too, have to face fears in their career—movies and teleseryes may flop, contracts may not be renewed, and endorsements are only as good as the last one.
Alex Gonzaga isn't any different. The younger sister of Toni Gonzaga was at a turning point in her showbiz career when she discovered vlogging.
The 31-year-old actress started her YouTube channel in 2017 because she wanted to have a creative outlet and a platform to showcase herself in her own way. During that time, her network contract was about to end and Alex didn't think it would get renewed.
"I felt na parang my real self wasn't being shown or parang nali-limit siya," Alex said in an interview with PEP.ph (Philippine Entertainment Portal). "I just needed an outlet for my creativity, na no script, or parang I get to be creative and get to be the boss of my own content."
She went ahead and created her videos without even considering the money she could potentially make. Alex also knew that joining the public video-streaming site meant opening herself up to bashers.

"I felt na parang when I go to YouTube, alam ko sasabihin ng mga tao, 'Ah, walang career kaya nag-YouTube na lang, hanggang diyan ka na lang,'" Alex also said in an interview with PEP.ph last year.
Fortunately for the fans of the no-filter, straightforward, and naturally hilarious host and actress, Alex pushed through with her vlogging and the rest, as they say, is history.
As of May 2019, she has 3.5 million YouTube subscribers and counting. She has also racked up almost 26 million views.
Some of Alex's most memorable vlogs include her Darna audition video and any of her vlogs featuring Mommy Pinty.
YouTube also turned out to be an additional source of income because her network contract got renewed. Alex has since co-hosted various shows such as I Can See Your Voice and Pinoy Big Brother: Otso.
Her success online also gave her the confidence to explore other things such as writing books and producing movies. This led to films like the 2018 Metro Manila Film Festival entry Mary, Marry Me. She also has another movie in the works set to be released this year.
Hosting, acting, vlogging, and managing her own business—Alex is busier than ever. Where does she get her energy boost? The bubbly actress never misses breakfast. It gives her the energy for a delicious start to her day.
For busy ladies like her, oatmeal is among the easiest meals to prepare. Quaker Oats can be cooked in just one to two minutes, and you only need hot water to prepare it. Oat is a super grain that has fiber that helps keep you full, protein for energy, and beta-glucan that can help lower cholesterol.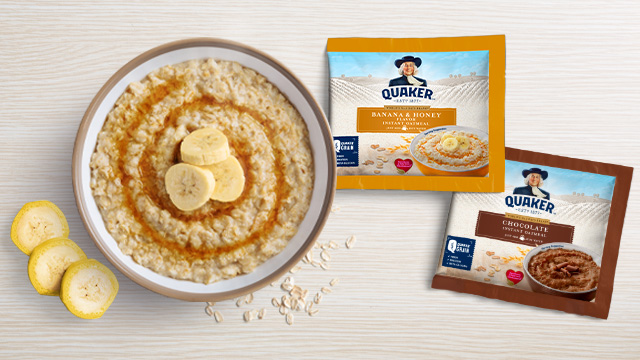 Quaker Oats comes in yummy flavors like Alex's favorites: Banana and Honey, and Chocolate! It also comes in sachets available for only PHP10 (SRP).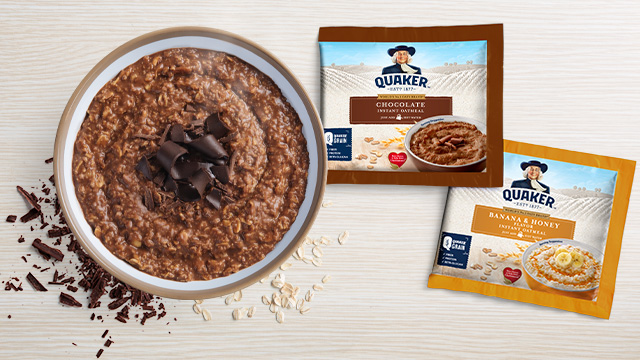 Quaker Oats Banana Honey and Quaker Oats Chocolate are available in leading groceries and supermarkets nationwide. Follow Quaker Oats on Facebook for more details.
Website
https://quakeroats.ph/
Read the story? Tell us what you think!
How and where can I get this?