Paul and Sol Bernardo on board AirAsia en route to Taiwan were getting settled in their seats when they were jolted by a familiar voice addressing them in the PA system just before takeoff.
The voice belonged to their son, Captain Genesis Bernardo, who at that very moment finally achieved his long-held dream since he became a pilot: To have his parents as passengers on the plane he is flying.
On Sunday, March 10, Genesis uploaded photos and videos of his "allstar moment" with his parents on Facebook.
Genesis did not reveal any other details of the flight, including when and where was the video taken.
The video captured Paul holding back his tears as his son delivered his touching message.
Genesis told his parents, "I would like to take this opportunity to thank two very important persons in my life, Mr. Paul Bernardo and Ms. Sol Bernardo, my dad and my mom.
"After so many years of flying in the airline, I have always dreamed of having you on board as my passengers.
"I would like to thank you for loving me unconditionally as your son, and for teaching me to do my best in everything that I do.
"I also thank you for inspiring me to never stop dreaming big and making me believe that everything is possible as long as you have faith.
"You are one of the biggest reasons why I am here commanding a flight and flying this plane. It's truly an honor and pleasure to have you on board.
"I'm so proud of you for bringing me where I am right now and I hope, I also make you proud.
"Cheers to all the parents whose always been an inspiration to their kids and to everyone of us who's been inspired by their parents to achieve their dreams."
At press time, his post has gathered over 13,000 reactions, 11,000 shares, and more than 1,100 comments from Facebook users.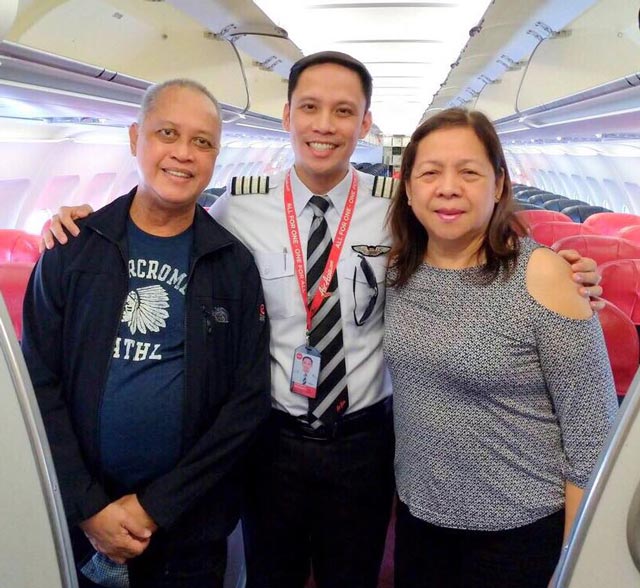 IN PHOTO: Capt. Genesis Bernardo with his parents Paul and Sol Bernardo.
Genesis also gave a shout-out to his brother, Joshua Bernardo, who was celebrating his birthday.
He said, "I would also like to greet my youngest brother Joshua Bernardo who's celebrating his birthday today.
"Happy birthday to you bro, I'm very glad to have you on board for the very first time with Ms. Mirel Domingo. Enjoy your trip!"
Toward the end of his announcement, Genesis thanked all of the other guests who joined him in this special flight.
"To all the guests of this flight, its a pleasure to have you all on board."
In his caption, Genesis wrote, "An ALLSTAR moment... The greatest fulfillment of a parent is when they see their child achieve success...and the happiest moment of a child is when he sees his parents being proud of his achievements.
"To all the parents who have been an inspiration to their kids to achieve their dreams, I salute you! Always 'believe' in them and they will definitely move mountains. To everyone of us who made our parents proud, treasure every moment of it. These things are priceless."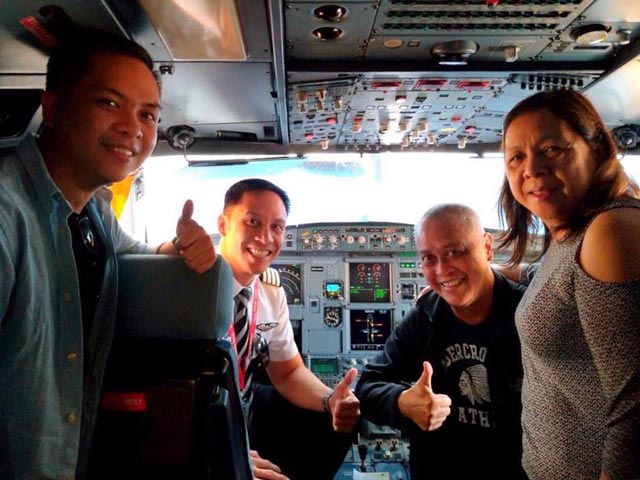 IN PHOTO: Capt. Genesis Bernardo (second from left) gave his parents Paul and Sol (right) as well as his brother Joshua (far left) a tour of the plane's cockpit.
Genesis also thanked the airline and his crew for helping him pull off his surprise for his parents.