It has long been believed that there is no formula to success.
Yet for University of the Philippines student Leo Jaminola, it only consists of one thing—relentless hard work.
Leo reached the prime of his life when he graduated cum laude during UP Diliman's commencement exercise held last June 28, 2019, at the university campus.
Although the award came as a surprise, it was his reward for studying hard while working as an encoder, transcriptionist, library assistant, tutor, writer, and food vendor to support his own education.
"Juggling jobs, academics, and organizational involvement was not an easy feat," Leo said in his viral Facebook post.
He also shared that he would often choose work over studies, knowing that it is the one that would help him with his increasing debts and expenses.
His sacrifices eventually rewarded him with more than what he expected.
LEO'S SIMPLE LIFE
The 21-year-old cum laude graduate grew up living a simple life with his family in Mindoro.
His father earned a day's wage of 210 to 250 pesos while working as a messenger at the local municipal hall. His mother, meanwhile, just stayed at home taking care of him and his younger sister, Sas.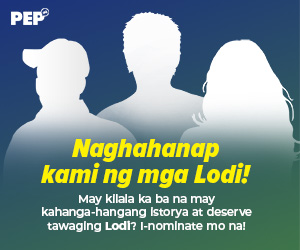 "Yung bahay namin, bahay ng lola't lola ko," Leo told PEP.ph (Philippine Entertainment Portal).
"So noong nabubuhay pa sila, mostly galing sa pension nila or sa relatives talaga. Sa kanila galing yoong pangbayad ng expenses."
Despite their lack of funds, Leo is grateful for his relatives who were kind enough to aid them in their expenses and granted them "some level of privilege."
LEO: AN ACHIEVER SINCE HIGH SCHOOL
Leo took his secondary education at the Regional Science High School in Mindoro, which was two towns away from his house.
He managed the daily commute by hitching a ride with a neighbor who drove a school service to and from the campus.
Aside from the ease in travel, Leo's mother also insisted on having him enrolled there because of the quality of education that the school offers.
He recalled, "Pinilit ng nanay ko na doon ako pumasok para daw maganda yung education na mareceive ko kahit public siya."
Being the obedient son and diligent student that he was, Leo persisted in his studies until eventually, he graduated as salutatorian of their class.
LEO HUSTLING FROM MORNING TO MORNING
Leo's family was supportive of his decision to study BA Political Science in UP Diliman.
But while his parents expressed their delight, he was having apprehensions about his expenses in Manila.
"Supportive naman sila. Actually sila pa yung nagpipilit sa akin kasi ang mindset ko noon, hindi natin kaya diyan, kailangan ko ng bahay pati food. Kasi growing up, nalimit rin ako ng surrounding ko, ng environment ko."
Leo then decided to help himself and his family by working six jobs while he studied.
His day would start at 9:30 a.m., when he would walk out of his dormitory inside the UP campus and into the classroom for his first class of the day.
By four o'clock in the afternoon, Leo would shift from student to freelancer.
He narrated, "Normally, four tapos na yung class ko. Doon na 'ko nagsisimulang pumunta either sa tutoring center or doon sa bahay ng mismong kid ko. 'Tapos after noon, babalik ako ng UP ng mga eight or nine, depende sa length ng tutoring session. Doon ako magsisimulua if mayroong request for transcription or encoding. 'Tapos usually matatapos siya ng mga 11:00 pm siguro or before midnight."
Every day was a long day for Leo. And as if his 10-hour hustle wasn't enough, he would still study or do projects for his organization until two to three in the morning.
LEO: AN INTERNATIONAL RAKETERO
Adding to his packed schedule and promising resume, Leo also flew to University of Tokyo to participate in the university's Global Studies in Asia program from March to August of last year.
He applied for the scholarship offered by UP and was lucky enough to be the one awarded with it.
And even when he was abroad, Leo still continued working part-time jobs.
He became an English tutor to Japanese kids and facilitated camps as a councilor.
"May mga na-meet kasi akong Pilipino doon. Sila nagturo sa akin. They actually helped me get by."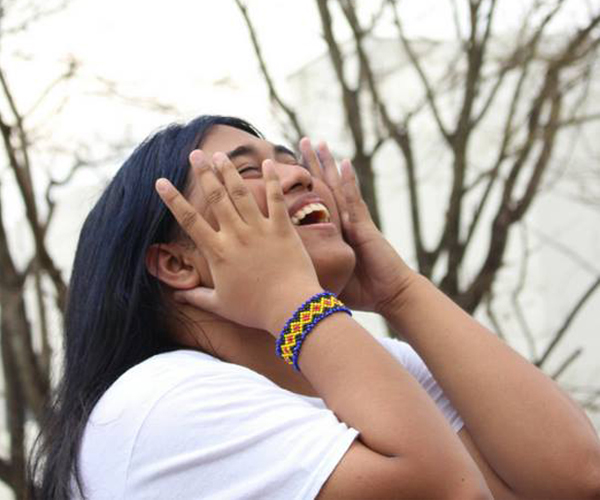 Throughout his college life, Leo found his finals week the most difficult to manage.
This was usually the time when the demands of his work and studies would pile up at the same time.
He recalls, "Minsan kasi sabay-sabay yung raket. Hindi naman ako makatanggi kasi kelangan ko ng pera, so may mga time talaga na wala ng time sa acads lalo na kapag finals week. Dahil doon I failed some subjects, dropped one subject."
But the wise, young man knew how to defeat the odds.
Leo continued to study relentlessly until the news that he'll be graduating cum laude took him by surprise.
"Never kong kinompute yung grade ko," he shares while chuckling.
"I was actually surprised [by] the results."
LEO'S INSPIRATION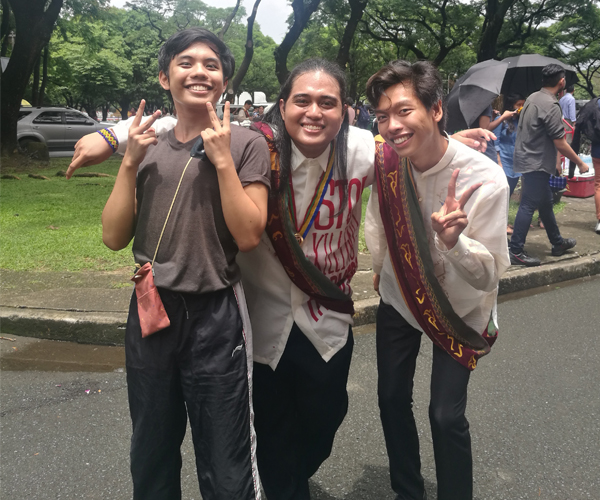 Family and friends are what kept Leo motivated throughout his five-year journey in college.
Whenever he felt exhausted, the working student would find refuge in his friends who redirect him to his goals.
"Sa times na pagod ako, nakikipag-usap ako sa friends ko 'cause most of my friends go through the sane struggle.
I actually thank [them] for keeping me sane during those five years," Leo says.
And although he doesn't visit his parents regularly due to budget constraints, he makes it a point to call them as much as he can.
He shares that his family and his community are what motivated him to study and work hard.
"Nung nakapasok ako ng UP, gusto ko talaga silang tulungan. Growing up kasi naexpose ako doon sa everyday scenes ng poverty na walang makain, yung mga bata nagstostop ng school, parang mga ganun. So yun talaga ang isa sa mga motivations ko, to help them talaga."
LEO AND HIS NEXT GOAL
Empowered by his achievements in work and school, Leo continues to live by his goal to provide help to his family, his community, and other victims of poverty.
Right after graduating from UP, Leo started working as a researcher at the Ateneo de Manila University Policy Center.
He began his new journey with a hopeful heart, knowing that his research will benefit his friends and neighbors.
"[It] must also lead to action–a necessary step in helping people free themselves from their chains," he said.
Leo also advised the youth not to be discouraged when faced with failures.
Instead, they must continue aiming for the best and "after education, kung mapalad tayo na makaalis from poverty, sana tulungan rin natin [ang iba] makaahon."