At age of 12, Izhar Wayne Alfon is showing that a winning outlook is the key to achieving more in life.
A special boy dreaming to become a police officer, he graduated elementary on April 1, 2019, with a general average of 76.
It may be "pasang-awa" or barely making it, but it is a remarkable feat for a slow learner like Wayne.
His story has been inspiring netizens since his story was put out on Facebook last April 5, 2019, by Iznar's adoptive sibling Pauline Claire Puno, who recounted the moment her youngest brother excitedly told her and their mother, Emely Aguirre, that he would graduate from elementary.
Despite his challenges in learning and final grades ranging from 76 to 78, the boy received his report card with the note, "Promoted."
In her post, Pau said her brother had been lagging behind kids his age and their family was already resigned to the idea that he would repeat sixth grade.
"At one point, as a family, we decided that 'Kahit mag-repeat na lang siya ng grade 6.' He would also agree and accept that. He would always tell us, 'Okay lang naman mag-repeat ako pag 'di ako pumasa.'"
But faith has its way of surprising those who never lose hope.
Her post continued, "One day, after school, he came running home, excitedly shouting, 'Mama, gagraduate daw ako!' He sat down between me and mama and he continued, 'Ate totoo pala ang birthday wish kasi ang wish ko sana maka-graduate ako tapos nagkatotoo.'
"We were silenced. We realized that inside his child-like mind was a dream to graduate elementary."
Pau and the entire family have been loving Wayne dearly since they adopted him in 2016.
She added, "Grades will never define him. He may have low grades, but he has a great character, an attitude that we will never exchange for anything."
Her post is still being shared by Facebook users with 151,000 reactions and 8,200 comments to date.
WAYNE GROWING UP WITH A BRAVE HEART
Wayne was nine when he lost both his parents.
His biological mother, Alma Alfon, died of lupus in 2016. "His father has a new family now," Pau revealed on Facebook.
It was in that year, too, that her family started the process of adopting Wayne.
Pau explained to PEP.ph (Philippine Entertainment Portal) that Wayne's family had lived with them from the time he was born.
"Our family decided to adopt him, firstly because his mom is my mom's best friend and they have been family to us ever since.
"Also, his mother chose our family to be the one to keep him.
"Being left with us in the absence of his biological parents never became a problem for him."
In her Facebook post, Pau also detailed Wayne's unusual physical and mental growth over the years.
"We do not know what his condition actually is, but he has a hard time reading, writing, and speaking.
"He is small and he couldn't construct sentences well. He started learning how to read syllables and memorize the alphabet in grade 6. He likes playing games that four or five-year-old children play.
"He couldn't keep still. He would constantly play alone with loud sound effects and stuffed toys. He never had an interest in academics. He managed to pass first to the fifth grade with general average ranging from 76 - 78."
According to Pau, Wayne is aware he is not as big or as tall as the other boys, and would rather play with a different group.
Pau told PEP.ph, "He can cope up when it comes to playing and interesting activities. But usually, he would prefer to play or mingle with younger [kids].
"Especially that his height is about the same as those children around seven to nine years old."
WAYNE'S SUPPORTIVE CIRCLE
As Pau revealed, Wayne has learned the importance of caring for each other because he himself is well cared for.
She said they love him so much they never lose hope Wayne will mature into the champion they envision him to be.
"I have two younger siblings [Vince and Ian], and we usually help him with his homeworks and projects.
"We never scolded him and we never made him feel like he did not know anything.
"We never made him feel bad about himself because we know that behind those almost failing grades... [is] a great character."
Apart from his supportive family, Wayne is also blessed to be surrounded by caring teachers and classmates who have been assisting him with his day-to-day needs in school.
"He hasn't experienced bullying from his schoolmates and classmates. His teachers are the people we owe, too. They had no idea what his condition is, but they knew that he is special so they really gave their time to help him learn for free.
"His adviser [also] instructed one of their classmates to inform us every time they have assignments so we are able to do them [with Wayne]."
WAYNE CONTINUES TO WIN IN LIFE
Wayne may be considered a late bloomer, but his never-say-die attitude has been warming the hearts of netizens since Pau uploaded his story on Facebook.
One comment read, "Grades are just figures or numbers. What matters most is the big Heart that care, love and respect."
Some praise him for being a "good boy."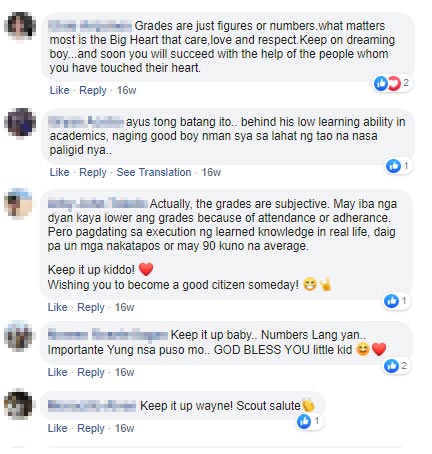 Others revealed how much they can relate to his story.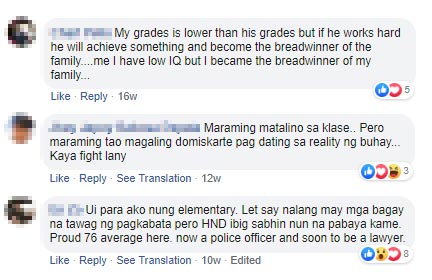 To this day, Wayne continues to win in life not just by being a fighter in his academics, but also by being a thoughtful and caring son, brother, and tito.
Pau narrated, "He is a great brother. He is a great son and tito
"When he has 20 pesos, he would buy mama's coffee and his nephew's biscuit, leaving him with three pesos, but he never complains.
"He puts what is left in an improvised coin bank and when he feels like we have [no money] to buy rice or viand, he would always sacrifice his savings for us."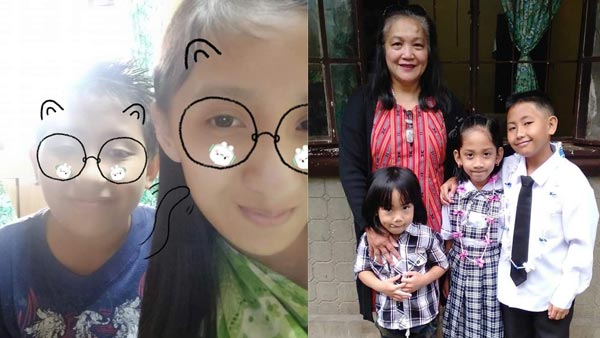 Wayne is now continuing his studies as a seventh-grader in Guisad Valley High School.
Since April 2019, he has been receiving support from netizens in cash and in kind.
In a separate Facebook post that Pau uploaded on August 11, 2019, she expressed her gratitude for the overwhelming support they have been receiving from everyone.
"Through the materials that mommy Ces Bätällêr has sent him, he is now able to read Filipino words fluently. Although his speech is not perfect yet, we can say that he is improving
"It's really overwhelming that a lot of you tell me that I have posted an [inspiring story].
"May every one with relatives, children, siblings, or friends who have the same condition as my brother, find strength and motivation to never give up on them."
When Wayne grows up, he sees himself becoming a police officer.
And the young man will surely go far. As his sister Pau says, "The thing is he tried and kept trying."