For all their sacrifices, there is nothing more rewarding for parents than to see their children succeed in their chosen paths later in life.
This is pretty much how Drs. Eric and Ana Peralta felt after their three children—Drs. Bianca, Eryka, and Dapoy—topped the Physician Licensure Examination in their respective batches.
Their story recently went viral on Facebook after the official page of the University of Sto. Tomas shared a screenshot of Dr. Eric's post on how proud he is of his three children. At press time, their post has received over 13,000 reactions and 2,000 shares on Facebook.
PEP.ph (Philippine Entertainment Portal) reached out to the Peralta family via Facebook messenger on Tuesday, September 24.
The patriarch is proud of what his children have achieved.
He told PEP.ph, "Completely fulfilling. It is no simple task for parents to go through totally supporting all aspects of his child's academic needs in a medical school career.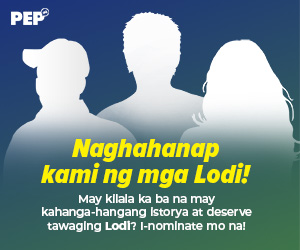 "Much more if like us who had to do the effort three-folds. But in the end, the results of our hard work paid so well because our new doctors paid us back more in return!"
He added, "The feeling is way beyond words. Maybe the closest thing to being in Heaven if there is such a comparison."
THE PERALTAS: A FAMILY OF ACHIEVERS
Drs. Eric and Ana's children took up BS Medical Technology in college and finished it with flying colors before studying Medicine at the University of Sto. Tomas in Manila.
Their eldest is Bianca, now a doctor of internal medicine and currently training as a fellow in Oncology at St. Luke's Medical Center in Quezon City. Dr. Bianca finished her pre-med course as cum laude in 2010, and eventually finished her Doctor of Medicine course as magna cum laude in 2013. She ranked 6th at the 2015 Physician Board Exam.
Their second daughter, Eryka, is a training resident of Obstetrics and Gynecology also at St. Luke's Medical Center in Quezon City. She graduated from her pre-med course as magna cum laude in 2012, and as magna cum laude for her Doctor of Medicine course in 2016.
The couple's youngest, Frederico, also known as Dapoy, recently ranked first at the September 2019 Physician Licensure Examination with a score of 90.92%. Dr. Dapoy finished his course in Medical Technology as magna cum laude in 2014. In 2018, he graduated as summa cum laude from his Doctor of Medicine course and was named as the batch valedictorian.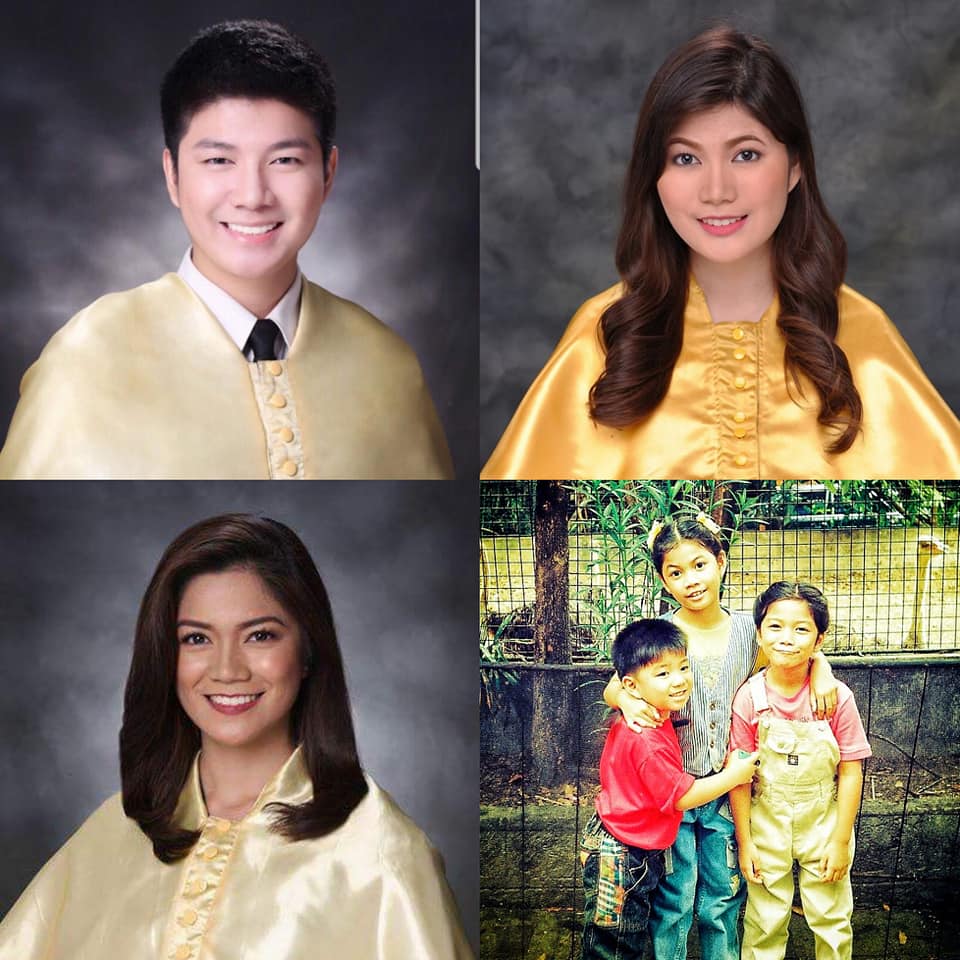 At an early age, all three were exposed to their parents' profession. Dr. Eric is currently an anesthesiologist, while Dr. Ana is an obstetrician-gynecologist.
During their interview with Unang Balita, Dr. Bianca said they didn't feel any pressure to follow in their parents' footsteps. Instead, they inspired them more to become doctors themselves.
She said, "Wala naman pong pressure because they inspired us and it became our passion over time din po. We saw from them sa start pa lang, it begins in the household na talagang tumutulong po sila sa ibang tao and it inspired in small little steps po."
Dr. Eryka added, "We were exposed to their work quite early. As children, we were always brought to the hospital when there's no bantay, ganyan. Nakiki-duty kami. We got inspired and, eventually, we came to know their work and nag-doctor din kami."
The same also goes for Dr. Dapoy. He told PEP.ph via Facebook Messenger, "As early as 4 years old, I was already exposed to hospital life and I guess it was the initiating factor that made me pursue this prestigious career."
Asked how they helped each other as siblings, Dr. Dapoy is very much grateful to have genius sisters.
He said, "I'm not really sure if I have ever been of help to them since I'm the youngest and I'm the one who always knows the least. But I am very blessed to have these two bright sisters! It's like having an instant textbook answer to all my queries! Also, I am always the automatic recipient of their 'pamana' notes."
RAISING FUTURE DOCTORS
But apart from raising intelligent children, Drs. Eric and Ana also wanted them to be good and compassionate people.
Dr. Eric told PEP.ph, "We started to instill on them their manners first. We wanted to make sure that when tomorrow comes for them they will choose to use the intelligence they acquired through the years by turning it into something for a good cause.
"We wanted to avoid breeding the smart monsters of the future. But it is equally important that parents as mentors be the exact example of what they teach to their children.
"Children are like mirrors even in their older age. They reflect the movements of the people they admire most and these are the people that they often choose to see standing in front of them. Mostly they are their parents."
Were they strict as parents?
He said, "Our parenting style is somewhat like a give-and-take relationship. We strive hard to make them see how much we love them. We let them see how much we work hard for them and let them know how hard we can do it for them.
"The idea is it makes them feel secure and they love us back even more. If the love is there, it is absolutely sure they will reciprocate by giving their parents whatever will make them happy."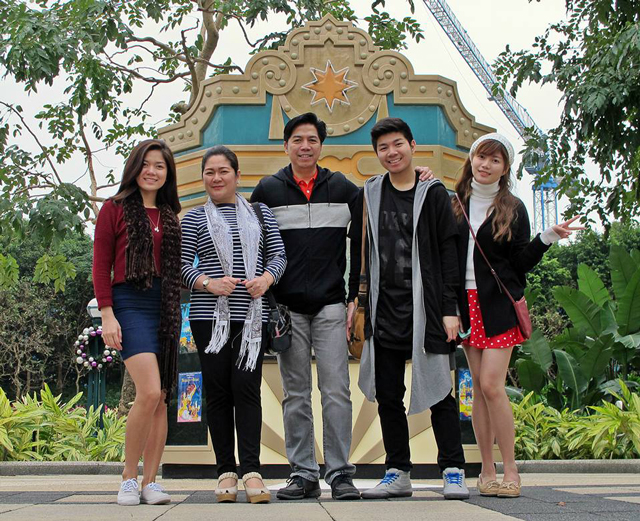 Dealing with distractions, according to Dr. Eric, is the most challenging thing they experienced as parents, but they were firm on setting the rules and limits during their children's younger years.
He said, "...For example television, computer games or anything that can victimize them by causing an addiction thereby deviating them from what is essential to their forward development.
"However, we did not totally eliminate these things from them for in the right amount they have advantages too. TV can be informative and computer games can promote a good eye-hand coordination especially for future professionals.
"But it should always be in the right amount. We made rules with specific emphasis on respect to how to make wise use of time.
"There must be a right time for everything. A person who is skilled in time management is a person who plans well and is bound or a bright future."
Asked about their constant advice to their kids, Dr. Eric answered, "To maximize their potentials and help each other in doing it. That even if they acquire the best genes on Earth it will only remain as a dormant potential if they do not work hard to nurture it into perfection.
"And to always practice their professions with integrity. That it will never matter if they are the best doctors in the land if they do not use a good heart as a guide in making the decisions of their big brains."
How about his parenting advice?
He said, "Be all out in full support. Be it love, time, money, effort, and understanding. The medical career is not easy and along the way, there will be plenty of sacrifices in many forms for both parents and children.
"Dream good dreams with your kids and do it together for dreaming is better if it is not done alone. Any soldier who knows that their General is always right behind them and with them in any type of battle will surely fight to their guts. Same goes with our little soldiers."
DR. DAPOY PERALTA: THE 2019 PHYSICIAN LICENSURE EXAM TOPNOTCHER
PEP.ph also got to know more about Dr. Dapoy in a separate interview on Tuesday, September 24, also through Facebook Messenger. While he said he has always dreamed of becoming a doctor in his childhood, Dr. Dapoy also thought of pursuing a different path.
He recalled, "There was a time when I was still in high school that I really wanted to go into engineering especially when I realized that I have a great talent in mathematics."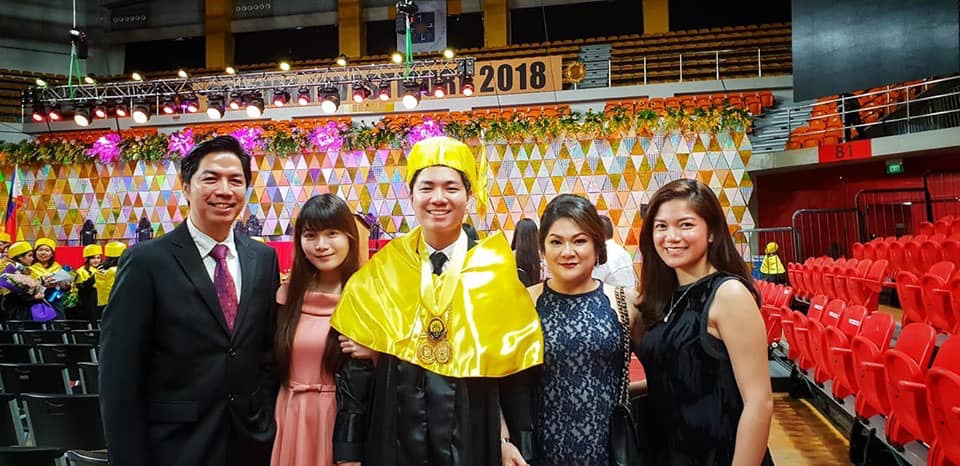 In his interview with Connie for Unang Balita, Dr. Dapoy also revealed that he also thought of pursuing a career as a medical technologist, and not continuing his studies in Medicine.
Dr. Dapoy told Connie, "After po kasi ng Med Tech, parang inisip ko sobrang tagal bago matapos yung Medicine. Parang it would take you at least five years so sabi ko, 'Mag Med-Tech kaya ako as profession?'"
He continued, "Eventually naisip ko po na parang if I pursue Medicine, fulfilling po kasi yung feeling na doctor po, na makatulong ka po sa kapwa kaya yun po, nag-pursue ako ng Medicine."
Dr. Dapoy further noted in his interview with PEP.ph, "To be honest, I was not that good in basic sciences during that time.
"I haven't really told anyone in my family back then about that plan of mine but as far as I can remember, somewhere along the road, I was compelled to follow the footsteps of my parents and my sisters who also chose to become physicians."
Being the youngest member of the family, did he ever feel pressured from achieving high levels of accomplishments like his siblings?
Dr. Dapoy answered, "At first, there was no pressure at all, even after my eldest sister topped her board exams. But soon after my second sister also topped the boards, literally everyone around me, my classmates, friends, relatives, and professors suddenly pressured me to also top the boards.
"It was really distressful on my part but instead of giving in to external pressure, I used that perfect opportunity to challenge myself further, to improve my grades and alter my study habits. The road I took was not an easy one but I can finally say for sure that it was worth it."
Medical school is extremely challenging, but for Dr. Dapoy, spending his years in Medical school away from home made it a lot tougher.
Dr. Dapoy told PEP.ph, "The most challenging part of my medical school experience was the fact that I was away from my parents. We live in Bulacan, hence, we had to rent a small dormitory near UST.
"Despite the distance, I commend my parents for their perseverance to visit us every Sunday to celebrate family day. A single hug from them is like receiving an instant boost of energy to face the upcoming hell weeks to come."
Even with all the challenges, his motivation to become a doctor had never waned.
He said, "Thinking about the number of patients I would be able the help in the future kept me motivated during those hard times in medical school."
PEP.ph also asked Dr. Dapoy for some study tips.
He said, "My number one tip to those who also want to top the boards is to have the right mindset as early as the first day of their chosen course or program.
"It is not wrong to choose the kind of people you hang out with, those people with the same mindset as yours, and people who will motivate you to exceed your limits.
"It is also not wrong to compete with others, but never forget to be humble and kind always. Prime yourself that one day, you will top the boards.
"For aspiring doctors who also want to top the future physician licensure examinations, my ultimate tip is to study your lessons in medical school as if you are already studying for your board exam.
"No review center can ever compare to the quality of teaching and quantity of information you will get from medical school.
"During the 2 to 3-month review season, face the reality that you have very limited time.
"The key is to recognize what you already know and allot more of your time to topics which you still do not know.
"Write them down on a piece of paper and update them as necessary. Make sure to manage your time properly.
"As early as day one, make a timeline or schedule of topics and stick to it religiously. It's up to you to decide if you will stay away from social media. In my case, I had to delete my twitter and Instagram apps.
"Always challenge yourself at the end of each subject by answering sample questions from different review books.
"Also, you have to protect your sleep. Take your vitamins and allot some time for exercise.
"This is the only way you can consolidate all the information you have read into long term memories.
"Remember that it is not about the amount of information you have read which will matter, but the amount of information you can recall during the fated examination day.
"Lastly, never forget to pray. More than anyone else, He will be your best guide throughout this journey."
Now, Dr. Dapoy has set new goals for himself. He said, "In 6 years, my goal is to become a full-fledged surgeon. Right now, I focus on having a healthy diet and proper exercise.
"I also pursue some of my hobbies again which I had given up temporarily while I was in medical school."
Your extraordinary story has been submitted.