The durian has earned a bad reputation because of its pungent odor.
It was recently reported that postal workers in Schweinfurt, Germany were treated for nausea after inhaling what was feared to be harmful gas coming from a parcel. Six were rushed to the hopsital while six others received medical treatment on the ground.
The source of the foul smell? Four Thai durian fruits that were sent as a package from Nuremberg, the second-largest city of German federal state of Bavaria.
This type of incident only reaffirms the notoriety of the durian across the globe.
Despite its smell, durian has a cult following, and is actually regarded as the King of Fruits in Davao.
Kriza Faye Calumba, a food technologist who hails from Davao, has been giving the fruit some positive press through her invention: a healthy beer made possible with durian.
She tells PEP.ph (Philippine Entertainment Portal) in an exchange via Facebook Messenger, "The beer was the product of my Master's thesis at Louisiana State University, USA.
"I was able to work with lactic acid bacteria for my undergraduate thesis at UP Mindanao and with such interest, I applied similar bacteria as probiotics for my Master's research."
Probiotics are live microorganisms that are good for the digestive system. Beverages such as yogurt drinks and Yakult contain probiotics.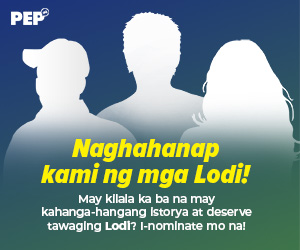 But a beer with strong presence of probiotics is something extraordinary.
She says, "Putting probiotics in the beer is a challenging feat, so I explored using the rind from durian to protect the bacteria in the beer.
"I only used the rind from durian, or the white part of the peel and with the thorns removed, and made it into powder.
"Only one percent of the durian rind powder was used during the immobilization, which is the process where I trap the bacteria within the powder."
Kriza worked with the premise that the durian rind powder could help protect the microorganisms needed for brewing and fermentation.
But she faced challenges before she could achieve the perfect blend.
Preliminary experiments failed as the probiotics ingredients didn't survive for a handful of reasons.
Kriza and her lab partners tried to figure out how to bring all the ingredients together perfectly. This meant employing a trial-and-error approach that dragged on for months.
"It probably took more than half a year for us to determine the right ingredient formulation, mixing the malt, water, hops and yeast, as well as brewing and fermentation processes to make the probiotic bacteria thrive in the beer," recalls Kriza, who is a self-confessed beer lover.
Kriza's unique concoction is a step forward in the development of beer that has health benefits.
"When given the opportunity to conduct further studies on beer with probiotics, it would be a breakthrough to have such product commercialized," she says eagerly.
Health-conscious booze lovers would stand to benefit from the positive effects of probiotics.
"Probiotic products are shown to have gastrointestinal health benefits. They can also reduce the risk of cardiovascular diseases and improve our immune system," Kriza points out.
Even those who are lactose-intolerant may eventually be able to try this healthy beer.
Kriza explains, "While most probiotic products are dairy, there are increasing efforts to develop non-dairy probiotic products to cater to the lactose-intolerant and other populations that cannot consume dairy foods, and beer is one possible beverage.
"Since alcoholic drinks have been linked to disruption of gut microbiota balance, beer with probiotics could be a therapeutic avenue."
While the amount of durian used in the concoction is too minimal for the finished product to be called durian-flavored beer, the fruit also contributes its own health benefits to the beverage.
"The durian rind powder used, aside from serving as protection for the probiotics up to some point, can also provide other benefits such as acting as a bulking agent to ease defecation."
As for the taste?
It is "soury," and tastes almost like the usual beer.
But healthy durian-flavored beer out in the market would have to wait.
Presently, Kriza has her sights set on a non-alcoholic Pinoy favorite drink for a business venture.
"Because of my love for probiotics, we are opening a probiotic yogurt milk tea shop in Davao City very soon," she proudly says.
"Since milk tea is a favorite of a lot of Filipinos, I was thinking that this would be a good start to share my love for probiotics with people."
Your extraordinary story has been submitted.