It was a project 20 years in the making.
Finally, retired chemistry teacher Bro. Martin Sellner has finished his embroidery of the periodic table of elements.
Much to the delight of netizens, the 82-year-old Lasallian brother posted a photo on Facebook on July 17.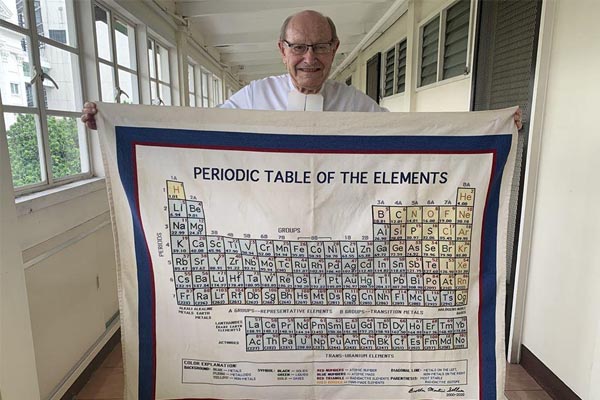 The embroidery measures 58 x 54 inches, and every inch has been meticulously hand-stitched by Bro. Martin himself.
It was an endeavor that took two decades to accomplish, and was completed during the lockdown phase of the ongoing COVID-19 pandemic.
But, it all started with a debilitating health issue.
In a chat via Facebook Messenger, Bro. Martin told PEP.ph (Philippine Entertainment Portal), "In 1999, I developed serious back problems while working in the Philippines. I went back to the States to get it resolved.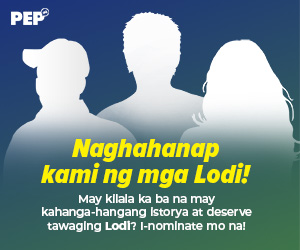 "Surgery was not an option, and other procedures did not help, so I made a decision to remain at home. Teaching was no longer possible."
Since he had to retire from teaching, Bro. Martin needed a hobby to pass the time.
"A dear lady friend of mine, a mother of my former student, suggested sewing—knitting to be exact—needlepoint on a plastic grid.
"I enjoyed doing that, making covers for tissue boxes. The sides were rectangular, and after a while I thought of the periodic table featuring its 118 boxes."
A PASSION PROJECT
Bro. Martin was a chemistry and math teacher for 26 years in Chicago and Minnesota in the United States.
In 1985, he moved to the Philippines to teach and to help upgrade the science curriculum of De La Salle schools in the country.
He taught in the Philippines for ten years, with stints at De La Salle University in Taft, Manila, and De La Salle Santiago Zobel School in Muntinlupa City.
After a few years, he moved back to the United States to seek medical treatment for his back injury.
"In 2000, back in the States, I was asked to take care of the elderly brothers, with a total of 19 coming under my care.
"Besides cross stitching, I also started genealogy, another most interesting hobby."
But Bro. Martin eventually found his way back to Manila.
"In 2012, during the closing of the centennial year of the La Salle Brothers in the Philippines, for which I returned, the Brothers asked me to consider returning to Manila.
"I loved it here so much before that it was an easy decision for me to make, and so I returned to Manila in 2013."
One of the things he brought back with him was his cross-stitching.
Bro. Martin would work on various cross-stitch projects over the years to keep him preoccupied.
But he never lost sight of his ultimate goal: to finish the embroidery of the periodic table of elements.
"During those 20 years, I did get tired of the same project, so I started others just for some variety," Bro. Martin said.
"I ended up doing 20 or 30 other crossstitch projects, giving them away to family, relatives and friends. And continuing stitching the periodic table until it finally got finished a few days ago."
He added, "Why would I not want to complete it? In cross stitch, I never set a time limit for me to finish anything. I think if you did, you could get stressed, and it would no longer be a hobby, no longer be enjoyable. So I just plug along, and finish something whenever."
FINAL STITCHES
The COVID-19 pandemic and the nationwide lockdown meant more time for Bro. Martin to sit down and complete his most ambitious project.
He narrated the factors that both prolonged and sped up the process for him.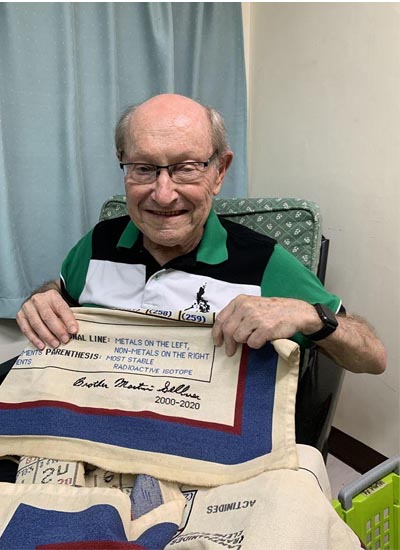 "When I had most of the table stitched, there were nine elements still unnamed, with three of them not yet made. I really assumed that making those three and naming those nine might never occur while I was around. But I held off," he said.
"Finally, seven years ago the making of the final element was verified and accepted. Six years ago the remaining elements were named, a symbol given to them, and the most stable isotope determined.
"Then it was a matter of finding time to stitch them into my table. And I found that time during this pandemic lockdown. At the beginning of the lockdown, I did other things first, things which were more important in my mind, and eventually I got to doing the periodic table."
What was the toughest challenge for him with this project?
"I would prefer changing that to what was the most boring! And that was sewing the border. The border took twice as long as the table itself.
"There is nothing exciting or creative in sewing a row that is 58 inches long, for a total of about 1,000 stitches, then coming back to those 1000 stitches to complete the cross. That was one row. How many rows? 45, and that was just the top of the border. There was still the bottom and the two sides. Talk about a tedious job.
"It was in those years when so many other crossstitch projects were undertaken and completed. But no project gave me as much joy and excitement at completion than this table—that is for sure."
Bro. Martin currently resides at the DLSU campus, together with 18 fellow brothers. There, he teaches his Lasallian brothers to cross stitch, while being active in social media, including TikTok.
He plans to frame the periodic table embroidery for posterity's sake.
"Maybe I will hang it in my room, taking up most of one wall, and just admire it, and remembering all the various stages," Bro. Martin mused after completing the periodic table.
"Nothing like great memories to cherish."
Your extraordinary story has been submitted.