A Pinoy padyak vendor and a Syrian vlogger are currently making waves on the Internet.
The vlogger is Basel Manadil who proudly calls himself the "adopted son of the Philippines."
He described the padyak vendor as the "best type of people to help: old and hardworking."
Basel came to the Philippines from Damascus when he was 18, on the heels of the war that broke out in Syria in 2011.
Now 26 and known for his moniker The Hungry Syrian Wanderer, Basel has 2.97 million subscribers on YouTube, almost a million fans on Facebook, and 147,000 followers on Instagram.
His videos capture the Philippines and Pinoys in the best light, prompting the actress Sharon Cuneta to give him a shoutout on Instagram.
The Megastar's caption read: "I've made friends with a few other YouTubers. Some are here, some non-Pinoy. You must visit and watch the vlogs of my new 'adopted son,' Basel of @thehungrysyrianwanderer.
"He is from Syria and has lived in Manila for around 7 years now. You will be touched by his heart to help his 'kababayans' in his adopted country.
"Mapapahiya ka kung Pilipino ka at wala ka man lang natutulungan kahit isang tao. Siya pang foreigner ang tulong nang tulong.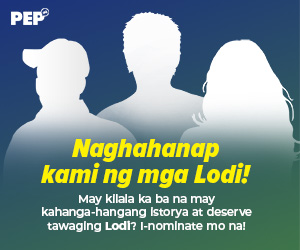 "We have been in touch for about a month now. He has an IG acct too but please watch his YouTube vlogs. Good job, son! God will bless you more and more. You have a beautiful heart. Thank you for loving all of us Filipinos!
"Lots of love, Inay"
"tatay VENDOR" ON THE STREET
Basel's latest vlog featured his 17-minute encounter with the vegetable vendor who plies his trade on the streets of Manila to feed his family in Isabela province.
In the eyes of the Syrian, the man exemplified the best qualities of Pinoys—honest, industrious, and family-oriented.
His vlog, which he uploaded on September 8, 2020, has generated more than 600,000 views, 63,000 likes, 8,000 comments on YouTube and 565,000 views, 57,000 likes, 4,000 comments and eight thousand shares on Facebook.
It began with Basel telling the vendor to meet him at a nearby gas station
The vendor replied, "Talong, Bossing. Kalabasa."
Basel, who can speak Filipino, joked about looking for a "kalabata."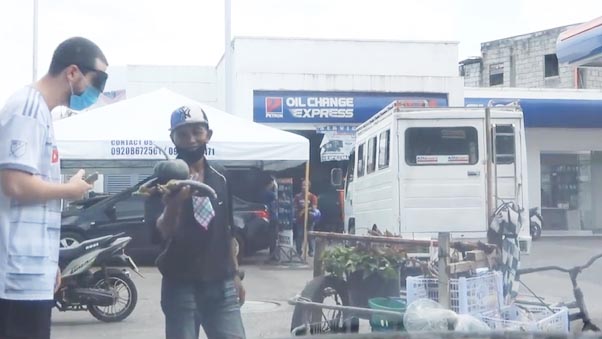 Tatay (how Basel referred to him), holding up a tiny pumpkin, offered, "Masarap 'to. Pang-vitamin."
Basel eyed the kalamansi and was told, "Mura na lang ito kasi sira na. Mura na lang iyan. Sampung piso na lang iyan."
The vlogger asked, "Pero bakit maging kulay yellow yung kalamansi mo?"
Tatay answered matter-of-factly, "Kasi nahinog na siya…Oo, sa init."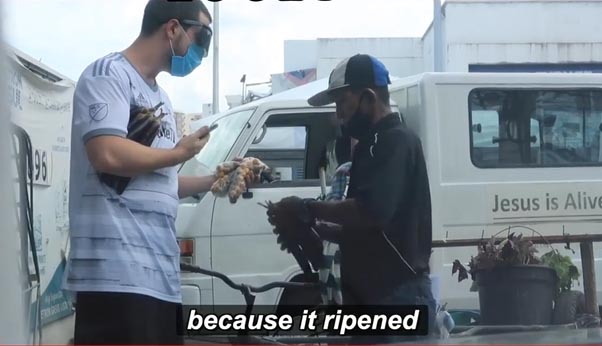 Tatay, who could not understand and speak English, shook his head when Basel told him, "Start tayo kausap English. Bilhin ko lahat."
The clueless vendor simply said, "Hindi ko alam, Bossing."
Basel persisted, "Kahit anong gusto mong sabi sa English bilhin ko lahat, lahat yung tinda niyo po.
"Sige start tayo kausap English. Pag maintindihan mo, bilhin ko lahat tinda mo ngayon."
Obviously confused, Tatay muttered, "Kasi bossing hindi ko alam…"
Basel decided to buy Tatay's paninda—onions, talbos ng kamote, patatas, okra, and kangkong, which Basel pronounced as "kingkong."
He said, "Sige Tay kunin ko lahat. Magkano?"
The vendor answered, "Eight hundred."
Basel pointed to the man's padyak, and asked, "Ito? Magkano iyan, Tay? Magkano? Bilhin ko now?"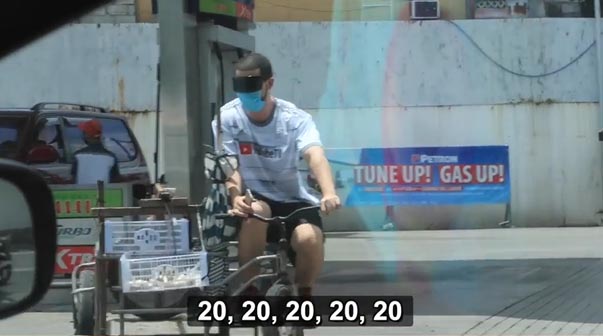 Tatay, alarmed, quickly said, "Susmaryosep maawa ka sa akin."
The vlogger tried again, "Bilhin ko cash kasi yung tatay ko, gusto pasalubong galing Philippines."
Tatay, unyielding, firmly said, "Ayoko. Marami diyan. Bili na lang."
Basel pushed, "Kahit 100k?"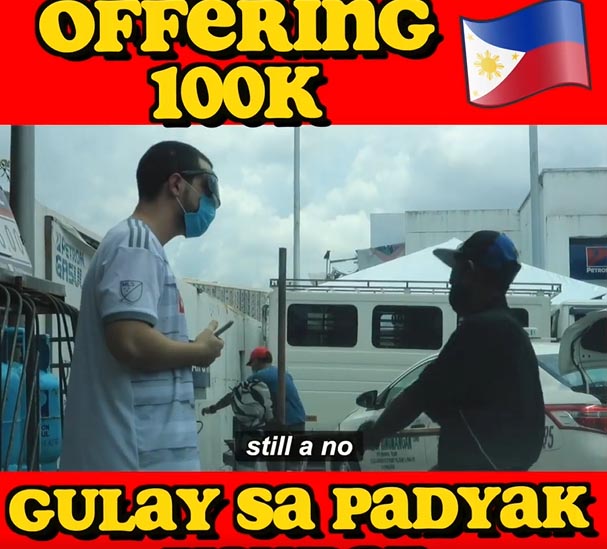 There was a brief pause, then Tatay said with a laugh, "Hindi."
In the end, Basel decided, "Bilhin ko iyan 'tapos bigay ko sa iyo extra money, pandagdag puhunan."
Initially, he gave him 1,000 pesos, "Okay lang iyan?"
Tatay replied, "Sige."
When Basel handed two more 1,000-peso bills, Tatay exclaimed, "Wow. Masaya na ako."
While giving the money, Basel was counting.
When he said, "Four," which was presumably four thousand pesos, Tatay, said, "Anla. Para makauwi na ako. Makauwi na ako, Bossing."
When he said, "Six," Tatay said, "Tama na ito. Okay na…"
But Basel kept on giving him money, while Tatay, who was already in tears, was saying, "Laking tulong mo, tulong mo na sa akin.
"Bossing uwi na ako para makita ko na yung mga anak ko."
Because of the money he earned that day, Tatay decided, "Uwi akong Isabela."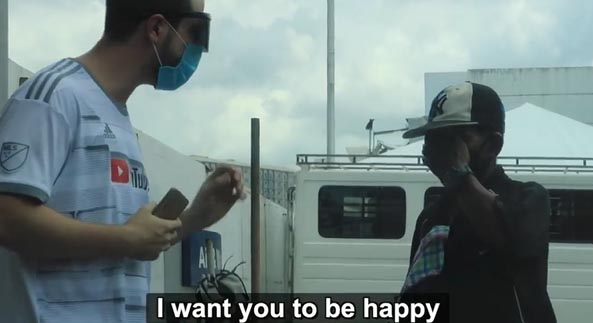 After the "emotional" moment, Basel followed Tatay as the vendor jauntily pedaled away.
His vlog's caption read, "It's not all about the money."
In the video, the Syrian vlogger added, "This is how Filipinos [are] when they are attached to something, they wouldn't give it up for money."
And what happened to the gulay that Basel bought?
He gave them to the workers who are currently renovating his house.
Use these Shopee vouchers when you shop or order online. Marami pang ibang coupons dito.
Your extraordinary story has been submitted.