Vallerie Castillo-Archer is raising the Filipino flag high in the international food scene after being named the first-ever female executive chef of Yamashiro Hollywood in Los Angeles, California.
Also known as "mountain palace," Yamashiro Hollywood is one of the most iconic restaurants in Los Angeles. It was built as a private estate in 1914 and was later converted into a restaurant by Thomas Glover in the 1960s.
Currently, the Asian fusion restaurant is being run by the BMG Group, Sugar Factory, and TCL Chinese Theaters.
CHEF VALLERIE'S YOUNGER YEARS
PEP.ph (Philippine Entertainment Portal) learned more about Chef Vallerie in a virtual press conference last Tuesday, July 20, 2021.
In her interview, Chef Vallerie revealed that she spent most of her childhood in the Philippines until her family moved to the U.S. in 1976.
"I came to the U.S. when I was six, you know. My father was in the U.S. Air Force so he came to get us in the Philippines when I was six.
"And then we basically began our journey or life in the U.S. in 1976 and I've been here since. But with my dad being in the Air Force, we're always traveling Asia all the time.
"And we landed back in Clark Air Base."
Chef Vallerie said she became passionate about baking and cooking since she grew up in a bakery at their hometown in San Nicolas, Ilocos Norte.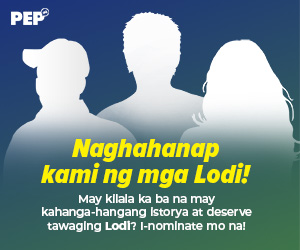 "I was born in my grandfather's bakery in San Nicolas, Ilocos Norte. So yeah, it's my passion. I've always been around food and it's something I love to do.
"And as I grew up and got older, I still found the passion for cooking and it's something that I like to do."
View this post on Instagram
CHEF VALLERIE'S JOURNEY TO YAMASHIRO
In April 2021, Chef Vallerie was named the new executive chef of Yamashiro Hollywood, the first female in the restaurant's 50-year history.
Achieving the position was not a walk in the park.
Before becoming a chef, she had worked several other jobs—from being a medical biller to a make-up artist, and, for a time, a stay-at-home mom.
At the age of 40, she finally decided to go to a culinary school while taking care of her family, in the hopes of pursuing a career as a chef.
One of the main reasons she decided to pursue this dream was because of a life-changing moment she experienced with her daughter Jade. A few years ago, Jade tried to take her life after being bullied in middle school.
Baking was one of the ways Chef Vallerie was able to make her daughter smile again after suffering from the traumatic incident.
The 51-year-old chef recalled, "Here in America, there's so many stigma, there's 'If you're fat, you're not good looking,' and so... My daughter, she loves to eat food, because, you know, I cook for her all the time.
"During middle school, the kids were really mean to her and they told her, 'You're ugly, why don't you kill yourself?'
"So that day, she tried to attempt suicide. And it's the hardest thing to face as a mom and as a parent because you don't know what to do?
"I did not actually catch her. One of our close friends basically told us that, you know, 'This is what she's trying to do or wanting to do.'
"And what happened, how I connected that with baking is that every time she's sad, I would buy French macarons for her, and then I got so interested in baking and this helped [bring] my daughter closer to me.
"And so that's how I became a pastry chef."
Since then, Chef Vallerie has worked her way up.
But during her earlier years as a chef, she, too, initially had to endure being stereotyped instead of being recognized for her talent.
"It's difficult because, if you're Asian, like for me, they know I'm Filipino, they only think that you can only make Pansit or Lumpia or Adobo.
"But they don't know you have much more talent.
"I went to culinary school so it's difficult to kind of explain to somebody that you are much more than, you know, the Pancit.
"It's a big challenge. It's something that I have to show people every day and teach people every day."
View this post on Instagram
CHEF VALLERIE CHAMPIONS FILIPINO CUISINE
One of the major changes she made upon becoming the executive chef of Yamashiro Hollywood was to hire more Filipino staff members.
"When I first came here, I was the only Filipina. And then, as I was hiring my cooks, I started hiring more Filipinos in the kitchen."
Chef Vallerie also has a "secret menu" for patrons or guests who are craving for Filipino food such as Pansit, Dinuguan, and Lechon Belly.
"The owners here, they believe in me, they trust me, and they open the doors for me to basically create kung anong mga dish ko na gusto.
"So it's not your typical na Japanese food. Plus, I want to express and explain to people, you know, what Filipino dish is about, what we have to offer.
"So I want to have our guests experience that 'cause we have a lot of amazing food and I think the only way to do that is to allow people to taste it."
Asked if there's any Filipino dish she hopes would get more international recognition aside from Adobo, Chef Vallerie wants more foreigners to discover Dinuguan or Sisig.
She said, "Every culture has different cuisine that has amazing ingredients. And you know, if I meet somebody, the first thing they'll ask me, 'Oh, do you know how to make lumpia?'
"'I'm more than Lumpia. We're more than Pancit, we're more than Adobo.'"
For now, Chef Vallerie continues to introduce new Filipino dishes to her own staff at the restaurant.
The Pinay chef is proud that even her colleagues are enjoying Filipino food every time she cooks them.
"So yung Caldereta, I made that here in the restaurant. I also made Igado and then I also made Bangus, things like that.
"I want them to experience more because we have so much amazing food.
"I also bring Bagoong to work so they can try that and, you know, it's an amazing feeling to see your colleagues eating your food and they're liking it, especially the Ilokano Pinakbet.
"I left it on the stove and I was walking in the kitchen and I noticed my staff were eating it and they loved it. You don't have to be embarrassed of what we have to show as food.
"If you just show it to everybody, everybody will eat it and that's what I want to do."
CELEBRITY HOT SPOT
Now, Chef Vallerie gets to prepare food for Hollywood's A-listers such as Bruno Mars, Anderson Paak, and Cardi B.
View this post on Instagram
Other stars who frequent this restaurant are Johnny Depp, Ben Affleck, Brad Pitt, Dolly Parton, Mel Gibson, and Gwyneth Paltrow, among many others.
The restaurant is also a hot spot for local celebs. Chef Vallerie has prepared food for Lovi Poe, Jonas Gaffud, Miss Universe Philippines 2020 Rabiya Mateo, and Arnel Pineda.
Piolo Pascual also visited the restaurant with his My Amanda co-star Alessandra de Rossi. He almost had an encounter with ex-girlfriend KC Concepcion, who dined with Apl.de.Ap.
View this post on Instagram
Chef Vallerie admitted that she still gets starstruck every time she meets a celebrity.
She said, "I will always get starstruck. You know, I met KC and I have to compose myself that I ran to my office, I start jumping up and down,
"You know, of course, when you meet Piolo, what can you say? He's a handsome actor, what are you gonna say?
"I have to keep my composure while saying hello to them. Inside I'm like this little girl screaming, you know, 'I met him!' and stuff.
"But it's always a great experience. It doesn't matter if I see them once or twice. It feels as if I just met them. And the fact that I, you know, my job allows me to meet these people, it's exciting, you know.
"Michael Jackson's son comes here and you know, growing up as a child admiring Michael Jackson, now I meet his family, his kids. It's an amazing experience, you know.
"So it's something that I cherish and I always jump up and down. Maybe not on the outside but on the inside, I'm screaming like a fangirl, you know."
CHEF VALLERIE AS A MOm
She has been busy with her new job, but she makes sure to have enough time to spend with family, especially her three children.
"My kids are a lot older now so they go to college and my youngest is in junior high school so I'm able to... I speak to them every day, I see them, you know.
"There's always a balance. You can't have too much of so many things. So, you know, I'm close to my family and at the same time, I'm always at work as well.
"So there's always a balance there. And you know, I'm having the best time of my life and I'm enjoying whatever I have right now."
What advice would she give moms who are contemplating about pursuing a deferred dream?
Chef Vallerie said, "I think the best advice I can give is that if you are wanting to do something, you basically go after it.
"You don't want to think, 'What if?' or 'How could I have this' or 'How could I do this?' or 'Can I do this?'
"Just go for it, you know. At least you tried. If I didn't continue or pursue this, I don't think I would be where I am today.
"It was, because at age 51, you know, what kind of career can I start especially heading up the most extravagant restaurant in L.A., it was definitely a challenge.
"But you know what, I'm glad I went after it and the only advice, the best advice I can give you is just continue pursuing your dreams."
We are now on Quento!
Download the app
to enjoy more articles and videos from PEP.ph and other Summit Media websites.
Your extraordinary story has been submitted.