The good thing about money-saving challenge is that one can do his/her own strategy.
A netizen named Janneth Enriquez was able to save a total of 43,000 pesos in three months time.
How? She simply saved all the five and ten peso coins she got from her sari-sari store.
Her accomplishment became viral on Facebook last June 1, 2017.
She proudly wrote, "Pang-enroll, solved!! Thank you Lord!!"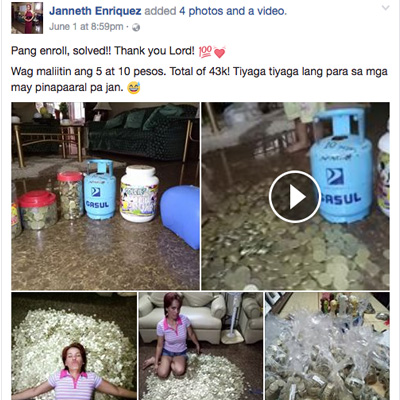 In an exchange of messages via Facebook, she told PEP.ph (Philippine Entertainment Portal), "Lahat ng tigli-lima at sampong piso hindi ko yun sinusukli, hinuhulog ko sa alkansiya ko."
And instead of loosely spending the coins on candy or anything that can easily be consumed, she reserved them for a better purpose: "pampaaral."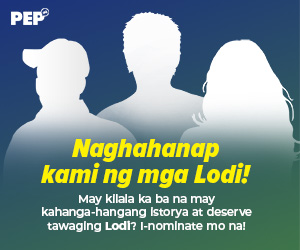 She remarked, "Wag maliitin ang 5 at 10 pesos."
At press time, Janneth's Facebook post has garnered a total of 32,000 likes and 29,068 shares.
Although many netizens lauded her, some reminded her about the Anti-Hoarding of Philippine Coins Act.
It can be recalled that in 2014, banking officials cited a case of "coin shortage."
The senate said in a press statement, "All Philippine coins are made of various alloys of copper, brass, nickel, aluminum or steel.
"The rising values of such metals has encouraged syndicates to hoard and export coins, leading to a coin shortage, which the BSP said, started in 2004."
However, Senate Bill No. 2452 or the Anti-Hoarding of Philippine Legal Tender Coins Act proposed by Senator Serge Osmeña exempts individuals who save coins in alkansya, jars, drawers, and wallets.
Your extraordinary story has been submitted.