Every now and then, we come across different sorts of love messages on our social media feed.
But this particular Facebook post by Jason Marvin struck a chord to many.
Joining the social-media celebration for #NationalGirlfriendsDay on August 2, Jason took the chance to honor his girlfriend, Cornerstone artist and songwriter Moira Dela Torre.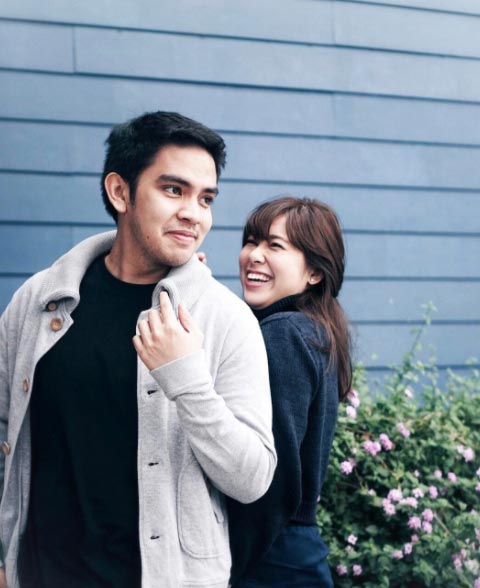 It was a short message peppered with affection.
Jason wrote, "I asked God for a funny one, He gives me someone who'll give me abs from laughing.
"I asked God for a singer, He gives me the most soulful and smoothest voice I've ever heard.
"I asked God for a pretty one, He gives me someone na sinisinat at nahihilo ako when I look at her.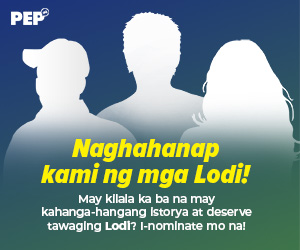 "I asked God for a christian, He gives me a woman after God's own heart, a partner of mine in worship.
"I love you Momoi [Moira's nickname]! I thank God for exceeding my prayers [heart emoji]."
This post quickly made its rounds, and has so far generated over 23,000 likes and 4,500 shares.
In a short exclusive interview via Facebook Messenger with PEP.ph (Philippine Entertianment Portal), Jason was surprised to see the numbers on his post.
He said, "I posted it because I really just wanted to honor Moi. I had no idea it would reach this many people.
"I find it really cool though because looking at the comments, I feel like it sparked kind of a reminder for people—both in relationships and single—that it can work and that no one needs to settle!"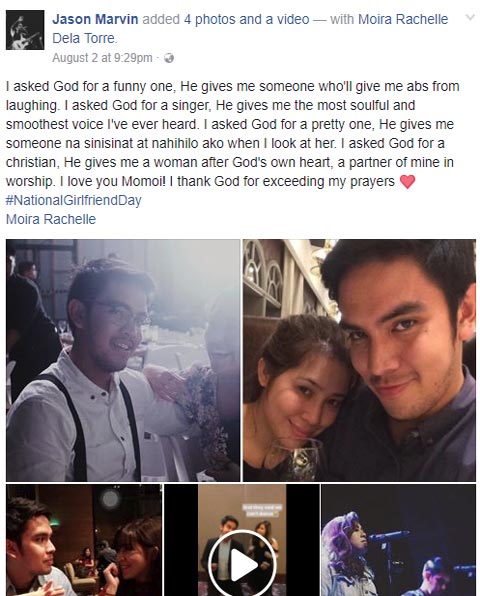 THE LOVE STORY. Jason and Moira have known each other for six years.
"For three [years], she's been one of my best friends.
"We went to the same college and the same church."
Moira was even Jason's "proof reader" when it came to wooing girls, "Siya yung magpo-proofread sa mga messages ko sa mga girls na pinormahan ko, haha!"
But his previous relationships never ended up the way Jason wanted them to be.
For here on, he decided to "trust God and to move when I have peace."
This was when Jason began to see Moira in a different light, "I wasn't expecting it to happen so soon… I want sana mangligaw late this year pa, because I wanted to focus muna on my job.
"But when God says go, you just go! Haha!"
Jason and Moira soon became a couple.
"It was the first time I experienced this kind of peace.
"The peace you don't just imagine when you want to make something work, but the peace before anything even begins.
"Her Lola Lucy, who passed away last April 1, put it perfectly nung nagpaalam ako sa family niya sa Olongapo kung pwede ako manligaw.
"She said, 'This is called a miracle. Because God protected you from each other even while being with each other until the time was right.'"
Jason's advice to find that same kind of "peace"?
"For men: I don't want to sound too religious, hehe, but it's so different when you're banking on God instead of your own emotions.
"He really does make all the difference.
"Trust Him, be where you're supposed to be and do what you're called to do.
"And when you do find your 'peace', boldly pursue.
"Tapangan mo na!

"For women: Don't get me wrong, I am far from perfect. I still don't feel like I deserve Moi, but by God's grace, I give her my best because she deserves nothing less.
"I believe that just like Moi, you are worth the fight.
"You are worth it.
"So, please don't settle."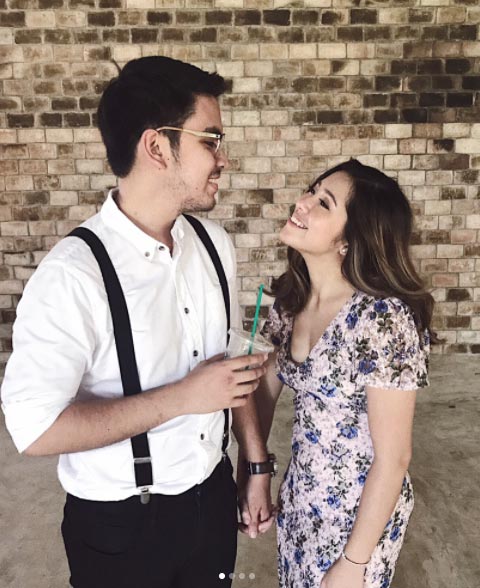 Happy Friday, PEPsters!
Your extraordinary story has been submitted.