The third season (Thai edition) of the South Korean makeover show, Let Me In, has been making the rounds of social media for its story on Noppajit Monlasin.
Noppajit's story has so far gained over 5.3 million views on Facebook with over 66,000 likes and 72,400 shares since it was uploaded last November 21.
People are completely taken by the young Thai man's love story with his partner, Top (right), a transgender.
THE BEGINNING. Before participating in the Thai edition of the show, Noppajit was a 22-year-old factory worker in Thailand who was often publicly ridiculed for his appearance.
His chin visibly stood out, which caused displacement of his lower teeth.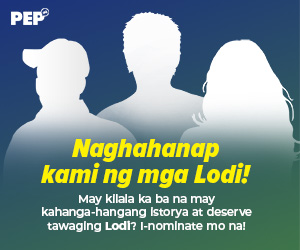 Noppajit said on the show he was ridiculed for his facial imperfection.
He related that at work, he ate alone during lunch because chewing food was such an ordeal.
"I am ashamed that people look at me when I eat.
"It is like I'm piggish but really not, because it is hard for me to chew."
He said he also suffered at the hands of women who took advantage of him.
"Whenever I had a relationship with [a] woman, I was always disappointed.
"They deceived me into buying things for them....Cellphone, television.
"Once I went back home, opened the door, there were only a refrigerator and a $20 note left on it.
"There was nothing else in the room…
"It was too much for me, and it made me hate women."
Noppajit found a chance at finding love when he met Top, a transgender who showed him companionship with someone like her could work.
They became a couple, and Noppalit has not looked back ever since.
According to Top, she saw the troubles of Noppajit because of his appearance.
She said on the show, "Whenever we go [out], when people look at him, he seems nervous.
"So he doesn't like eating out. He doesn't look happy.
"I want him to be more confident."
THE TRANSFORMATION. Touched by Noppajit's story, a celebrity panelist on the show chose him for a facial surgery in South Korea.
Major changes were done to his face.
According to the Thai edition of publishing website Coconuts.co, cosmetic doctors also did surgery on his forehead and eyelids.
Noppajit was given "salivary gland botox injections" to correct his excessive drooling.
Skin blemish treatments were also administered to clear his face.
When Noppajit returned home from his surgery in South Korea, he was a changed man.
He still attracts attention, but no longer in a negative way.
With an almost K-Pop idol-like face, Noppajit humbly said his change was only superficial.
Before flying to South Korea, Noppajit told the show's celebrity panel he would not leave Top no matter what.
He said, "I will still love my girlfriend.
"She is the one for me."
And Noppajit meant every word of it.
Upon his reveal, Noppajit quickly ran to Top and kissed her on the cheek.
He remarked, "Other might say bad things about me, seeing a transgender...
"I don't care, I love her."
This act of sincerity struck a chord with netizens.
One Facebook user got emotional after watching, "Why am I crying? This just proves that many people are too judgmental that they were not able to determine their own ugliness and mistakes.
"I salute this man for staying the same and especially his partner because he loves him for what he is.
"There are things that will not change."
Another netizen reminded that "in a world that [is] full of superficial, one thing will still remain.
"A good heart."
In another comment, this Facebook user underlined "no matter how your face looks like, there's a certain person in this world who will love you based on your heart's content."
Noppajit and Top's love story made others believe that "two people with a genuine heart" will find love.
This Facebook user remarked, "Never turn your back on someone who was there when you were nothing.
"Honor him/her. Love him/her. Cherish him/her.
"This should be an inspiration to all."
9
Knowing the process Noppajit had to go through to be truly confident about himself, people praised him for staying true to his character despite the physical changes.
One Facebook user said, "He just wants acceptance as a human.
"We know judgemental people pushed you to make such a huge physical change... but your heart still the same.
"You have a good heart."
When it comes to "true love," Noppajit and Top reminded social media that "it's not based on your physical appearance, it's always inside your heart."
Noppajit and Top have shown the world real love transcends physical and gender attraction.
As one Facebook user emphasized, "When the world seems to judge you... your appearance... there's nothing wrong with you.
"There is something wrong with our world today."
Noppajit has promised Top "love forever."
"I will work hard for [the] both of us… take care of my family and I will love forever.
"I still confirm that even [if] my face has been changed, my heart is still the same."
Watch the full video here:
All photos from WorkpointOfficial on Youtube
Your extraordinary story has been submitted.