Meet Fatima Palma-Loo.
She's known in the local hip-hop scene as MC Fatima.
MC Fatima might look familiar. The nurse-turned-rapper went viral in 2014 after a video of her performing a rap song for one of her patients in the ICU (Intensive Care Unit) made rounds online.
"This patient, he was almost dying," Fatima recalled to PEP.ph (Philippine Entertainment Portal). "Taning na lang niya was just one week."
Fatima said that the patient went on to live for two more months.
The video that went viral was taken during one of her "secret" rap performances.
For the family of the bedridden patient, she gave a glimmer of hope.
Fatima continued, "I started to rap, and then [a family member] recorded a video because that was the last time he saw his dad moving.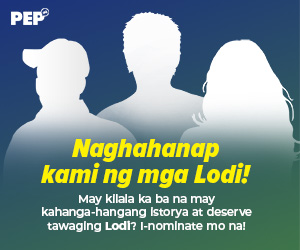 "[His dad] was really trying to dance, trying to listen to me.
"From then on, it went viral and I never thought that... only God would have made that work!"
Fatima worked as a medical-surgical nurse for seven years in a government hospital in Quezon City.
She lived two kinds of lives within those first few years: she was a nurse by day and a musician-rapper by night.
"It was all happening at the same time… Sometimes, after my duty, I would go straight to a gig. Sometimes I wouldn't get any sleep.
"There were times also when I have to go to a club and sing there, and I would have to have a six o'clock shift the next day.
"So, it's pretty insane.
"But, to me, after my gig, I would feel so good about it."
Later on, Fatima realized that she didn't really need a stage to perform her music.
With that in mind, she began to perform for her patients.
"You know, the feeling you get out of it is very fulfilling for some reason.
"I take music to that level because I want these people to experience the happiness I feel and to make them forget their sickness as well…
"I'm not sure if artists would actually do the same thing that I would do, but seriously, for a person like me who wants to see other people happy, that's more than enough.
"That would compensate for all the stress."
Even though Fatima's rap performances brought delight to her patients, she had to keep them a secret from hospital colleagues.
"It wasn't allowed. It wasn't in the standards of nursing that I would rap…
"I tried to keep it a secret because I was scared of losing my job.
The hospital staff would eventually find out. "The only time they would find out is when one of the relatives would come to the station, and they would say, 'Oh, iyong nurse niyo! Iyong nurse niyo sobrang galing noon, kaya sobrang saya namin!'
"I was like, 'Oh my god, no!'
"Believe it or not, when I did that to my patients, some people actually thought of suing me!
"It's insane, right?
"But then, I was like, 'No, don't mind the haters!'"
Fatima continued her secret performances, because whenever her rap songs made someone happy, the feeling of success washed away her fears.
"I didn't do this so that I'd get a name. No, I didn't do that for that.
"I've been doing [rap] for a long time, but probably it was just God's will that people would see it, you know?
"I've always believed that my talent is not from my parents, it's from God.
"The only way that I can return it is if I return it to other people who need that kind of music, that kind of push, you know?
"To live again, to live longer."
PEP.ph met Fatima at the media launch of Féte de la Musique, a French music festival in Manila.
SEVEN YEARS A NURSE

After seven years as a nurse, Fatima finally decided to resign from work.
"I told myself, I think I've served my time," she remarked. "It wasn't an easy seven years. I was a contractual nurse, and the standard salary was PHP11,000.
"The patient-nurse ratio is not even right! I started in the hospital, it was one is to 40.
"I'm just happy I left because it's [now] one is to 70. So, I mean, like, just imagine that!
"I just got married… I want to have a kid, I wanted to get pregnant. So I knew if I was going to continue [as a nurse], it was not going to push through."
Nowadays, Fatima is a full-time musician-rapper for the band Tukar Sinati.
Tukar Sinati means "sound experience" in Hilayganon,
Their music is a mix of rock, hip-hop, funk, and jazz.
Fatima and her bandmates have a goal: to participate in the elevation of how people perceive hip-hop.
She said, "[We] want to try to promote hip-hop in a different context.
"Because you know how it is, hip-hop in the Philippines is not always appreciated, but then it's just because the thought-level is not so deep yet.
"We want to make sure we'd be those artists who are actually making people aware of what's going on the society.
"At least contribute to that, and not just talk about how I want to chill or how I want to look.
"We're not the superficial type…
"What we're trying to fight for is conscious music. Basically, that's our band."
THE POWER OF MUSIC
And what's the power of music for her?
Fatima says, " Music, I think, should also be understood that it heals the soul.
"That was what I was trying to work for too as a nurse.
"If medicine heals, music can soothe that right away without trying to [be] invasive, you know?
"And I think that's what music means to me.
"It means healing, it means also life for me, and it also means expression for me.
"It's the only way I can express myself sometimes… It creates memories.
"When you create music, it creates memories.
"It makes you want to sing more.
"It makes you feel again.
"It doesn't only teach how to live, but it makes you feel alive again."
Catch MC Fatima and Tukar Sinati at Féte de la Musique on June 23 at A Venue Makati.
Your extraordinary story has been submitted.