On Thursday, June 30, 2022, Ferdinand "Bongbong" Marcos Jr. officially begins his duties as the 17th President of the Philippines as he takes his oath during the inauguration held at the National Museum of Fine Arts in the City of Manila.
President Bongbong and the rest of his family—First Lady Atty. Liza Marcos-Araneta and their sons Sandro, William Vincent, and Joseph Simon—championed Filipino talent in their chosen outfits for the momentous event.
On Wednesday night, June 29, 2022, President Bongbong revealed in a Facebook post that he will be wearing a creation by Pepito Albert.
In his caption, President Bongbong wrote, "Wala nang mas angkop pang kasuotan bukas kundi ang gawang pinoy! Iwagayway ang damdaming makabayan sa isip, salita at pati na rin sa pananamit!"
The designer sought inspiration from the Rayadillo, the traditional military uniform during the Spanish colonial era.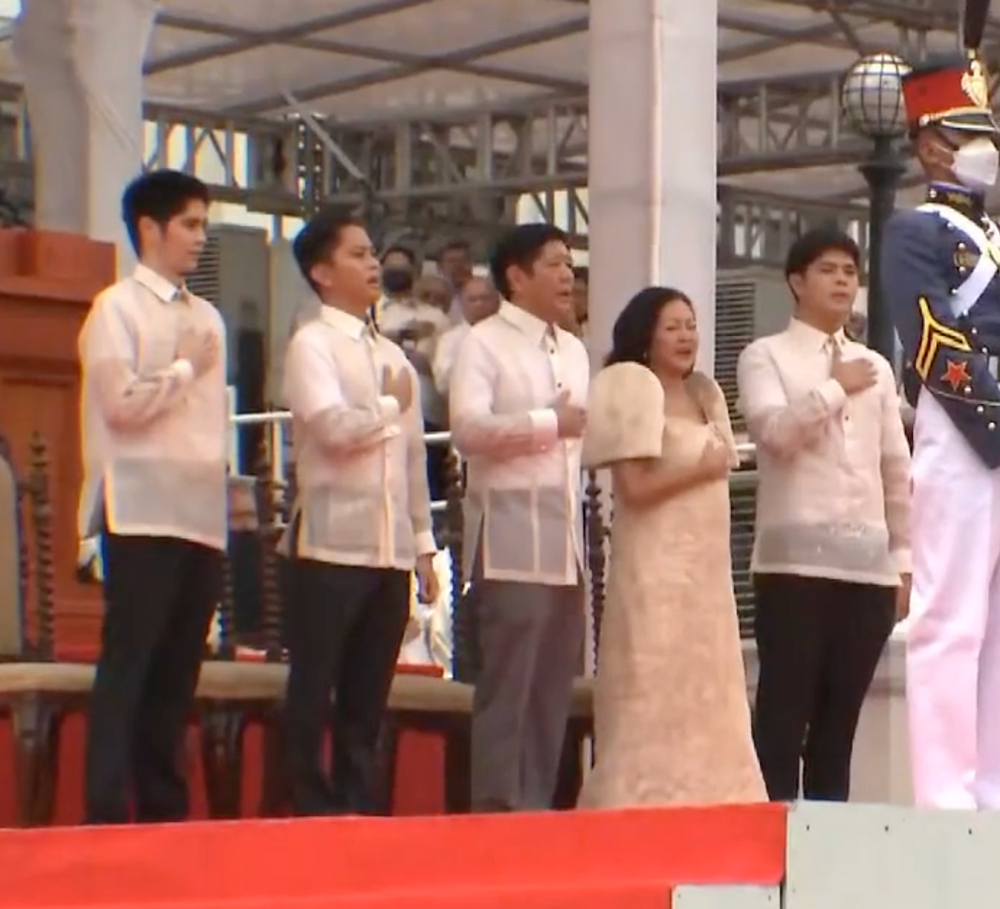 Read also: Jay Herrera reveals interesting details about styling Bongbong Marcos
First Lady Atty. Liza Marcos-Araneta (middle) wore a Filipiniana dress made of vintage piña fabric. It was designed by Filipino designer Lesley Mobo.
Ilocos Norte representative Sandro Marcos wore a barong made by Makati City-based Salvo Tailors.
Sandro's brothers Simon (second from right) and Vinny (far right) also wore matching barongs.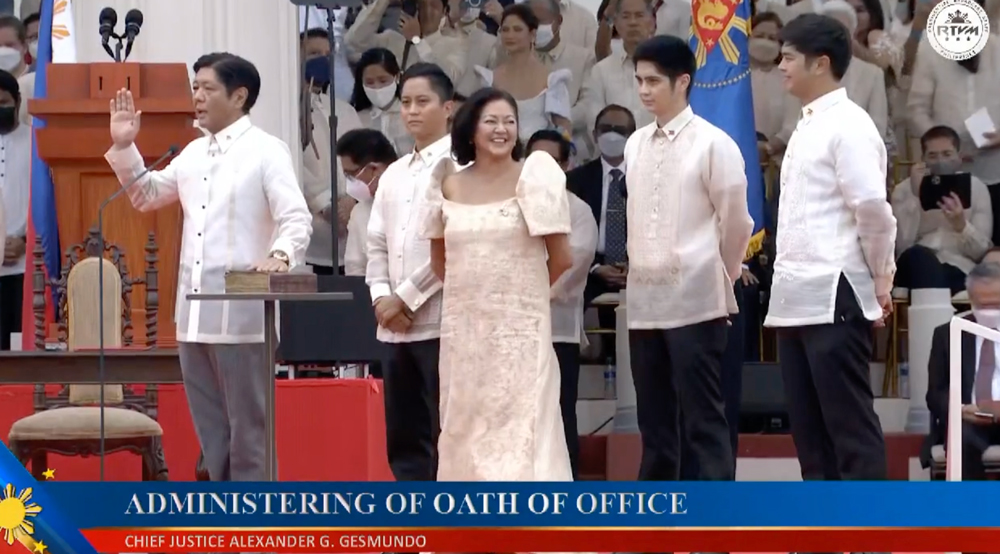 President Bongbong's mother Imelda Marcos was spotted wearing a powder blue terno designed by Pepito Albert.
Senator Imee Marcos (second from left), sister of President Bongbong, wore an asymmetrical cerulean blue Filipiniana dress.
In a Facebook post, director Darryl Yap revealed that Imee designed the gown herself, and the design was brought to life by Dubai-based fashion designer Rem Divino.
The sleeves of her dress were embellished with restored lockets, chains, and pendants, which were gifts from her father, former President and late dictator Ferdinand Marcos Sr.
Senator Imee was accompanied by her sons Borgy Manotoc and Ilocos Norte governor Matthew Manotoc.
Standing at the far right is President Bongbong's youngest sister Aimee Marcos. She wore a pastel green Filipiniana gown.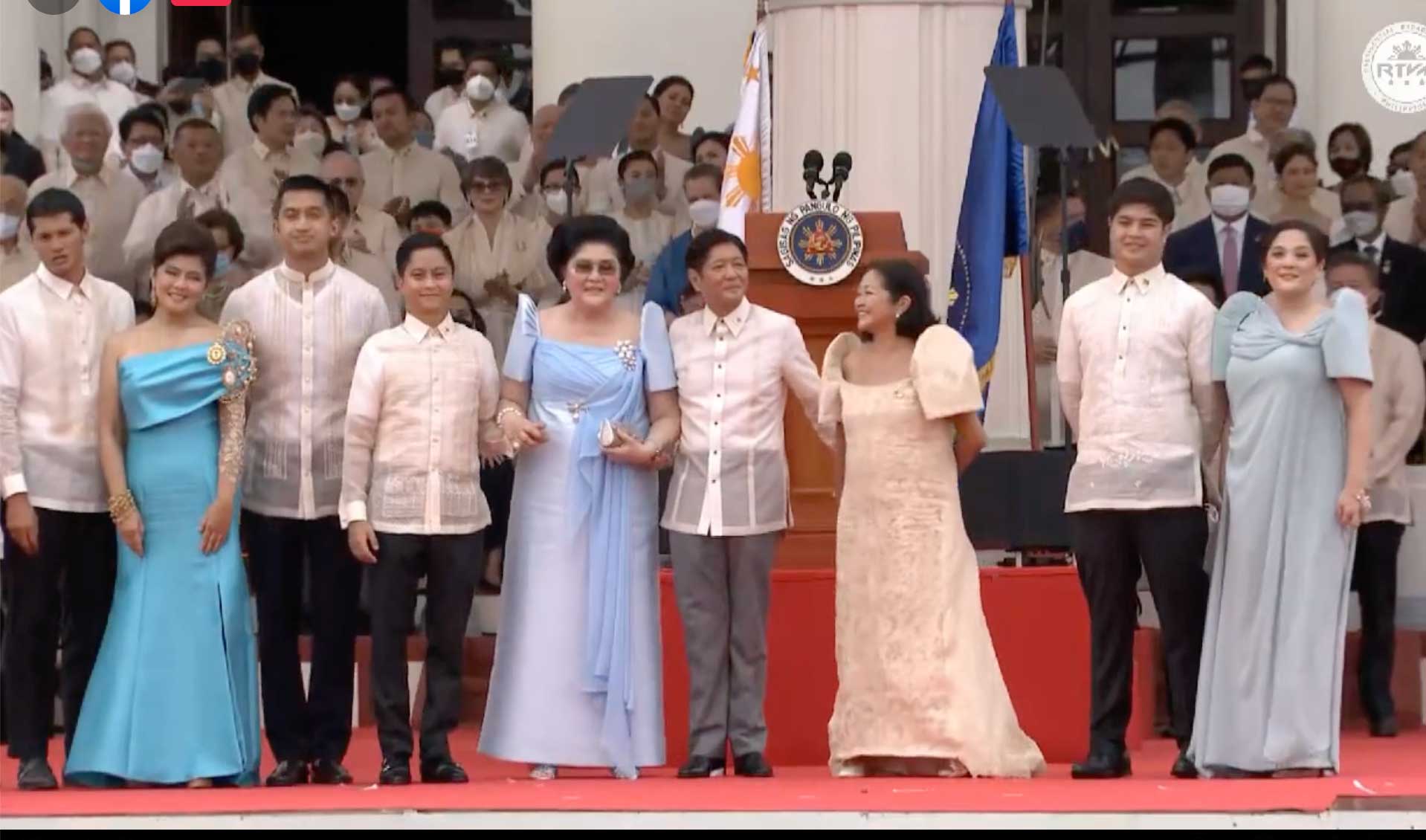 READ MORE: