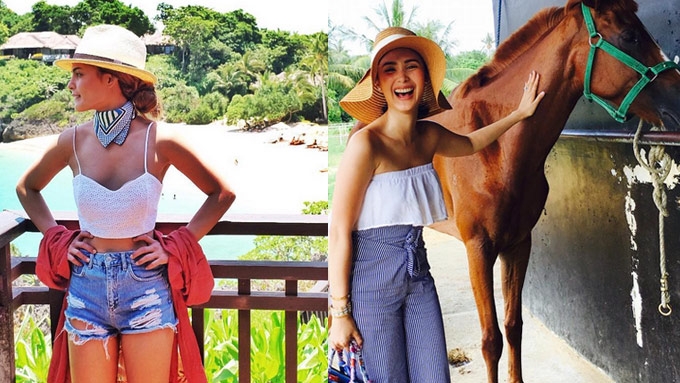 IMAGE @poevirginia and @iamhearte on Instagram
---
Hats have many uses to celebrities.
In the movies and teleseryes, they are worn for dramatic effect.
They are also used as visual cues to emphasize (sometimes exaggerate) a transformation.
But off cam, they're really more than just accessories.
Heart Evangelista, Lovi Poe, Julie Anne San Jose, Arci Munoz, and Julia Barretto show their many uses.
1. They add stylishness in an instant.
Will Lovi Poe's outfit be this "ka-Vogue," as one of her Instagram followers described, without her Panama hat?
Here's another snap showing how her cloche became the highlight of her outfit. By the way, it's one of her favorite hats.
2. They are fashionably helpful each time the stars would want to disguise.
Julie Anne San Jose's army cap surely did a good job in covering her face. She was still a head turner though.
3. They can be worn to get easily spotted among a crowd.
The singer's floppy hat was just one of the three hats she brought to London.
4. It's for sun protection.
Heart Evangelista wore her straw hat when she, her mom Cecile, and husband Chiz Escudero went to Balesin.
She walked down the streets of Vietnam clad in what appeared to be a bowler-type straw hat.
5. It's a form of self-expression.
Arci Munoz's cap was her way of saying she's "one of the boys."
See how Arci's cap made her astig and sexy at the same time.
6. It keeps your hair in place.
What's an OOTD with a messy hair? Julia Barretto made her Fedora a cool alternative to pony tail.
Here's the young actress' "favorite" Fedora.