Heart Evangelista was eating at a restaurant when her Hermes bag got accidentally stained by French fries and cheese dip.
"It got stuck at the bottom part of my bag. The stain was so big. I felt so bad!"
Although the brand of her bag has a care and repair service, the waiting time takes months. Some customers even claimed that some stores in Asia are not that accommodating.
But the Kapuso actress eventually found a way to conceal the oil-and-cheese stain on her luxury bag, thanks to her innate love for art.
"I saw Kim Kardashian. She was wearing a painted Birkin bag and it was auctioned.
"That's an amazing way to cover up a stain.
"So I researched and it took some time before I got the right paint—I'll never reveal [what it is]—that it would actually be okay."
Heart, however, never imagined that such incident would expand her horizons as an artist.
This Tuesday, August 16, Heart officially announced that she will be staging an exhibit titled Carry Your Heart, which will put a spotlight on her bag paintings.
"I wanted to be original. I wanted to wear my personality on my bag. Your bag says so much about your personality so I might as well put stamp on it," she beamed.
To date, she's not only an actress but also a painter, a published author, and a style icon with her own line of hand-painted bags and lippies.
Asked about her ability to constantly reinvent herself, Heart told PEP.ph (Philippine Entertainment Portal) that it wasn't intentional at all.
She explained: "Honestly, it wasn't on purpose.
"I think sometimes when you're are an artista, when they pressure you [and you are told] that you have to show more skin, act a certain way, you can't have a boyfriend…
"I broke all the rules. I've done all the wrong things. And I [didn't] give in to that pressure.
"I've always been what-you-see-is-what-you-get type of person. And I think it worked to my advantage.
"This is who I am. Hindi ako nagpa-pressure sa 'change image.'
"And somewhere along the way, I was just very comfortable with myself. It showed and people appreciated that."
With only two weeks to go before her bag painting exhibit, here's to give you some interesting tidbits about her extraordinary talent.
1. Heart has a "secret" process.

While she admits to using acrylic paint, Heart refuses to divulge details about how she creates her work of art on a luxury bag.
She simply said, "There's a process. There's a solution that you put on the leather so the paint will stick."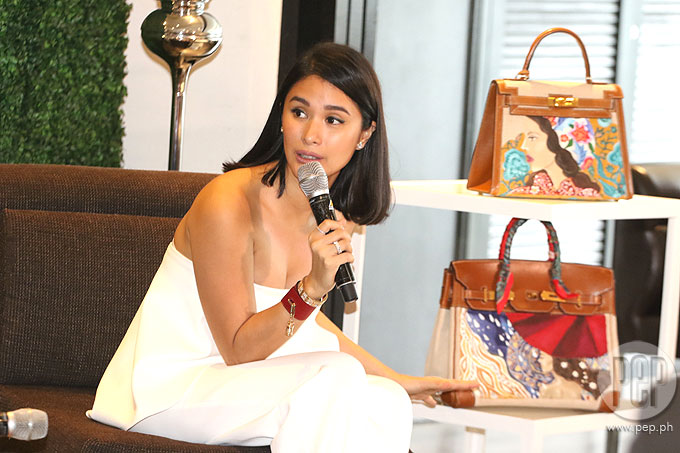 2. She customizes it according to her client's taste.
Those who commission her to paint on their very expensive bags give her creative license.
But she also welcomes personalized projects.
One example was this brown Hermes bag which was on display during the presscon.
Heart said, "She wanted the colors to be muted. She wanted an orchid. She wanted it dreamy."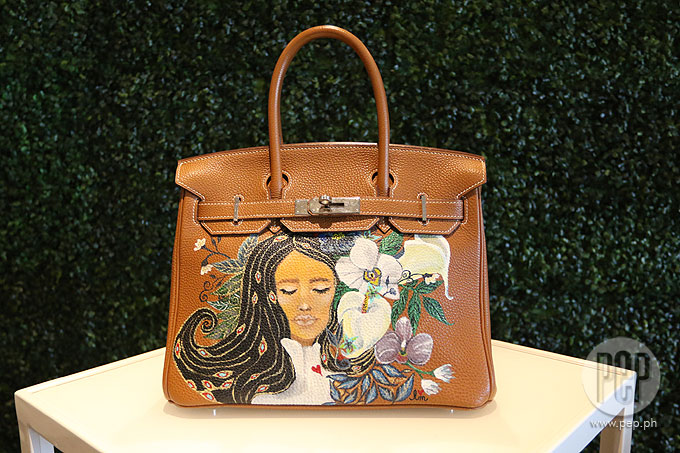 3. Heart gives attention to details.
"Since you're limited to a smaller canvass, you should have a steady hand and be more conscious about the strokes.
"You have to know exactly what to do, because there is no margin for error."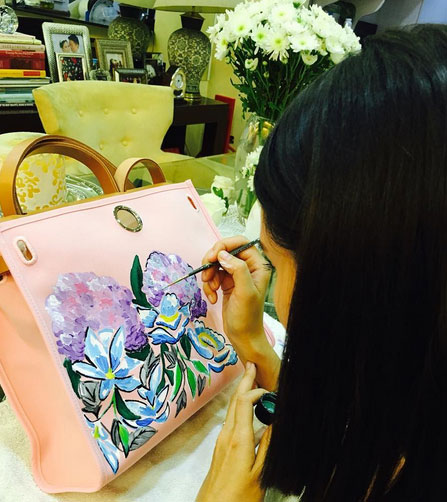 4. Heart can finish painting a bag in 12 hours.

The Kapuso actress said it takes her at least "half a day" to finish painting a bag.
But she also likes taking her time on creating an exquisite work of art.
"I do painting sessions whenever I have no taping. I schedule it every other day—Tuesdays for canvass, Thursdays for bags."
5. The price of getting Heart to paint on a luxury handbag costs P90,000.
"It would be 90,000 a bag. It doesn't matter what size. But now I have a waiting list," said Heart.
She will be choosing 10 commissioned projects on the day of Carry Your Heart exhibit which will be held at Volkswagen Showroom, Bonifacio Global City, Taguig City from September 3 until September 9.