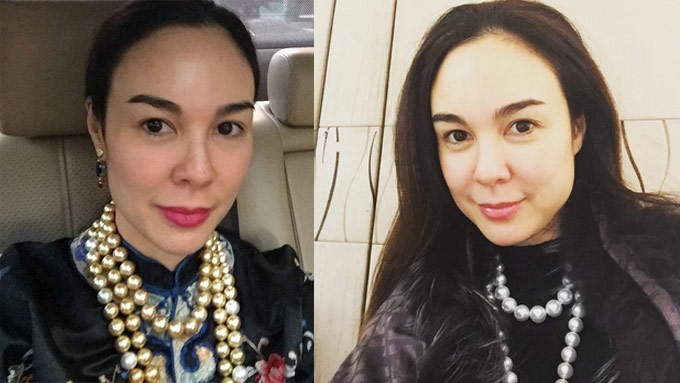 IMAGE @gretchenbarretto on Instagram
---
Gretchen Barretto has made pearls part of her signature style.
For her every-day look, she wears pearl earrings.
During formal occasions, she makes her multiple-colored and multiple-strand necklace the highlight of her outfit.
She also has pearl bracelets—one of which, according to her Instagram account—was originally a necklace.
It was actually her "first-ever" pearl necklace from Jewelmer, which is known for its South Sea pearls.
It was given by her partner Tonyboy Cojuangco 21 years ago, which is also the age of their unica hija Dominique.
Since then, she seemed to have started her huge collection of pearl jewelry.
Her feed had shown various shapes: oval, drop, semi-baroque, baroque, semi-round, and round, which is said to be the rarest.
The one she wore here looked like Keshi, which, according to Pearls.com, are "extremely rare form of pearl...which takes seven years to form."
It's from the Japanese word "poppy seed."
She likes them big.
Jewelmer's website cited that the country has South Sea pearls that are the "largest in the world with their diameter ranging from 10mm to 12mm on average and as big as 16mm and up, on very rare occasions."
She has them in different colors—white, cream rose, champagne, gold, and even silver.
But according to pearlsofjoy.com, they also come in black, pink, peach, lavender, blue, chocolate, and almost every shade in between.
Blue and chocolate are said to be "rarest."
Did you know that just like diamonds, pearls are partly priced according to skin purity (flawless, medium spotted, ad spotted) and luster (fire, excellent, and dull)?
ADVERTISEMENT - CONTINUE READING BELOW
The ones that are pricey have "fiery rainbow-like effect."
By the way, the largest and most expensive pearl in the world to date was found by a Filipino fisherman in Palawan 10 years ago.
According to Forbes.com, it measures 26 inches in length, 12 inches in width, and weighs 75 lbs. Its value is $100 million.
Meanwhile, the cost of Jewelmer's 13mm white pearl earrings ranges from 160,000 pesos to 200,000 pesos.
Checking their website, this partly explains why it is pricey: "the pearl farming process spans four to five years and takes 377 individual steps to sustainably produce a single pearl."