During the Miss Universe 2016 preliminaries last January 23, at the SM Mall of Asia Arena, Miss Mauritius Kushboo Ramnawaj wore one of the most "meaningful" ensemble.
READ: 12 standout national costumes at Miss Universe 2016
She entered the stage clad in a lava-inspired gown and volcano-shaped train, which paid homage to the origins of her country.
It was designed by Miami-based Filipino designer Kirsten Regalado, and made by students of La Consolacion College in Bacolod City.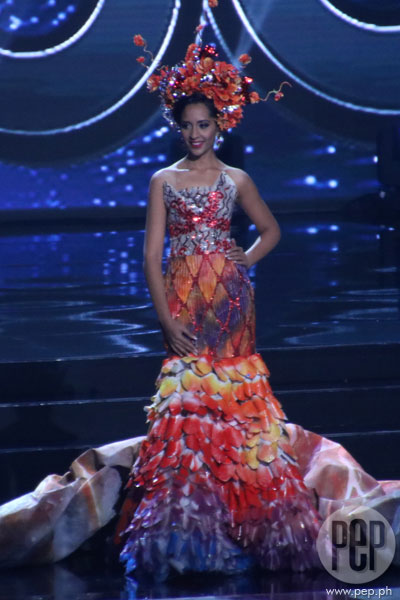 Miss Mauritius looked very composed during the presentation, but little did the audience know that she was actually injured.
She was supposed to appear after Miss Malta, but missed a step and fell badly backstage.
It was only after four candidates that the Mauritian beauty queen took her turn to present her costume.
According to Norman's Blog, someone accidentally stepped on the costume's train and caused Kushboo to fall head first onto the floor.
Everyone rushed to her side, including fellow candidates who wore similarly-elaborate costumes.
Blood was trickling down Kushboo's neck, staining the upper half of her gown.
She also had difficulty getting back on her feet.
Backstage officials advised her to skip the presentation, but Kushboo insisted she present her costume.
The reason: she didn't want to put all the efforts of the Filipino students of La Consolacion College to waste.
Kushboo pleaded for her moment on stage and so, after Miss Netherlands, Miss Mauritius entered the stage and showcased the origins of Mauritius and the creativity of Filipinos.
Miss Mauritius successfully made her walk through the entire runway despite the physical pain, and showed what being confidently beautiful was all about.