Gabbi Garcia is not your ordinary 18-year-old, even in fashion.
Her only nod to trends is the bohemian look: bare shoulders that show off her bronze skin this summer...
...and frilly lace tops.
The rest of her looks is hers, and not something you can get from fashion blogs or Pinterest.
"I love fashion. But I wear what I like, not what's in Vogue. I wear whatever makes me feel comfortable, what suits my body type."
This fierce independence shows Gabbi's love for neutral colors like white, beige, tan, and peach, when she can get away with more flashy ones—bloody red or hot pink—because she's a showbiz celebrity exposed to the limelight.
Gabbi can mix and match neutral colors with any hue, opting to be practical rather than trendy.
For instance, the star of Encantadia wore neutral silver when she danced the night away in a ball gown sprinkled with Swarovski crystals during her debut party last December 6.
She oozed subdued elegance in her denim slit dress at GMA's Sunday PinaSaya.
Gabbi wore simple, even nondescript, white stud earrings.
"I'm minimalist when it comes to accessories and clothes," she admitted.
But she can be dramatic when it comes to footwear. To Gabbi, shoes can make a world of difference in the way she looks.
Gabbi's brown lace up shoes perked up the turquoise dress she wore the Sunday afternoon this writer interviewed her in between breaks at Sunday PinaSaya.
It added an element of surprise to an otherwise laidback, ho-hum look.
"Even if you wear a simple dress, every thing will be okay if you have very nice footwear," she said.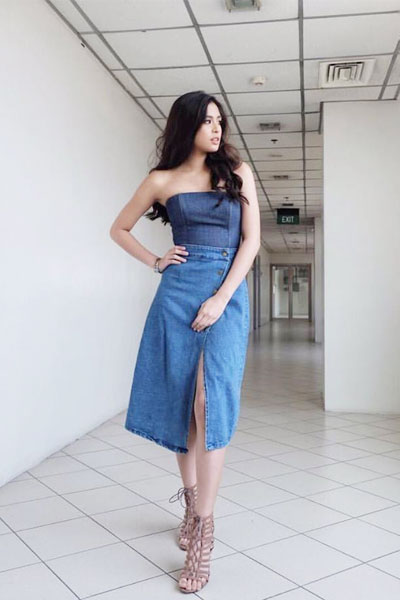 And that's why she love shoes—whether a pair of sneakers...
...or formal, elegant, and feminine heels.
Even her long tresses show a no-nonsense side. It allows her to look different and follow her mood for the moment and/or the occasion at hand, without spending a lot.
Gabbi can look sophisticated in a bun, carefree in long, flowing hair, and adventurous in braids.
She said, "I never really cut my hair because I can have as many looks as I can this way. I love it!
"I can sport a new look with every TV appearance or guesting!"
When it comes to her makeup, a dab of lip mint, a quick work on her brows, and Gabbi is ready to go.
"I prefer to look natural. It makes me feel light and comfortable. This way, people see me for who I am."
So far, most people like what they see.
To date, she already has a number of endorsements: there's a clothing brand, a bank, a personal care product, noodles, to name a few.
Gabbi's message is simple: Be yourself.
She has mastered this belief in herself. And it's paying off in ways that keep her smiling from day to day.