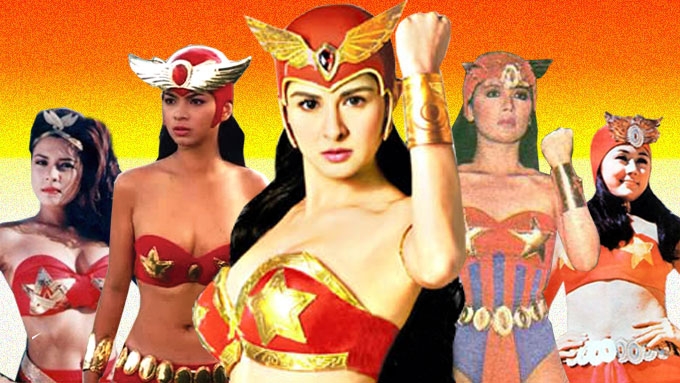 IMAGE File Photos
---
Over the past six decades, more than 15 actresses have portrayed Darna, the iconic Pinoy heroine created by Mars Ravelo.
Filipinos have also witnessed more than a dozen variety of Darna's costume, which is usually a red bikini with a gold star on each brassiere cap and a helmet with ruby-encrusted gold winged medallion.
Her accessories include gold cuff bracelets, golden medallion belt with a loincloth in the middle, and red boots.
Here's an extensive look on how Darna's costume changed through the years: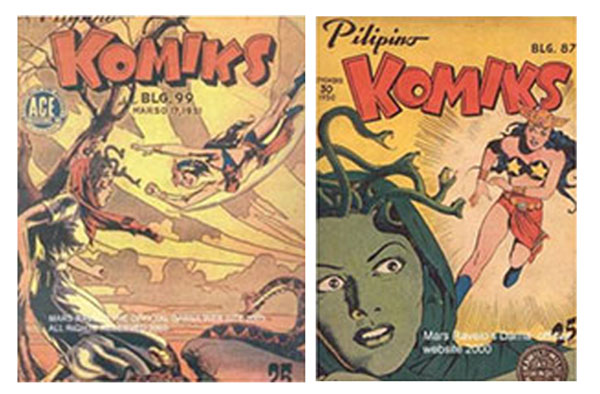 1950s
Regarded as the "The Original Queen of Philippine Movies," Rosa Del Rosario was the first actress to ever play the iconic heroine on film.
She starred in two Darna films—Darna (1951) and Darna at ang Babaing Lawin (1952)—where she wore a red bustier bikini with gold star details; boyshorts with a gold medallion belt, a cross detail, and white loincloth; helmet, gold cuff bracelets, and red mid-calf boots.
ADVERTISEMENT - CONTINUE READING BELOW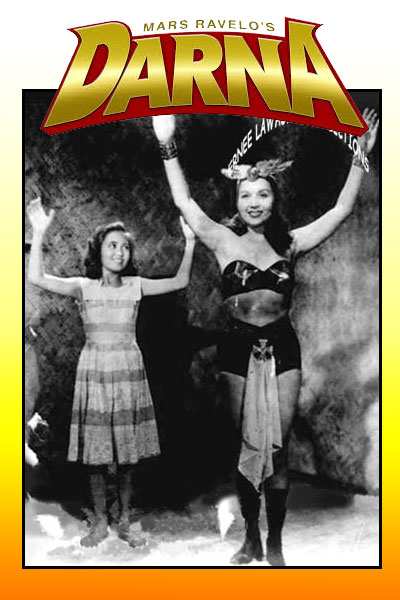 1960s
The decade gave birth to three different versions of the Darna costume.
Actress Liza Moreno (left), who starred in Si Darna at ang Impakta and Isputnik vs. Darna (1963), wore a sparkly red version of the costume paired with a gold helmet.
Meanwhile, actress Eva Montes (middle) followed the sparkly trend but wore a gold bikini instead of red for the movie Darna at Ang Babaing Tuod (1964), which was the first Darna movie made in full color.
Veteran actress Gina Pareño (right) wore a totally different version of the costume for the movie Darna at ang Planetman (1969).
The actress donned a light blue two-piece bikini with red star details on both brassiere cups and gold medallion belt with red loincloth.
The details that were retained from the original costume were the gold bracelets and the red helmet with ruby-encrusted gold winged medallion.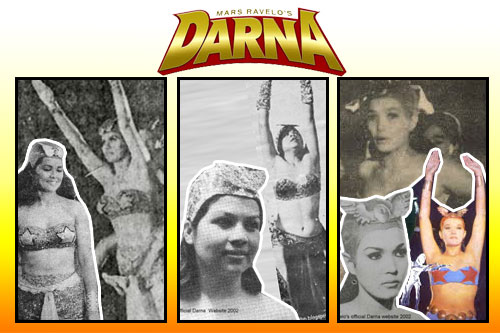 ADVERTISEMENT - CONTINUE READING BELOW
1970s
Vilma Santos ruled the '70s as Darna, and wore four different costumes.
In Lipad, Darna, Lipad (1973), she donned the original red bikini with gold stars (left) including the red helmet with gold winged medallion, the red boots, gold medallion belt, and gold cuff bracelets.
In Darna and the Giants (1974), she wore an all-gold ensemble (middle) with red details, plus a gold choker.
In Darna vs. the Planetwomen (1975), she donned a dark blue bikini (right) with red stars and the same accessories plus the choker.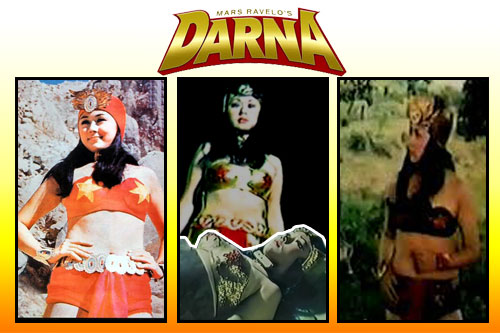 In 1977, Lorna Tolentino was the first actress to portray the role on TV via Darna the TV Series for KBS-9.
She was also the first to wear a one-piece costume instead of the classic two-piece bikini.
Another detail that changed in this version were her headpiece and belt: instead of ruby, it had a star detail.
ADVERTISEMENT - CONTINUE READING BELOW
Her golden cuff bracelets also had a red lining.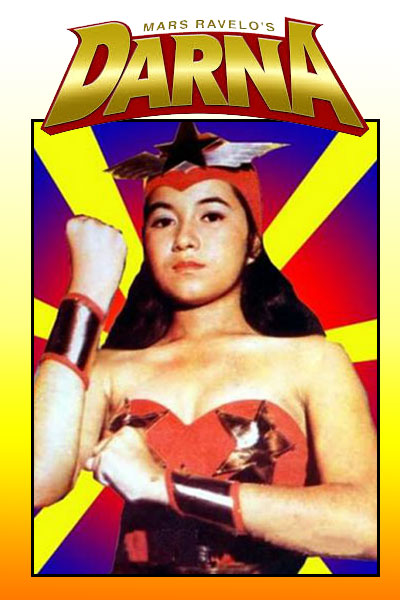 1980s
Vilma took back Darna's stone for the movie Darna and Ding (1980).
This was the last time she played the iconic super heroine, and also her most daring Darna costume ever: from boyshorts, her bottoms were changed into a high-waisted bikini.
She also donned a sparkly red bikini top with gold stars and shiny blue shorts with white loincloth.
The rest of her accessories were in gold.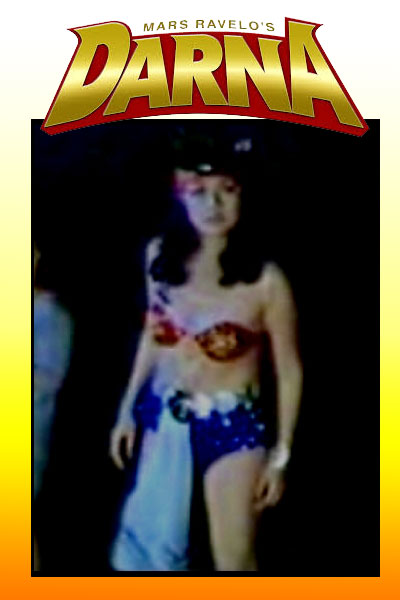 ADVERTISEMENT - CONTINUE READING BELOW
Rio Locsin also played Darna in Bira, Darna, Bira! (1979), where she wore the classic Darna costume with a yellow loincloth.
The choker also became red and gold.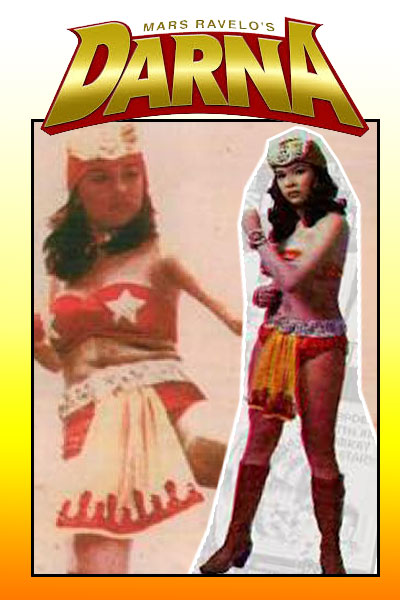 Sharon Cuneta also played the character for her a cameo role in VIVA Films' Captain Barbell (1986).
She's the second actress to wear a one-piece Darna suit which came in red and blue with gold stars.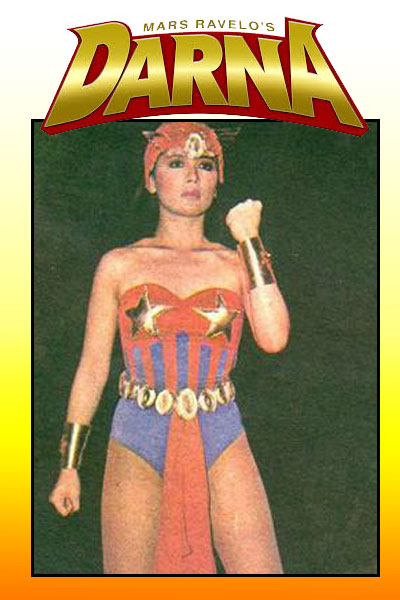 ADVERTISEMENT - CONTINUE READING BELOW
1990s
With Nanette Medved's portrayal in the film Darna (1991), the boyshorts became a high-cut panty.
She also ditched the classic red helmet for a ruby-encrusted winged medallion tiara.
Her cuffs and belt also got more fashionable.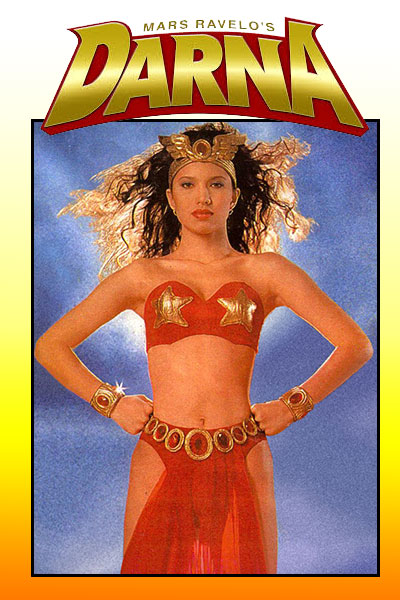 After Nanette, three more actresses portrayed the character for a TV commercial.
One was Alma Concepcion, who donned the classic two-piece red bikini with a cape. For her headpiece, she wore a ruby-encrusted tiara.
Daisy Reyes's Darna costume was a red long-sleeved leotard with winged collar and gold-trimmed red cape.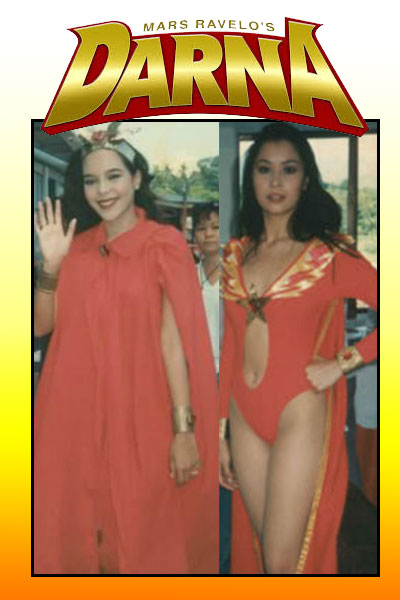 ADVERTISEMENT - CONTINUE READING BELOW
Meanwhile, Anjanette Abayari, who was initially tapped to play the role for a commercial, ended up playing the part for Darna Ang Pagbabalik (1994).
Her costume was reminiscent of Nanette's version.
The details that changed were the ruby-encrusted leaf detail on the tiara instead of the wings and the star-shaped buckle on her gold belt.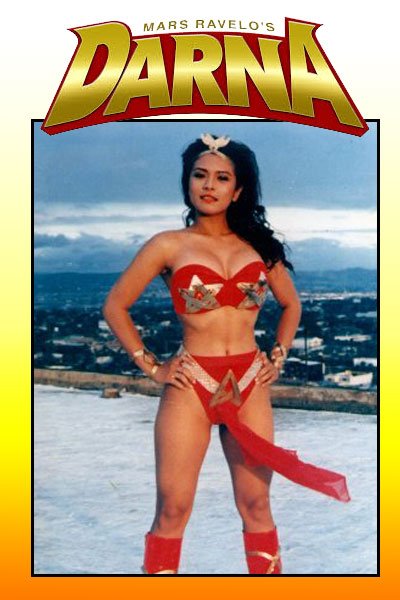 2000s
Regine Velasquez played the role for the Captain Barbell remake in 2003.
She was the third actress to wear a one-piece Darna costume, but hers was in red and yellow.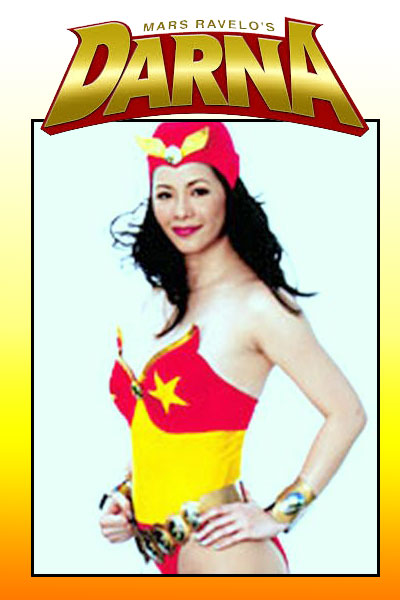 ADVERTISEMENT - CONTINUE READING BELOW
For the TV remake in 2005, Angel Locsin revived Darna's traditional red bikini with gold stars.
The material for her costume however was shiny red leatherette instead of the matte-colored cloth.
Her red helmet with the ruby-encrusted gold wing medallion looked a lot sturdier than the previous editions.
Her belt was similar to Nanette's sans the rubies.
Her loincloth was white.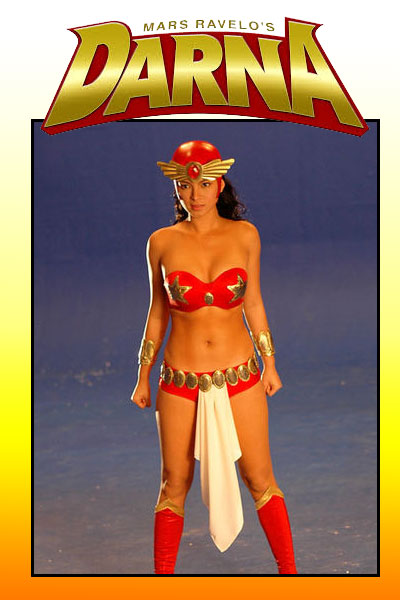 Marian Rivera wore an upgraded version of the costume for the Kapuso network's 2009 TV remake.
According to comicbookmovie.com, artist Bong Leal designed Marian's costume and added the enhancements on the bustier bikini top: gold trimmings and making the stars bigger.
Meanwhile, celebrity fashion designer Pepsi Herrera was tapped to make the costume.
The gold wing detail on her helmet had a more angular shape, and gold medallion belt had a yellow cloth with gold trimmings.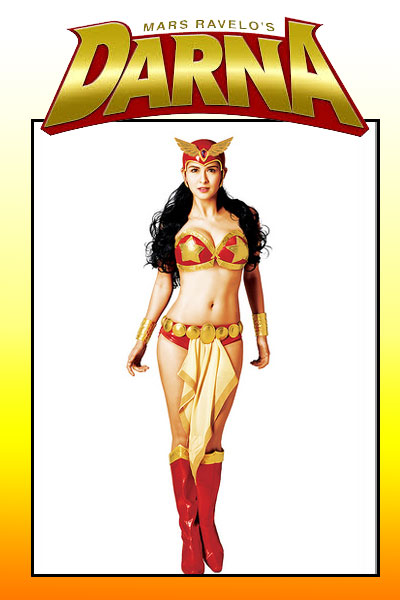 ADVERTISEMENT - CONTINUE READING BELOW