Here's the latest on the "fake" issue that has trailed the Dolce & Gabbana T-shirt worn by movie star Marian Rivera.
Marian wore the trendy "I Was There" T-shirt, which is part of the D&B Spring Summer 17 collection, during a guest appearance at Regine Velasquez-Alcasid's weekend talk show, GMA-7's Sarap Diva, on February 8.
A statement from D&G Dubai now shows that the shirt is authentic.
Marian's personal shopper, Aimee Hashim of Love Luxe Bags, promised to give PEP.ph (Philippine Entertainment Portal) an update as soon as she heard from the Dubai store where she said she purchased the T-shirt.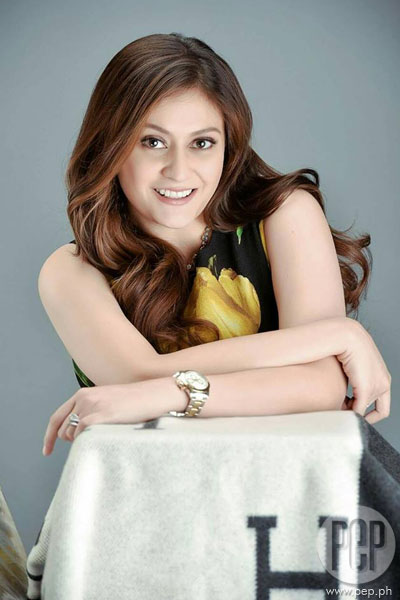 This was on April 20, when she gave an exclusive interview to PEP reporter Nikko Tuazon.
An adamant Aimee said then, "I'm 100 percent certain the shirt is real.
"I am just waiting for documents from D&G Dubai to put this to rest.
"I can swear my life on that."
Read: PEP EXCLUSIVE. Marian Rivera's shopper "100 percent certain" the D&G shirt is real
On April 28, Aimee gave her proof.
She sent PEP a screenshot, via Viber, of the statement from Al Tayer Insignia, Dolce & Gabbana's official franchisee in Dubai.
The statement, Aimee said, was sent to her by Al Tayer Insignia's Division Manager Nicole Ward via e-mail, following the personal shopper's request for assistance in authenticating her purchase of the D&G shirt.
The Al Tayer Group, according to its website, is the largest retailer in the Middle East, operating 200 stores in 12 countries. Also according to its website, it carries "leading brands in the Beauty, Home, Fashion and Hospitality sectors."
The emailed statement from Dubai backed Aimee's own statements, given during the latter's initial interviews, where she said the shirt was bought from D&G's store in Dubai.
STATEMENT FROM AL TAYER GROUP:
Al Tayer Insignia, an authorized franchisee of Dolce & Gabbana in Dubai, confirms that Aimee Hashim purchased ad Dolce & Gabbana 'I was there' T-shirt (Barcode: 211115647 VPN: L5JT7M-G7KVM-HWB89) which is part of the Spring SUmmer 17 collection.
The product was purchased from Dolce & Gabbana Children's Store in Mall of the Emirates, Dubai on 11th January 2017.

Aimee posted on Instagram the screenshots of the email, along with her caption: "God knows everything. He will never forsake those who are true to Him."
She added, "PLEASE NOTE: ONLY Mr. Nikko Tuazon can publish this alongside his article as he was the only fair journalist to present facts during the time when everyone else accused me."
She also posted this threat: "The malicious article that caused harm to my son (3 y/o minor) will also be dealt with accordingly.
"Just so you know, shady will never be my thing."
Following this, Aimee sent to PEP, again via Viber, her own official statement, where she rued that the "fake" issue had affected not just her credibility as a personal shopper, but her family's feelings as well.
Her Viber message read: "This issue has greatly affected not just me but even my family, including my son.
"Certain articles came out which, instead of clarifying the issue, made it worse and subjected me and my loved ones to bashing over the internet.
"Pictures of my son had even been posted online, and it is not fair to him because he had nothing to do with this."
When PEP asked where her son's photos had been posted, Aimee kept things general, saying only that this happened on social media.
She wanted to go off the record on this one, she explained, because she did not want her next moves preempted.
Continuing, Aimee said, "My ability to do anything about protecting my son and family from the bashers is limited because the problem with the internet is I am against faceless individuals.
"This is why the best thing I can do is to send the D&G official statement to Preview, Inquirer, and all other media outlets and hope that they will do the right thing.
"I can only hope that through this, the issue can be put to rest."
PEP met Aimee for another interview on April 28, at The Manila Peninsula hotel, in Makati City.
During the interview, the personal shopper said, "Everything will be dealt with accordingly kasi nga na-involve na yung anak ko."
For its part, PEP puts it on record that no bashing of the kind was allowed on this site.
BACKSTORY. As it is in showbiz, the story is never that simple.
The whole "fake T-shirt" issue seems to have stemmed from a story from long ago: the Marian Rivera-Heart Evangelista feud of June 2011.
The feud between the two beautiful stars of GMA-7 broke out after Heart's mother, Cecile Ongpauco, reportedly confronted Marian at the Ninoy Aquino International Airport on June 13, 2011, when the two stars flew in from Paoay, Ilocos Norte.
The Kapuso actresses had been working on Regal Entertainment and GMA film's remake of the Joey Gosiengfiao film, Temptation Island.
Read: (UPDATED) Marian Rivera and Heart Evangelista reportedly involved in a feud
But by September 2012, Marian told the press that she and Heart had already settled the issue, and that this happened privately, backstage, during the Kapuso network's tribute to Comedy King Dolphy.
Read: Marian Rivera and Heart Evangelista quietly settle issue at Dolphy tribute special
Unfortunately, to their fans, the feud was never over.
Time and again, Heart and Marian would be pitted against each other, particularly in matters of fashion.
With both stars' wardrobes well-stocked with luxury branded goods—from bags to shoes to clothes to trinkets—the comparisons continue to this day.
Only last April 17, a gossip blogger pitted Marian and Heart against each other. The Kapuso actresses had, on different occasions, worn the D&G "I Was There" T-shirt, albeit with different designs.
The comparisons, on their own, would have been amusing but not cause for a tempest.
Unfortunately, Anne Bonhomme—a French woman whom Heart has once referred to in her Instagram post as a "dear friend" and whom she has hosted on a vacation in Balesin—apparently left comments on the gossip blogger's site insinuating Marian's D&G T-shirt was fake.
And then the bashers took over.
AIMEE & PREVIEW.PH. Meanwhile, Aimee has set her sights on Preview.ph., a Summit Media website, which she has accused of starting the bashing.
In her narration to PEP, the personal shopper for the stars said that the negative reaction to her began after she gave Preview.ph her first interview after the issue erupted.
"Nag-start lang yun when the article ng Preview came out, kasi according to the writer, she just translated verbatim.
"Which was actually not true kasi if you look at the article that I wrote on my blog, makikita mo na ang daming points na tinanggal."
Aimee was referring to her blog LoveLuxe.com, where she "dissected" the words used by Preview.ph in its article.
She added, "Those points were the necessary points to tell people na I'm telling the truth, parang she made my image questionable in a sense.
"Sabi ko instead of clarifying the issue, she left a question mark, di ba?
"We earn a living through honest means so talagang sobrang sakit."
Here is the Preview.ph article:
READ: Did Marian Rivera Really Wear a Fake Dolce & Gabbana Logo Tee?
STATEMENT FROM PREVIEW.PH. PEP got the side of Preview.ph.
Here is the fashion website's official statement.
The article posted on Preview.ph regarding the Dolce & Gabbana shirt worn by Ms. Marian Rivera was written to present our own research to find answers to questions about its authenticity that were posted in social media, particularly those made by Instagram user @anne__bonhomme.
Ms. Aimee Hashim, a personal shopper who works with Ms. Marian Rivera, was contacted as a resource.
Statements and evidence provided by Ms. Hashim during the time of the interview that were relevant to the authentication of the T-shirt were included in the article and quoted verbatim.
Preview showed the article to the company's corporate lawyer before it was published to make sure it was written fairly and without assumption on behalf of any special interests.
Authenticating a fashion item is not something easily done, especially if the item can only be viewed through a photograph, and not in person.
Without finding an exact match to the design of the T-shirt in children's size 12 on the brand's official website or other retail sites on the Internet, we could not definitively say that the T-shirt's design was one from the brand.
And because the image of the receipt from the D&G boutique in Dubai that was sent to us by Ms. Hashim as evidence was very low in resolution and had numerous parts of it blacked out, we could not read the receipt properly and conclusively say it was in fact the receipt of the T-shirt.
It is not our intention to malign Ms. Hashim or Ms. Rivera.
The article was written to show the results of our research in response to the questions of authenticity that were posted on social media.
Since her interview with Preview, we have continuously updated the article to present Ms. Hashim's additional evidence to support the authenticity of the T-shirt in question.
CELEBRITY SUPPORT. These days, Aimee seems to have recovered, no small thanks to her celebrity clients.
As she told PEP, "Sa business actually, it didn't affect me because most of my clients know me personally, especially the celebrities.
"They were the ones pa talaga who texted me and asked if I need anything from their end.
"Ako kasi yung tipo ng tao na never ako nag-ask ng help unless talagang kailangang kailangan na.
"So, I told them wait lang tayo kasi truth will come out kahit medyo masakit at this point.
"Lahat sila, they're supportive, and they will always send me prayers, ganyan, every day... on a daily basis talaga.
"And they would tell me na, 'That's okay, that's part of it, and we know you, we support you.'"
MARIAN, THE CLIENT. How has the issue affected her two-year business relationship with Marian, or Yanyan to friends?
"Yanyan is very supportive, she knows the truth, and she told me not to mind na lang. Kasi Yan is very positive, e."
Aimee added, "She was there to guide me, she was the one telling me na, 'You know, artista ako, I've already been through that many times, and ikaw, siyempre negosyo mo 'yan, kailangan patient ka lang na mapatunayan sa lahat ang totoo.'"
Aimee also named TV host Kris Aquino as one of those who, from the U.S., gave her a message of support.
Talking about Kris, Aimee said, "She was in Hawaii, and then she messaged me, and asked me if I needed a testimony, ganyan."
Aside from Kris and Marian, Aimee mentioned Alden Richards as one of those who expressed support as the personal shopper deals with the "fake" issue.
Aimee posted this recent video on her LoveLuxeBags' official Instagram account.
BACK TO BUSINESS. Aimee told PEP that she is now in back-to-business mode, and is happy to announce that her clients have sponsored a raffle to celebrate her new milestone: getting 100,000 followers on Instagram.
Among the raffle prizes will be the controversial D&G shirt.
"Binili namin five na shirts," Aimee reported, "and then hindi pa natuwa ang clients ko, gusto pa nila ng another five major prizes."
She added, "The grand prize will be a trip to Dubai for two."
While in Dubai, she said, the winners can visit the D&G store where she had bought Marian's authentic shirt.