Among Regine Velasquez's favorite designer brands is Gucci.
She likes giving them as gifts.
Jaya, Valeen Montenegro, Terry Gian, to name a few, all received a box of Gucci shoes from the Asia's Songbird.
She also likes buying for her enviable shoes collection.
Her most recent shoe splurge were these T-strap pump platforms, which were priced by the Italian brand's website at £ 1,130 or PHP72,400.
A hybrid between two shoe styles, it has a cage effect front toe, black satin with metallic silver leather, and turquoise rose print leather lining.
It also has a beetle accessory embedded with crystals and enamel.
Its total heel height is 5.3 inches.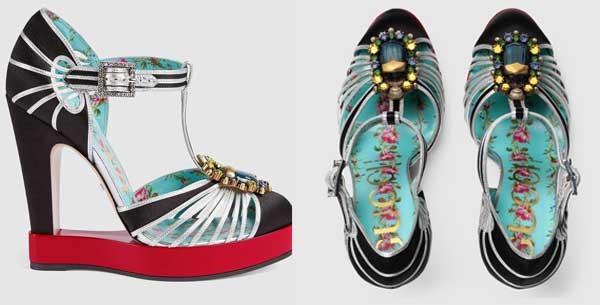 It would also seem like the Kapuso star had influenced her husband Ogie Alcasid, who, last May, went shoe-twinning with his wife.
On the Songwriter was a pair of leather loafers with the green and red GG Web and Double G gold-tone hardware. Price: £ 485 or PHP31,100.
On the Songbird was a pair of square-toed leather slippers, with Double G antique gold-tone hardware set on a blue and red Web ribbon Price: £ 505 or PHP32,800.


Regine's captions for this: "We just love G."
On Regine (middle) was the Princetown leather slipper with the gold-tone Horsebit. Price: £ 450 or PHP28,850.
On Leila, her stepdaughter, (right) was the same Princetown leather slipper with embroidered flowers appliqué. Price: £ 530 or PHP33,900.
Ogie wore a pair of Gucci classic sneakers.
Look, even Nate, while growing up, had a few Gucci pairs in his shoe rack.
These were the soft leather pebble bottom drivers with the blue/red/nylon signature web.