Born with a silver spoon, it's no question that Sharon Cuneta can afford most anything.
Recently, when she "couldn't think of anything—at least anything new to post," Sharon gave her public a glimpse of her bag collection.
Among the items in her bag haul was her "favoritest bag of the moment."
Referring to a purple, alligator-skin bag, the Megastar wrote on her Instagram account of August 31, 2017: "when I saw it in Milan, Italy a few years ago, my heart melted and I couldn't leave the store
"(well I bought lots of other things from them too, so they served me and my squad some good champagne in a nice seating area!)"
Before anyone got the luxury brand wrong, the Mega Star quickly said: "No, it is not a Birkin or a Kelly or anything else Hermés.
"This one is a Louis Vuitton alligator (or is it a croc? Not that it makes any difference to me!) — and it is in a perfect purple shade for a bag!
"It's more beautiful in person, and I actually LOVE using it more than any of my Hermés, at least for now."
Describing the bag, she wrote, "It's not as heavy as a Birkin; just the right weight empty or full.
"Two handles and a dainty but strong shoulder strap!"
Sharon added, "Well, it should be able to take all my stuff—cost me a concert and a half's talent fees plus three of my toes and one whole leg!
"For now, this is my baby and constant partner."
The purple alligator LV tote, according to a fashion merchandiser consulted by PEP.ph (Philippine Entertainment Portal), costs a whopping $40,000 US dollars or PHP2,042,960.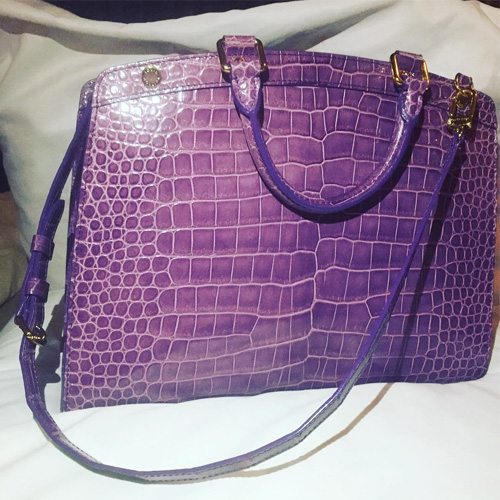 In another Instagram post, dated September 2, she gave a shout out to all "bagaholics," while showing off an Yves Saint Laurent Cabas tote in pink crocodile leather.
Thanks to her "discreet and super galing personal shopper - who goes around Europe and the U.S. a few times each year to shop for me and her other clients," Sharon was able to get herself a piece of this rare find.
"When I bought it from my beloved "bes" -- the aforementioned personal shopper whom I fondly call "my pusher," she said it was the only one in the U.S.A. Or was it "Universe?" OA naman -- baka sa Amerika lang."
On how much the bag costs, Sharon quipped, "This one almost cost me one of my own precious children and her father but I bought it anyway and chose the cash option instead."
Saying that she's an "animal lover," the showbiz personality joked that acquiring these goods is her "little way of avenging my fellow human beings" from reptiles who "have made meals out of people."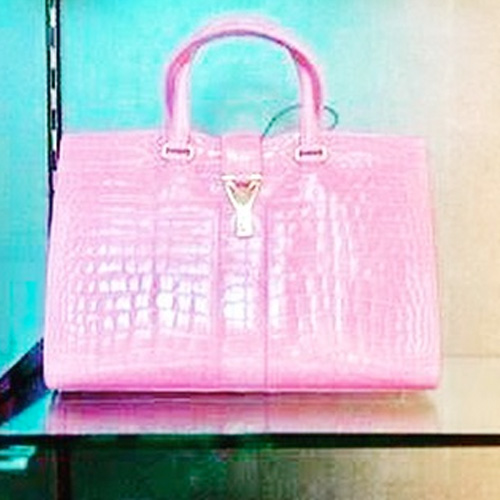 In a previous post, the celebrity mom, who is married to Senator Francis "Kiko" Pangilinan, added, "Pamana na ang mga ganito."
"The best bags will go to the best daughters (or granddaughters!)!
"But my girls," she said, referring to KC Concepcion, and Frankie and Miel Pangilinan, "are the best so..."
The Megastar adds, "You have no idea what my bag collection looks like, so let's just say they'll be really happy!"
Aside from these two luxury bags, Sharon reportedly owns 30 Hermes Birkin bags, each one costing $10,000 to $40,000, or PHP500,000 and up.
Before ending her post, Sharon told her followers that it wasn't her intention to brag.
"I don't want to be misinterpreted as making yabang kasi.
"This is just my life guys - I think that's no secret naman.
"Born deez wey eh.
"Just lemme know, 'kay? Cos I might be feeling a bit uncomfortable and I won't do it if people take it the wrong way.
"I do looove my stuff. That's all. Thanks!"
READ: KC Concepcion's "pamana" bags from grandma Elaine Cuneta