Michelle Dee, daughter of former beauty queen Melanie Marquez and businessman Frederick Dee, is gearing up for a bigger future as a fashion and commercial model.
She began to get noticed early this year when a local clothing brand booked her for a major campaign.
Since then, Michelle has been busy with shoots for glossy magazines and runway shows.
PEP.ph (Philippine Entertainment Portal) spoke with Michelle at the press launch of her latest endorsement last Wednesday, September 27, at EDSA Shangri-la in Mandaluyong City.
Michelle joined singer-actor Christian Bautista (leftmost), beauty queen Ariella Arrida (3rd from right), model Fabio Ide (rightmost), and athlete Harry Morris (3rd from left) as the latest endorsers of Blue Water Day Spa.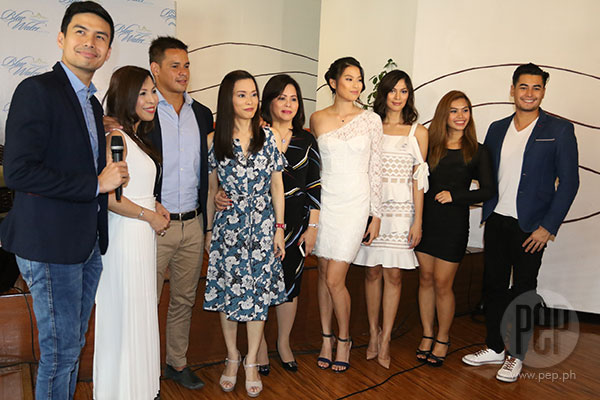 "It's what I enjoy the most," Michelle said about making a career out of modelling, even while she's still completing her studies at the De La Salle University.
Will she follow the lead of her mother who turned to modelling and acting after her reign as a beauty queen?
Michelle said, "I was asked this question earlier, if I was to choose between the three—modelling, acting, or the pageant.
"I think, it's modelling, kasi I can express myself a lot more and the connection I have with the photographers, and the kind of shoots, it's just the kind that I enjoy the most."
And she's looking beyond the glitz and glamor, saying, "The physical demand, of course, like there was a time na I kind of had to show a lot of skin, hindi naman nude.
"Pero the physical preparations talaga, malala! Probably that would be the hardest pero fun, fun din."
Michelle is also thinking ahead, "I kind of have this five-six year plan na I want to break into the international modelling scene as well. Let's see where that goes."
She added, "Just get as much experience, take chances, and charge right into it, and let's see what happens."
At present, two of Michelle's biggest style icons apart from her mom, of course, are Kendall Jenner and Gigi Hadid.
"Hindi mawawala 'yan, I like kasi how laid-back and chill they are on their day offs.
"They're still like, 'Wow, ang ganda mo pa rin!' But they're wearing just simple style staples lang."
MELANIE MARQUEZ. Michelle's mom had a sensational modelling career. Melanie was the toast of the local fashion scene on her return from being hailed Face of the '80s in New York and bagging a spot in the Supermodel contest.
Being compared to her celebrity mom is inevitable. "I'm proud of my mom," Michelle told PEP, "and I don't mind being compared to her as long as it's not negative, okay lang yun."
She described Melanie as "very supportive, very loving" as a mother.
"I couldn't really ask for anything more from her as a mom...she did the best she can and, hopefully, I turn out to be someone she's proud of din."
Naturally, Michelle gets the best advice about modelling from mom Melanie: "Just be yourself, don't think about the crowd too much, and trust in what you know."
Like Melanie, Michelle's biggest assets as a model are her long legs and height.
The 22-year-old model is also blessed with beautiful skin, "I always get compliments for my skin."
SHOWBIZ AND PAGEANTRY. Has she made a decision to stick it out as a model or is Michelle considering to give showbiz a try?
She told PEP, "I can't disclose that, wait for it na lang, wait for the official announcement na lang, if ever."
Michelle added, "Pero my options are always open, of course."
She admitted feeling the weight of making a choice, "Excitement and pressure, pero first and foremost, pressure talaga.
"Pero it's something...I think, everybody deals with pressure every now and then."
Although noncommittal, Michalle gave her thoughts about acting, "It's challenging, I mean, I don't really have anything bad to say.
"Personally, acting kasi is a form of expression, it's an art. So I have very high respect for actors and actresses out there."