Preview is letting its readers decide on which cover goes to print for its December 2017-January 2018 issue.
Today, November 23, three photos featuring the phenomenal star Maine Mendoza on each cover layout were posted on the magazine's Instagram account.
"The secret is out: Maine Mendoza is our December-January cover girl," Preview wrote in the caption.
"BUT we're giving YOU the chance to choose the cover layout that makes it to print! Yes, we're giving YOU the power to decide! Will your #PreviewGirlsChoice be #MaineForPreviewCover1?
"If yes, all you need to do is like this photo, repost it with the hashtag #MaineForPreviewCover1, and tag @previewph.
"The cover with the MOST number of LIKES PLUS REPOSTS is what will make it to print.
"You have until 9 a.m. tomorrow (Nov. 24) to vote! May your favorite cover win!"
The issue also features the magazine's annual best dressed list.
Preview's Editor-in-Chief Isha Andaya-Valles says, "We have been following [Maine Mendoza] since she came into the spotlight.
"And we feel that her personal style has really blossomed.
"While she is reluctant to call herself a fashionphile, the way she dresses for special events, her outfits when she travels, and her OOTD posts tell us she's a natural.
"We thought it would be fun for our readers to be involved in the process, but we'll still have a few surprises for everyone when we reveal the final cover.
"At the shoot, there were so many beautiful shots of Maine, and we knew it would be a difficult choice for the cover.
"We always love engaging our readers, and Vince had the brilliant idea of asking the Preview girls which cover they'd like to see in print."
Vince Uy is Preview's creative director.
At press time, the second cover—featuring a close-up of the 22-year-old actress's face—has the most likes at 16,989.
But this doesn't include the number of reposts the cover has gotten, which is also included in the magazine's criteria in choosing the winning layout.
While Maine liked all three photos on Preview's Instagram account, the actress/TV host/author also made her own pick.
Maine posted the third cover on her Instagram stories and captioned it with "My pick."
The photo features Maine sitting on an apple box wearing a gold sequined long-sleeved mini-dress, black stockings, and black, knee-high leather boots.
Hidden in shadow, the Kapuso nstar is sporting long, black tresses in a severe middle part.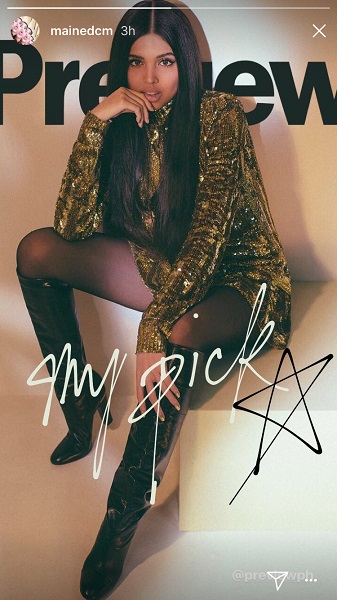 Voting ends tomorrow, November 24, at 9 a.m.