More often than not, plus-sized fashion appears to be more limiting than it really is.
While it seems that plus-size men and women must only settle for certain kind of styles, Preview magazine's Daryl Chang argues that it misses the point of fashion.
The magazine's contributing fashion director believes that fashion is all about wearing what you want to wear.
"You know what, for me, if you ask me, there's really nothing to avoid," she tells PEP.ph (Philippine Entertainment Portal) and select members of the media at the press event of SM Men Plus at the SM Mall of Asia on December 5.
"I mean, if you wanna wear it, you should wear it.
"In terms of style, I think if you wanna wear something, I don't judge.
"I think you can wear anything you want."
But Daryl also believes in finding a style that fits.
"I mean, if you feel like you look big in it, you won't wear it, di ba?
"But that's just me!"
The SM Men Plus' event introduce its first string of endorsers: (L-R) ForkSpoon Manila's Alexis Deocaris, Barangay Ginebra star basketball player Greg Slaughter, and chef Luigi Muhlach.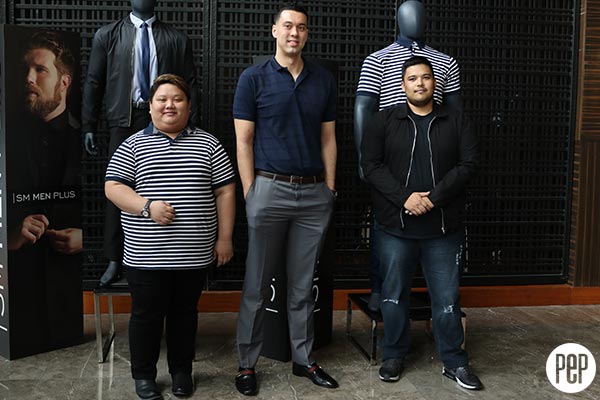 DRESS-UP TIPS. For plus-sized individuals, one should always consider the fit.
Daryl points out, "I guess you can just avoid things that are too tight on you, like fabrics that do not stretch because that will obviously look tight on you.
"Parang, us girls, we know all too well when we're in tight clothing, when we're in uncomfortable clothes, parang we're not that happy.
"Parang on the back of your mind, you're thinking of something else other than what you're supposed to think of."
What's an easy way to look put-together?
The trick would be to go monochromatic.
"If you want it more streamlined, if you wanna look more slim, you can actually go for a monochromatic look like all black, all blue, so that it's just one vertical, monochromatic line."
You can also choose to wear a jacket.
"For plus-sized, the best way to look polished or look put-together is have this normal outfit, and then just put on a jacket.
"Instantly, you'll look polished, you'll look dressed up, you'll look like you're about to go on an event because a jacket is always the easiest way to look dressier."
But keep in mind that style is always about comfort.
"At the end of the day, the person who has to wear it has to be comfortable with what he's wearing.
"It's really comfort.
"When you're happy with what you're wearing, it shows."