Following the report that Filipino models and designers were unceremoniously pulled out of a Los Angeles Fashion Week show because of their race, the event's organizer aired his side regarding the issue in a now-deleted Facebook post.
Erik Rosete, Art Hearts Fashion's president and the show's main event organizer, denied that such discrimination happened and clarified that his runway shows were built on inclusion.
Part of this statement read: "DO NOT EVER TRY TO PULL A RACE CARD WITH ME!
"I AM A MINORITY, MY DESIGNERS ARE ALL INTERNATIONAL MINORITIES AND THE OPENING MODEL OF MY BIGGEST SHOW AT MERCEDES BENZ FASHION WEEK IS FILIPINO AND NOW THE FIRST EVER FILIPINO VICTORIA'S SECRET MODEL!
"HOW DARE ANYONE TRY TO RAIN ON OUR PARADE! Our event was built on inclusion..."
Erik revealed that the reason why he didn't want this particular set of Filipino designers and models in his show was because of their affiliation with Jacob Meir, the owner of For The Stars Fashion House.
Jacob was the person who arranged for Filipino designers Rocky Gathercole and Resty Lagare to be part of Erik's runway show.
In his statement, Erik accused Jacob of being a "scam artist," a "crook," and a "liar."
He explained on the post, "TODAY I GOT VERY DISTURBING NEWS!
"SCAM ARTISTS TRIED TO SNEAK IN SPONSORS AND COLLECTING MONEY ON THE SIDE DURING FASHION WEEK!
"THIS WILL NOT HAPPEN IN MY HOME!
"YOU STEAL FROM ME! YOU ARE CUT! PERIOD!
"I NEVER POST DRAMA, BUT THIS IS WHAT WENT DOWN!
"There is a group of designers that did not pay for their shows, owe us thousands of dollars, and tried sneaking in their own hair and makeup company and collecting money on the side, all while telling us they couldn't pay us, but would find sponsors for us 'eventually.'
"Not only was this showroom collecting money from our shows on the side, but they were being crooks and liars.
"DO NOT BRING 5'5 GIRLS TO WALK THE RUNWAY TO A FASHION SHOW I SPENT MY LIFE'S WORK PERFECTING!
"DO NOT BRING HAIR AND MAKEUP SPONSORS THAT ARE NOT PAYING TO BE AN EVENT SPONSOR…
"Some asshole tried to rob us of over $100,000 and then got mad because we cut his shows.
"Shoes for the Stars @JACOBMAIR is a crook and a scam artist and owes us thousands of dollars from years ago.
"He collected money from hair and makeup people and Filipino pageant organizations to offer them placements in MY EVENT!
"Sorry but NO!
"Our Requirements are 5'9+ for girls PERIOD no matter of race, color, or anything for that matter.
"This is a professional fashion event."
Erik then asked for the forgiveness of Rocky Gathercole and Resty Lagare over this incident.
He also apologized to Lebanese fashion designer, Elie Madi, who was also affiliated with Jacob.
Madi's fashion show was supposed to feature seven Filipina models—including singer Kiana Valenciano and former Miss Earth titleholder Jamie Herell—on the runway.
Erik continued, "I apologize to the amazing designers Rocky Gathercole Elie Madi, and Resty LaGare for having to cut your shows.
"This was not your fault, and perhaps you can discuss with Jacob about all the money he has been collecting from organizations to put Non-Runway models in your shows!
"Or the scam side businesses he has created utilizing your names and our event!
"Perhaps you can speak to Jacob about the fact that he is collecting money on the side, pocketing money, and collecting money from sponsors on the side, without paying us a DIME.
"WE ARE A PROFESSIONAL ORGANIZATION THAT HIRES PROFESSIONAL MODELS!
"WE DO NOT WANT YOUR DRESSES DRAGGING ON THE FLOOR JUST TO SERVE JACOBS PERSONAL SIDE BUSINESS AND SCAM SHOWROOM!"
The incident happened at The MacArthur events venue last March 12, Los Angeles time.
Erik posted his reaction earlier today, March 15, Manila time.
Read the full Facebook statement, which has since been deleted, below: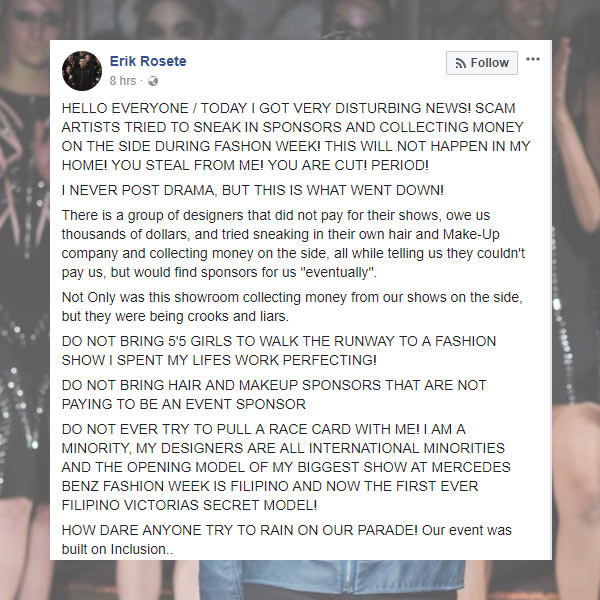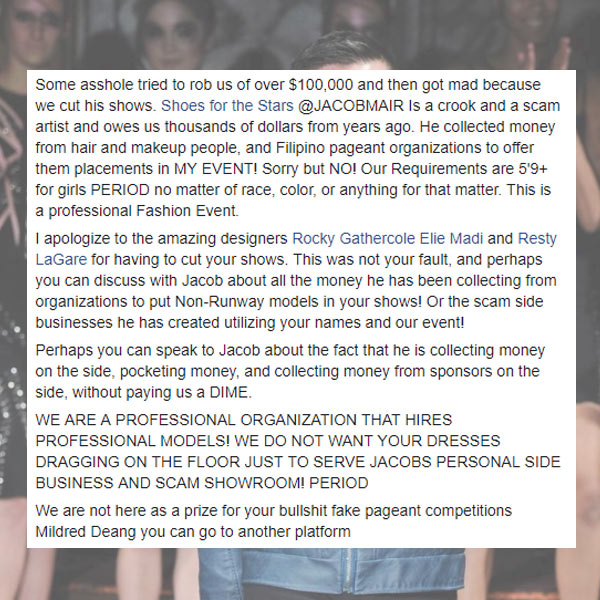 The site will readily publish any statement that will come from the people involved.