KC Concepcion has officially made her debut as a jewelry designer.
The budding entrepreneur gave the press a first look at her one-of-a-kind jewelry line, Avec Moi, at the Manila House Private Club in Bonifacio Global City,
The inspiration behind the collection?
Her late grandmother, Elaine Cuneta.
KC told the press, "I used to hate wearing jewelries because I felt like, parang maraming abubot.
"But growing up, my grandmother would get upset.
"She would lecture me on pearls, diamonds, stones, gold…"
The 32-year-old actress also inherited most of her grandmother's rings, which she wears every chance she gets.
"I always wear her rings because it feels like she's always with me.
"That's why I called it Avec Moi because 'avec moi' in French means 'with me.'
"So if you have your own piece, you will have your own stories to tell.
"When you wear those pieces, or pass them on or give them to someone, that piece will be with them wherever they go."
Each piece has been carefully handcrafted by one of the best goldsmiths in Manila.
Only the finest diamonds and precious stones have been selected for KC's designs.
They are cast in 14K and 18K yellow, rose, and white gold.
TO PARIS, WITH LOVE. KC's passion project is also a love letter to her second home, Paris.
The jewelry pieces pay homage to the Parisian architecture.
KC said, "In terms of its shape, its geometric pattern, I think maybe it's an influence of Paris.
"As a city, it was something that was visually yummy to me.
"It was delicious to see the buildings, the curves of the art deco, and I think that kind of came out also.
"I realized that it has such an effect on me.
"To be able to really live there for five years—it's where I grew up.
"I just turned 18, I left. I came back here, [I was] 23 turning 24.
"So, [the jewelry pieces] really remind me [of] all these buildings…all these shapes, bridges…"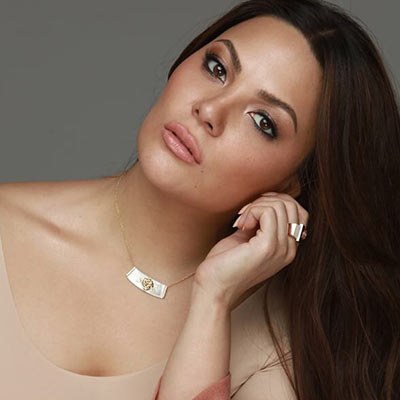 A ROSE IS A ROSE. The rose is also a central theme in KC's designs.
"Like Chanel has the camellia, Dior also has roses, and one of my favorite designers is Dior.
"So it kind of had an influence on me."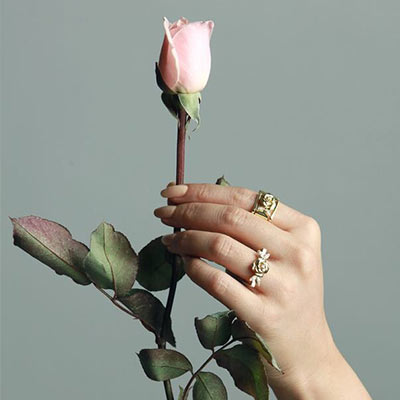 For KC, rose is a symbol of womanhood, "It feels to me, like, the rose can be both gentle and strong.
"It can be both resilient, but also so fragile.
"And when I look at roses, for me, parang I get kilig seeing roses.
"It's something that has always resonated with me.
"It's very sensual, but every rose has its thorn… It really feels to me like a symbol of a woman."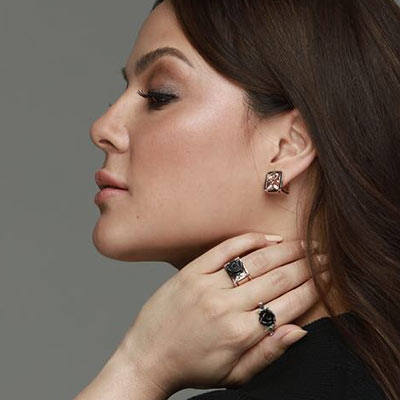 STANDOUT PIECES. Among the handcrafted pieces she designed, two are her favorites.
One is a ring made out of Mother of Pearl with a green agate band, a white diamond bud, and a handcrafted rose gold.
"This is the first I've designed," KC said. "Mother of Pearl is something I've always seen at home.
"My lola loved [it]. She has it on her chairs, she has it on her furniture, on her jewelry."
The other has black roses, and it has a story.
The black roses came to her mind at a significant moment in the making of Avec Moi.
Without delving into any details, she said, "[The] black roses were actually the last to come out.
"I tend to feel emotions extremely, black roses came out during a challenging time in my life that had to do with a relationship.
"So, I don't know, I just felt like, you know, black roses are not exactly fresh-looking or pretty. But they are beautiful as they are."
Avec Moi is a one-of-a-kind exclusive collection.