Gary Valenciano's daughter Kiana, who was born on December 21, 1992, is pretty much obsessed with everything from the '90s.
The 25-year-old singer said, "Everything about the '90s, I love so much.
"Two years in a row, a couple years back, I had 90's-themed birthdays!
"Two years in a row, I couldn't get over it. Every time I'm with my friends, I play 90's music.
"My biggest icons from the '90s are female singers..."
Courtesy of Kiana Valenciano
She named R&B singer Aaliyah, who passed away in 2001 due to plane crash, as her idol.
"I love Aliyah because at such a young age, she had a powerful impact in the music industry.
"And even though the world lost her very quickly, 'til this day, her music lives on."
Kiana added Christina Aguilera and Missy Elliot—whose popularity also soared in 2000s.
As for fashion and style, she would love to "steal" from Nicole Richie and Gwen Stefani's closets.
Kiana narrated, "Pretty much anything from Nicole Richie. I love her. She's got a way of making bohemian style look so put together.
"Gwen Stefani from the '90s, she was able rock pink hair. I can't do that, but I need that confidence, and she was able to wear outfit that...
"If you look her up on Pinterest, Gwen Stefani outfits, everything. I would steal everything for sure!"
PEP.ph (Philippine Entertainment Portal) caught up with the "Does She Know" singer at the Manila X fashion and music festival held at the Cove Manila last April 14, Saturday.
That evening, she wore a striped crop top and khaki pants.
She said about her OOTD, "The outfit that we had planned, that I had fitted to wear and everything, it was altered so I couldn't wear it.
"And this was maybe 30 minutes before the show and so, I was in the bathroom with no outfit to wear.
"And team Oxygen came through, they ran up and brought me a guy shirt. They cut it up and I wore it on stage."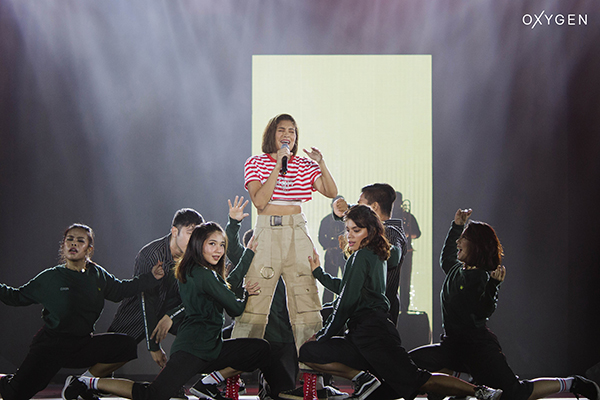 Which style trends from the '90s can't she let go of?
Kiana answered, "Boyfriend jeans, denim on denim, and those accessories that seem that they're meant for kids but let's just wear them anyway just to have fun.
"I really love the '90s style of baggy, androgynous, and even grunge."
In the last few years, some 90's trends, such as fanny packs or bum bags, have also made their comeback in the fashion scene.
She shared her neat little trick in wearing these waist bags.
"I actually don't use real fanny packs.
"My cheat is I'll use those little clutches or sling bags that are small enough and I tie them around my waist.
"So it's still fashionable, it's not baggy. It's still chic.
"Usually, I'll be going around wearing boxy-type or leather-type sling bags around my waist.
"It's very handy to not have to hold anything. It's like an extra pocket so it's still very useful.
"I wouldn't say that fanny packs are ugly or anything. I know a bunch of people who can pull it off, but I just feel like I can't so I cheat it."