French luxury fashion brand Christian Louboutin has been called out for its wrong attribution regarding Yakan weavers on its Instagram account.
Christian Louboutin recently launched its limited edition Manilacaba bags which feature textiles from Mindanaoan tribes B'laan and Yakan.
The makers of the red-soled stilettos collaborated with GREAT (Gender Responsive Economic Action for the Transformation of Women) Women ASEAN—including Felipa Manangka, a weaver from the B'laan tribe, and Angie Ilul, representing the Yakan tribe—in introducing Philippine textiles to the rest of the world.
WRONG ATTRIBUTION. One of Louboutin's Instagram posts caught the ire of Filipino heritage advocate Ivan Henares after the brand introduced Angie as one of the local weavers of Yakan tribe's textile.
In a now-deleted post featuring a photo of Angie, Louboutin's Instagram caption read: "Angie Ilul, weaver of the Yakan indigenous peoples, brings Manilacaba's vibrant embroidered panels to life."
Henares, a University of the Philippines Assistant Professor and heritage policy advocate, raised his concern on the comments section of the now-deleted Instagram post, and noted that Angie does not belong to the Yakan tribe, which hails from Basilan.
PEP.ph (Philippine Entertainment Portal) was able to save screenshots of Ivan's comments before the post was taken down by Louboutin World on Instagram.
He wrote, "Angie is not Yakan. She is from Pangasinan. She also does not weave. She is a reseller. The Yakan weavers are upset."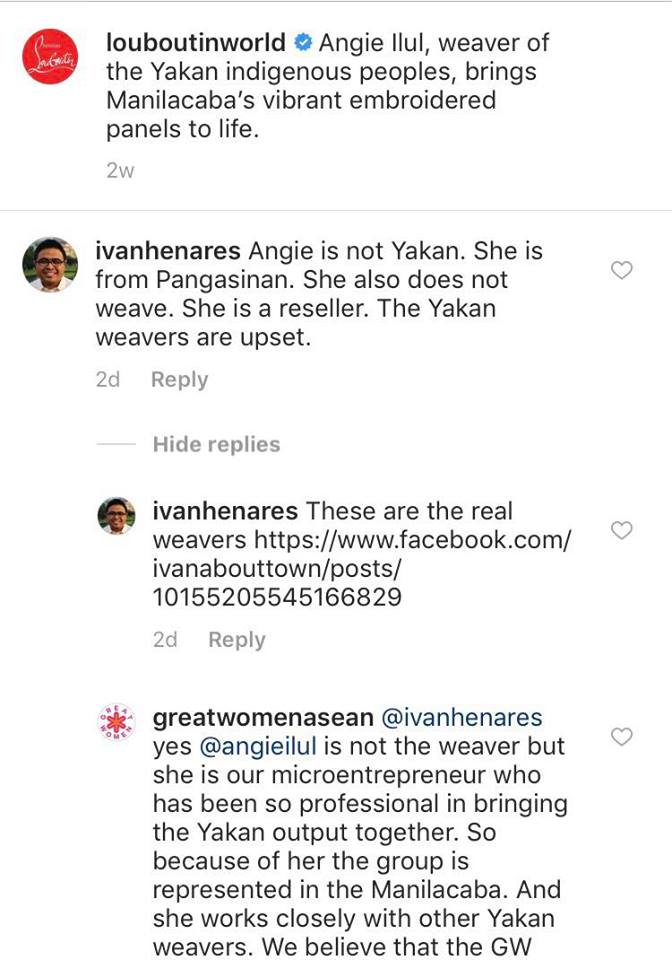 In a separate Facebook post last Saturday, May 26, Ivan revealed that Yakan weavers were disappointed about the brand's wrong attribution.
"So Louboutin posted this in their Instagram page. And the Yakan weavers of Basilan are upset.
"Now here is a cultural appropriation case study. I was told that Angie Ilul is not Yakan, but from Ilocos. Her husband is Yakan. And she also does not weave. Yakans start weaving at the age of 8 or 9. She is, according to the weavers, a reseller of the Yakan textiles.
"But Louboutin and the GREAT Women project are claiming she is a 'weaver of the Yakan indigenous peoples, [and] brings Manilacaba's vibrant embroidered panels to life.'
"The Yakan weavers are proud that their textiles made it to the Louboutin bags, but are upset that the credit for their weaves is being taken from them by someone else. I hope Angie Ilul and GREAT Women told the real story.
"If they did, the weavers wouldn't be upset at all. Does anyone have more information on this?"
GREAT Women ASEAN reached out to Ivan through the comment section on @louboutinworld's official Instagram account.
The group acknowledged the error on the Instagram post, but hoped that people would focus on the beauty of local textiles instead.
Their Instagram account with the handle name @greatwomenasean explained, "Yes @angieilul is not the weaver but she is our microentrepreneur who has been so professional in bringing the Yakan output together.
"So because of her the group is represented in the Manilacaba. And she works closely with other Yakan weavers.
"We believe that the GW supply chain for inclusive business is strong because of this.
"@louboutinworld will correct this but remember it's all about the beauty of the textiles and how it has presented our country in a wonderful light."
GREAT Women ASEAN added, "@ivanhenares thank you for this. We are very happy to show everyone who have been part of this project to the world.
"It is after all Filipino pride in collaborating with @louboutinworld @louboutinworld2k18."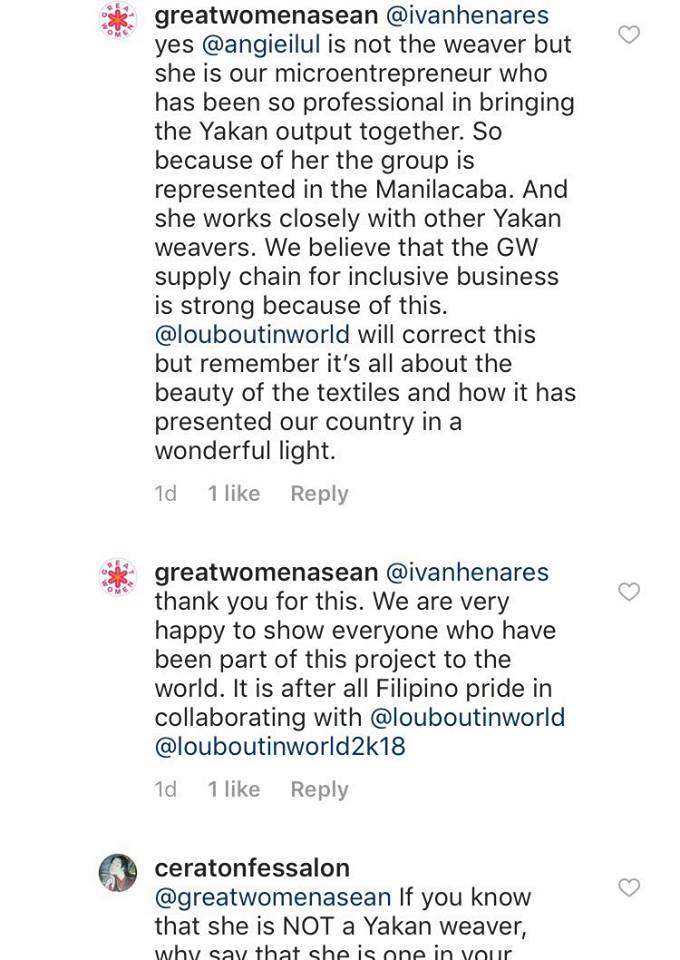 Ivan reiterated in his reply to GREAT Women ASEAN that the Yakan weavers are "upset."
He continued, "@greatwomenasean Also, I was sent a video of you claiming Anjie is a weaver at the APEC forum and the Yakan weaver corrected you."
The UP assistant professor added, "@greatwomenasean And yes, initially I was ecstatic about Philippine textiles coming out in the bags and so were the weavers.
"But when the weavers read the articles and told me how upset they were with your claims, I was extremely disappointed.
"You should not have claimed Anjie was Yakan or a weaver and this would not have happened."
In an exclusive interview with PEP.ph, Evelynda Otong, a Zamboanga-based Yakan weaver, also expressed her dismay.
She was one of the weavers who sold yards of Yakan textile to Angie, and hopes the brand would properly name the people behind the Yakan textile.
She told PEP.ph via Facebook Messenger, "Isa po ako sa 4th generation weaver ng Yakan, gusto ko po sna patas ang mga writes up.
"Kasi kmi mga Yakan weaver, bata pa po kami nag-umpisa maghabi. Iyan na bale ang kabuhayan namin.
"Bago po sana mglabas ng anumang balita dapat magresearch muna ng maayos.
"Masaya kmi dahil kilala ang produkto namin ng mga magagaling n designer, world class po tela namin.
"Sa bandang huli parang gnamit lng tribo namin, hindi po patas na balita.
"Habi philippines textile council si Sen. Legarda po pati NCCA sinusuportahan kami mga weaver.
"Puwede kami mga weaver bigyan ng pgkkataon na maging enterpreneur din po.
"Ayaw ko po kasi mga negative lalo na tribo ko pinagusapan. Dapat po yung ksmaa sa picture yung tunay na nghabi sa tela na gnamit sa bags.
"Para naman po kilala ang tunay na Yakan."
According to their website, HABI: The Philippine Textile Council aims to "preserve, promote and enhance Philippine Textiles through Education, Communication and Research using public and private resources."
Senator Loren Legarda, spearheaded the creation of Hibla ng Lahing Pilipino textile gallery at the National Museum in 2012, where the Yakan weavers showcased their craft.
The National Commission for Culture and the Arts (NCCA) regularly holds events supporting our Indigenous Peoples. In February 2018, NCCA featured on its website a profile of Yakan weaver Ambalang Ausalin.
UNFAIR TRADE? In a separate comment on the same Instagram post, Ivan mentioned that the Yakan weavers may have not received fair payment for their products.
"@greatwomenasean Also, I was sent information that you bought the textiles from them at PHP250-350 per yard.
"Imagine, just US$5-7 for 108 hours of labor since 1 inch takes 3 hours to weave! For how much did Anjie sell them to you?
"At what price did you sell them to @louboutinworld? What did the weavers get out of this? Who profited the most from their story?"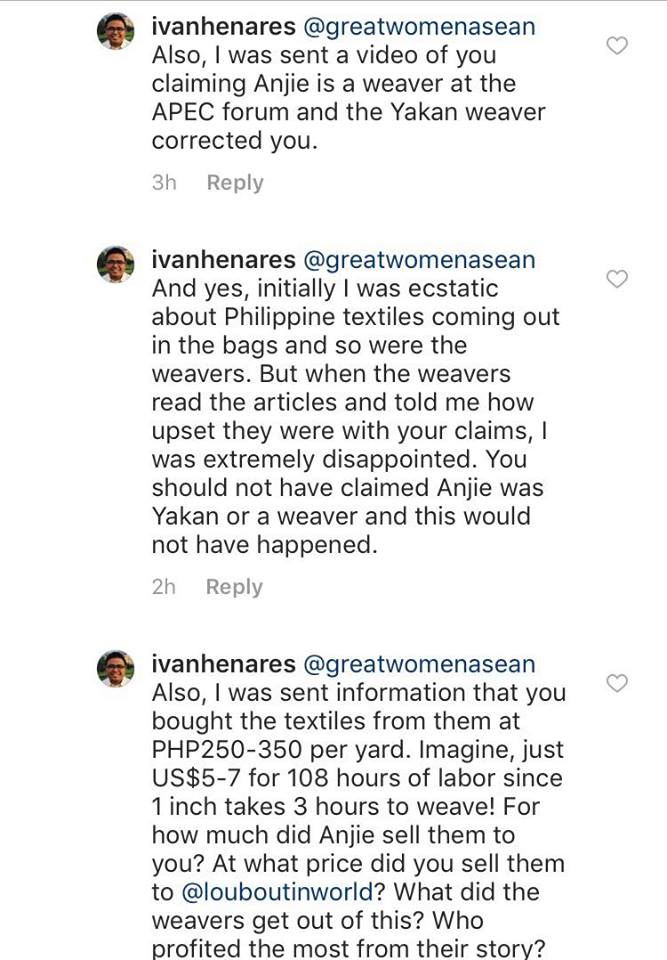 PEP.ph (Philippine Entertainment Portal) reached out to GREAT Women ASEAN through their official Facebook page to clarify the issues.
Without directly addressing Henares's points, the group released this statement:
"We are very proud of GREAT Women's collaboration with CLouboutin and all the women weavers and communities who have been part of this truly inclusive business model.
"The French designer's Manilacaba design highlighted the beautiful traditional textiles and put the Philippines in the global fashion map. This is very good news."
Meanwhile, PEP.ph also sent an email and a text message to Angie Ilul, but has not received a response. This website will update the story as soon as she gives her statement on the said issue.