Celebrity stylist Patty Yap released her official statement regarding the miscommunication with fashion designer John Herrera.
On Wednesday, June 6, John spoke to PEP.ph's (Philippine Entertainment Portal) contributing writer Rey Pumaloy, and expressed his disappointment with Kim Chiu's camp over a gown he made for the Kapamilya actress-host.
John said he was approached by the organizers of Filipino Academy of Movie Arts and Sciences (FAMAS) to design the outfits of Kim, Robi Domingo, and Piolo Pascual, who served as awards-night hosts last Sunday, June 10, at The Theatre at Solaire.
But on the day Kim was supposed to fit the dress, FAMAS Executive Producer Donna Sanchez told the designer that according to Kim's camp, the actress "will only wear it if she wants to."
Insulted, John decided to back out, and just sell the dress to "others who would value it."
In a statement sent to PEP.ph through Star Magic Publicist Thess Gubi, Patty clarified that Kim had no issue with the gown that John created, and her camp did not cause the miscommunication.
Patty's statement read: "Hello! I just would like to clarify the John Herrera issue.
"First of all, as mentioned, I did not commission him for this project. I believe he had arrangements with FAMAS about providing gowns and suits for the FAMAS hosts.
"Secondly, it was absolutely okay with Kim to wear his creation, but it was John who backed out, as mentioned on his last message.
"Lastly, I believe the miscommunication was with FAMAS and not with Kim's camp as he was coordinating everything with them, including the fitting schedule, as mentioned by him and the FAMAS representative.
"Kim is totally unaware of this; all she knows is there's a gown from John."
Towards the end of her statement, Patty affirmed that she never had a problem dealing with the 28-year-old actress every time she dresses her up for an event.
Patty said, "As Kim's stylist for three years now, I can wholeheartedly say that never once did Kim exhibit any negative attitude as to what to wear or not during an event."
The stylist ended, "I understand John's dismay, and we have so much respect for him, but I hope this clarifies the matter. Thank you."
At the awarding ceremony, Kim chose a fully-embellished rose-gold gown with a thigh-high slit designed by Benj Leguiab.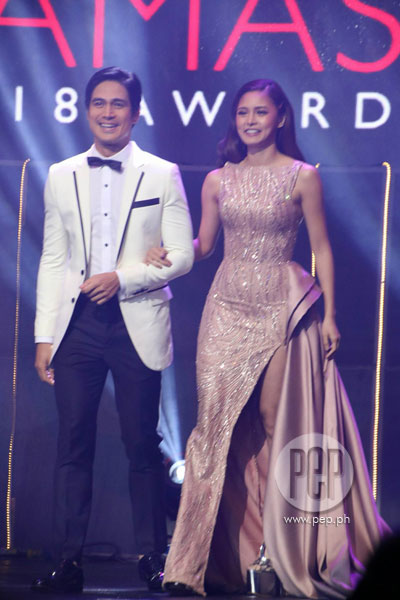 She later changed into a sleeveless white ball gown with a multi-layered fringe skirt.