"The best dreams happen when you're awake."
At 47, Kris Aquino finds herself walking down the Hollywood red carpet to grace the world premiere of Crazy Rich Asians at TCL Chinese Theatre in Hollywood.
Seeing some Filipino onlookers among crowd, she says "hi" and shakes hands with them.
On Instagram, Kris further describes the moment: "This was the reason we made the effort to be here...it is my honor to proudly represent the Philippines.
"Maraming salamat po sa effort niyo to show your love & support! #kaysarapmagingpilipino"
She will be the film's "highlight," according to Crazy Rich Asians author Kevin Kwan, and her presence on the red carpet is definitely remarkable.
The "Filipino pride" picks a classic modern Filipiniana by Michael Leyva in her signature color, yellow.
Her diamonds are from Diagold jewelry.
Her makeup is done by RB Chanco, while her bun is courtesy of LA-based Filipino hairtsylist Pin Antonio.
She also had a choice of and tried these beautiful gowns designed by Michael Leyva and Francis Libiran.
In her interview with TV5 reporter MJ Marfori, Kris revealed why she picked Michael Leyva's Maria Clara-inspired design.
"The reason why I chose this is because of the yellow ribbon. I just felt that this would be so symbolic for me to be able to honor my parents."
Kris is the youngest child of former Senator Benigno Simeon "Ninoy" Aquino Jr. and former President Corazon "Cory" Aquino.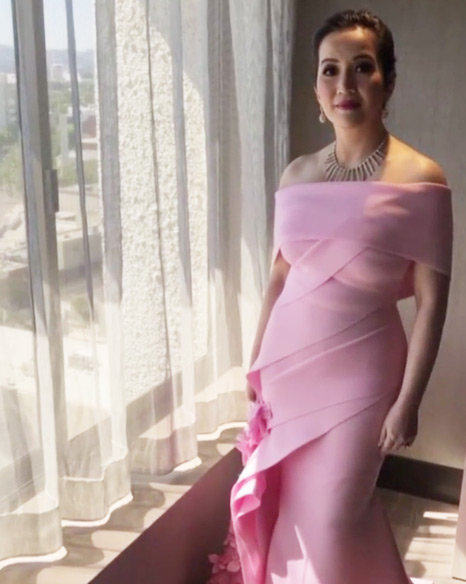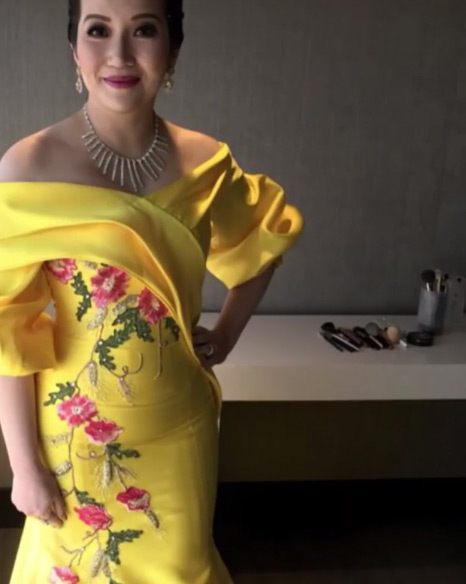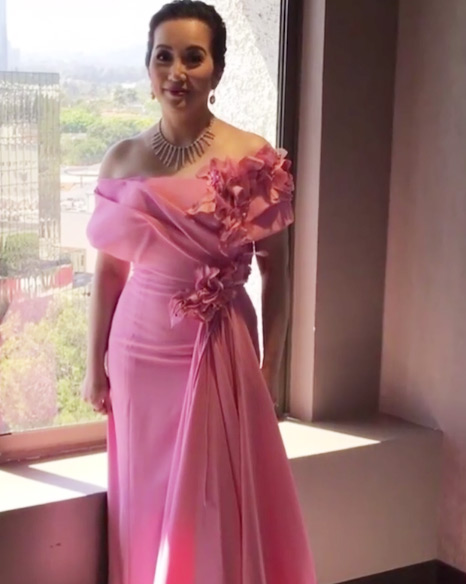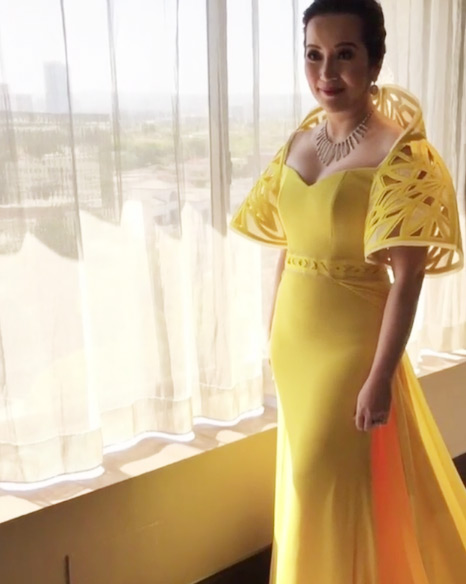 The host-actress is accompanied by her son Bimby, who is a bit concerned about the plunging neckline of his mom.
Nonetheless, he says, "I am happy," referring to Kris's proud moment.