Ryan Agoncillo and Judy Ann Santos have turned the latter's famous Angrydobo into a restaurant, which will open in May on Taft Avenue, across De La Salle University.
The couple invited their closest friends to their pop-up kitchen featuring their tasting menu on April 24, at the Viking Range Showroom in Alabang.
Spotted were photographer Raymund Isaac, ABS-CBN executive Biboy Arboleda, China Cojuangco and husband Chef Gino Gonzalez, Chef Gene Gonzalez (who is Juday's mentor), Eat Bulaga! Dabarkads Pauleen Luna and Pia Guanio (who came with husband Steve Mago), fashion designers Paul Cabral and Rajo Laurel, and Ryan's manager Noel Ferrer.
Ryan's brother and business partner Dondee Agoncillo and his wife Maloo also came.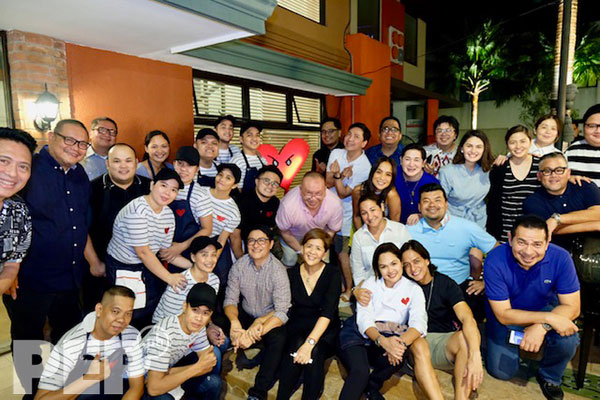 The "patikim" started with appetizer, Angrydobo Nachos Fully Loaded and Cheesy Sweet Potato Fries, followed by main course choices Angrydobo Classic, Angrydobo Chicken, Angrydobo Short ribs, and Angrydobo Sardines with Egg.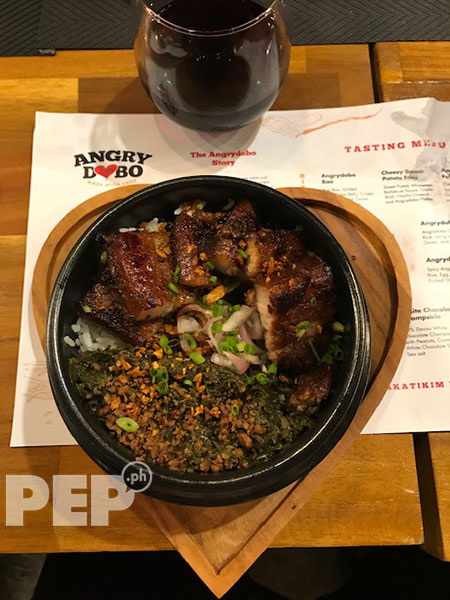 The dessert was a choice between Dark Chocolate Champsicle or White Chocolate Champsicle, while the drinks offered were Tamarind Iced Tea and Green Mango Shake.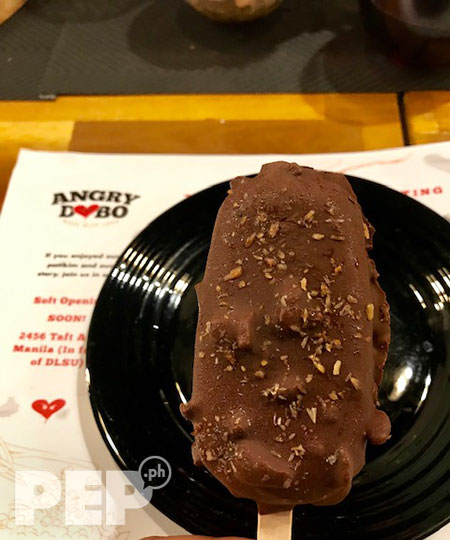 Angrydobo came about 14 years ago, and was "made with love" even if Ryan and Judy Ann, who, at the time, were not husband and wife yet, were having lovers' quarrel.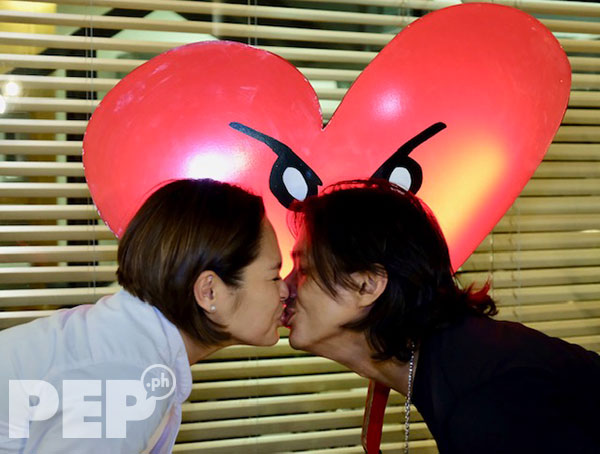 The story was recounted by the host on his Instagram last February 24, and was reprinted on the restaurant's menu.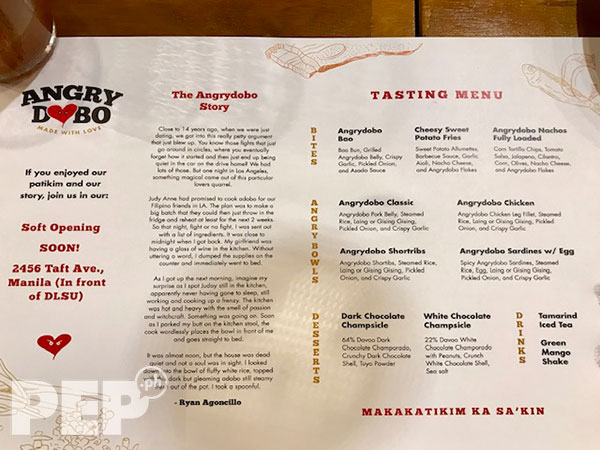 "Close to 14 years ago, when we were just dating, we got into this really petty argument that just blew up. You know those fights that just go around in circles, where you eventually forget how it started and then just end up being quiet in the car on the drive home?
"We had lots of those.
"But, one night in Los Angeles, something magical came out of this particular lovers quarrel.
"Judy Anne had promised to cook adobo for our Filipino friends in LA.
"The plan was to make a big batch that they could then just throw in the fridge and reheat at least for the next 2 weeks. So that night, fight or no fight, I was sent out with a list of ingredients.
"It was close to midnight when I got back. My girlfriend was having a glass of wine in the kitchen.
"Without uttering a word, I dumped the supplies on the counter, and immediately went to bed.
"As I got up the next morning, imagine my surprise as I spot Juday still in the kitchen, apparently never having gone to sleep, still working and cooking up a frenzy.
"The kitchen was hot and heavy with the smell of passion and witchcraft.
"Something was going on.
"Soon as I parked my butt on the kitchen stool, the cook wordlessly places a bowl in front of me and goes straight to bed.
"It was almost noon, but the house was dead quiet and not a soul was in sight.
"I looked down into the bowl of fluffy white rice, topped with this dark but gleaming adobo still steamy fresh out of the pot.
"I took a spoonful."