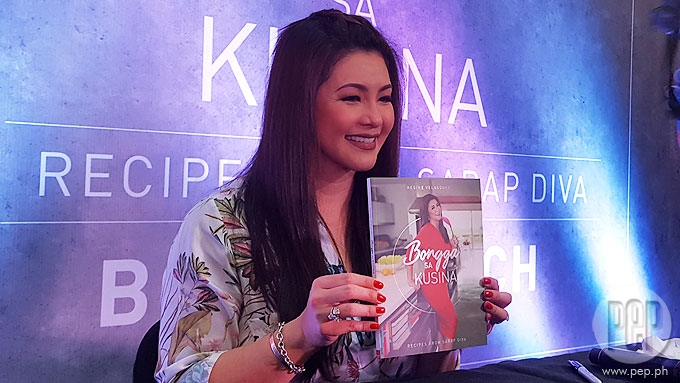 IMAGE Nerisa Almo
---
Regine Velasquez merely wanted to impress her husband, Ogie Alcasid.
It never occurred to her that cooking will pave the way for an opportunity outside her singing career.
Thus, whenever she's not holding a microphone, the Asia's Songbird is working with her ladle to make delicious dishes for her family.
"Hindi ko nga inakala 'yon na I'll have a recipe book and a cooking show.
"Kasi, I didn't know how to cook before, ni hindi ako marunong mag-boil ng tubig.
"Maski siguro tubig, masusunog ko," says Regine at the launch of her recipe book Bongga Sa Kusina on Sunday, July 19.
She continued, "But because I wanted so much to take care of my husband, siyempre, nagpapa-cute-pa-cute lang ako sa asawa ko, kinarir ko ang pagluluto and I actually loved it."
"So now, GMA is very supportive sa bago kong passion, which is cooking, they gave me nga Sarap Diva.
"Now, we have this cookbook. Sarap Diva has been on air for four years now.
"We've collected recipes and this is it. Natutuwa ako na kasali ako sa isang cookbook."
According to the Pinay Diva, the first dish she ever learned to cook was Puttanesca.
"Siguro one of the things na unang-una kong natutunan iluto is pasta... Kasi, it's so easy to prepare, ilagay mo lang lahat, boil ka lang ng pasta 'tapos gisa-gisa, 'tapos lagay mo roon, puttanesca na 'yon, e.
"Basically, that's how I started, nagbe-bake ako ng fish, naglalagay ako ng kung anu-anong herbs."
But she went through experiments, trial and error, before she became a confident cook.
"At the beginning, a lot of it were experimental, not all were successful and not all were edible.
"But then, as you mature, parang practice lang din 'yan. you have to keep cooking and then masasanay ka.
"Then, you can come up with dishes na hindi mo alam kung saan nanggagaling.
ADVERTISEMENT - CONTINUE READING BELOW
"You just need to find your inspiration and mine is my family, my husband."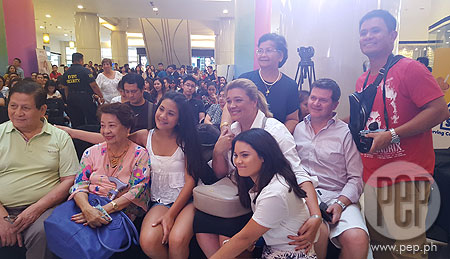 Regine Velasquez receives full support of her family
during the launch of her recipe book Bongga sa Kusina.
Now that her passion for cooking has gotten more serious, is putting up a restaurant part of her plans?
"To put up a restaurant, that's a dream," said Regine.
"But to actually do it, I don't think I can.
"No, at least not right now because I still have a four-year-old, and I'm still busy with my career.
"Siguro later on, kapag medyo may time...
"Kasi, if you have a restaurant, you have to devote a lot of your time now, it's like a baby also.
"So right now, I don't think that's possible for me to do."
She even joked in the end, "Later on in life at saka kapag mayroon na kaming pera to put up a restaurant."
SHARE THIS STORY Bongga sa Kusina recipe book" to list of accomplishments" data-url="https://www.pep.ph/lifestyle/food/33661/regine-velasquez-adds-author-of-embongga-sa-kusinaem-recipe-book-to-list-of-accomplishments" data-desc="Cooking has done a lot of wonders to Regine Velasquez!" data-image="https://contents.pep.ph/images2/writeups/2016-07-18_22:44:30_REgine-Velasquez.jpg"> Bongga sa Kusina recipe book" to list of accomplishments" data-url="https://www.pep.ph/lifestyle/food/33661/regine-velasquez-adds-author-of-embongga-sa-kusinaem-recipe-book-to-list-of-accomplishments" data-desc="Cooking has done a lot of wonders to Regine Velasquez!" data-image="https://contents.pep.ph/images2/writeups/2016-07-18_22:44:30_REgine-Velasquez.jpg"> Bongga sa Kusina recipe book" to list of accomplishments" data-url="https://www.pep.ph/lifestyle/food/33661/regine-velasquez-adds-author-of-embongga-sa-kusinaem-recipe-book-to-list-of-accomplishments" data-desc="Cooking has done a lot of wonders to Regine Velasquez!" data-image="https://contents.pep.ph/images2/writeups/2016-07-18_22:44:30_REgine-Velasquez.jpg">
SHARE THIS STORY
Bongga sa Kusina recipe book" to list of accomplishments" data-url="https://www.pep.ph/lifestyle/food/33661/regine-velasquez-adds-author-of-embongga-sa-kusinaem-recipe-book-to-list-of-accomplishments" data-desc="Cooking has done a lot of wonders to Regine Velasquez!" data-image="https://contents.pep.ph/images2/writeups/2016-07-18_22:44:30_REgine-Velasquez.jpg"> Bongga sa Kusina recipe book" to list of accomplishments" data-url="https://www.pep.ph/lifestyle/food/33661/regine-velasquez-adds-author-of-embongga-sa-kusinaem-recipe-book-to-list-of-accomplishments" data-desc="Cooking has done a lot of wonders to Regine Velasquez!" data-image="https://contents.pep.ph/images2/writeups/2016-07-18_22:44:30_REgine-Velasquez.jpg"> Bongga sa Kusina recipe book" to list of accomplishments" data-url="https://www.pep.ph/lifestyle/food/33661/regine-velasquez-adds-author-of-embongga-sa-kusinaem-recipe-book-to-list-of-accomplishments" data-desc="Cooking has done a lot of wonders to Regine Velasquez!" data-image="https://contents.pep.ph/images2/writeups/2016-07-18_22:44:30_REgine-Velasquez.jpg"> Bongga sa Kusina recipe book" to list of accomplishments" data-url="https://www.pep.ph/lifestyle/food/33661/regine-velasquez-adds-author-of-embongga-sa-kusinaem-recipe-book-to-list-of-accomplishments" data-desc="Cooking has done a lot of wonders to Regine Velasquez!" data-image="https://contents.pep.ph/images2/writeups/2016-07-18_22:44:30_REgine-Velasquez.jpg">