Takeru Kobayshi is a living legend in the competitive-eating circuit.
Back in 2001, the Japanese professional competitive eater made history after joining the world-famous Nathan's Hot Dog eating competition in U.S.A.
Then first-timer Takeru broke the standing record of 25 hotdogs eaten in 12 minutes with 50 hotdogs in 12 minutes.
That became Takeru's first world record and his first out of six victories in the contest.
To date, he holds multiple competitive-eating records,which includes eight Guinness World Records.
And at the successful HISTORY Con Manila 2017, which ran from August 10 to 13 in World Trade Center Manila, the living legend added two more records to his resume.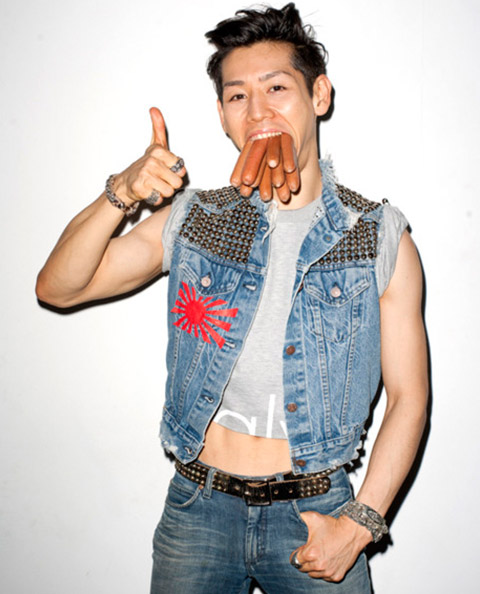 WORLD RECORD IN MANILA. Takeru took on the challenge of eating the most amount of sisig under two minutes, and finished 15 plates or 2.3 kilos of sisig.
Takeru's trick: "I train…just drinking water."
The 39-year-old professional competitive eater told PEP.ph (Philippine Entertainment Portal) in a short exclusive interview. "Drinking water strengthens my stomach."
Apart from sisig, he also managed to eat 14 Zark's Burgers and five-and-a-half 12-inch pizza both under two minutes.
Despite the insane number of hamburgers, pizza, and hot dogs he has so far eaten, Takeru actually maintains a fit figure.
He takes off the excess pounds from competitive eating by "running" and "working out" for "about four times a week, about two hours."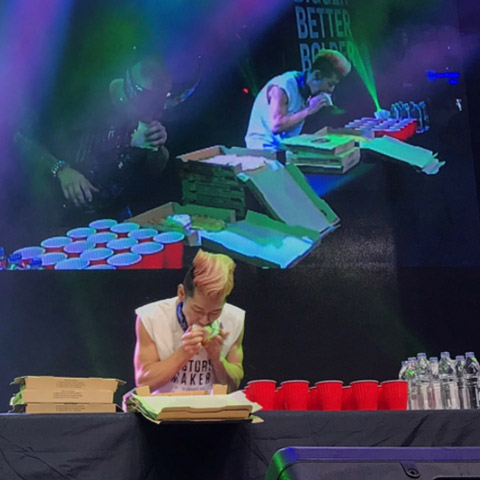 CRAZIEST FOOD EATEN. When asked what was the dish that made Takeru realize that he could eat more than what's average, he answered, "Japanese curry rice."
He added, "It wasn't for a food competition...I ate more than five kilos of curry rice."
But when it came to the craziest dish he ever ate for a competition, Takeru quickly said "cow brains."
He continued, "It's a good challenge… Because it looked gross, it looked disgusting!"
Was there any food that he would never eat?
Takeru promptly replied, "Bugs, insects.
"But in my town in Nagano, we eat insects actually. Grasshopper!"