He makes women swoon with that perfect mustachioed smile.
Did you know that this family man and actor also plays golf and basketball, does extreme sports, rides big bikes, goes scuba diving, sailing and fishing, flies planes, and even paraglides?
But he still has some surprises up his sleeve! Here are four surprises about Ian that will make fans adore him even more:
1. He paints.
Ian has already mounted successful solo exhibits of his own art. He takes after his father Roy Veneracion, a painter by profession.
Ian shares, "Mula bata ako, I would see my father paint, and he would give me my own canvas, and we would paint.
"Painting has always been a part of my life. It's an outlet. It's very good therapy for me. It keeps my sanity!
"I'd probably try to describe in color and composition the taste of a mango rather than give you the shape and the color, because to me—to me lang personally—it's boring... So I'd rather express it differently!"
2. He's affectionate.
Ian may be a very busy man, but he makes it a point to tell his wife Pam at least three times a day that he loves her.
He also regularly makes time for his three kids: Draco, Deirdre, and Buccio.
"More than my work—more than anything, I mean—family, for me, that's the whole thing," Ian says. "That's my anchor, so everything else is just there to complement family life. Not the other way around!"
3. He has found a new groove.
Ian discovered dancing when shooting this MAGGI® TV commercial:

Ian says about the experience, "I had fun doing it. And even my kids, when they saw it na, they were laughing, kasi nga they know that I hated dancing.
"But there, sabi nila, you look like you had so much fun.
"Sabi ko, yeah, surprisingly I did!"
4. He cooks for his family.
"Of course I cook for my wife," Ian says.
He also likes cooking sinigang, especially for his kids, "They just love the sabaw pa lang with rice. Solve na sila." he says.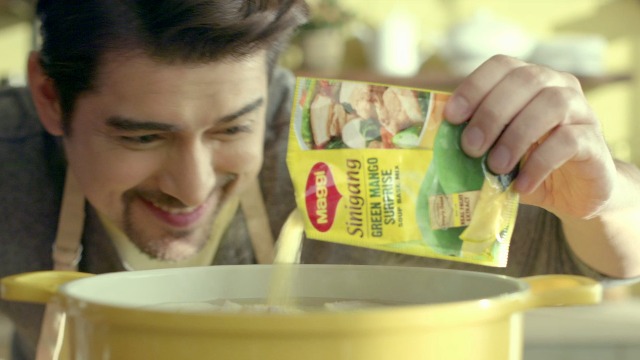 Ian gives his sinigang a surprising twist by using MAGGI® SINIGANG GREEN MANGO SURPRISE. It's made with real fruit extract, "at may natural na asim ng green mangoes," he adds.
MAGGI® SINIGANG is also available in Pineapple Surprise.
Catch more of Ian's #SurprisingSinigang stories on Facebook, Twitter, and the MAGGI® website.
This article was created by
Summit Storylabs
in partnership with MAGGI Sinigang.