These exercises can make your pata leaner and butt firmer
Summer is here!
It's time to give the shapeless dress and loose pants some rest, and go for leg-revealing clothes.
To wear shorts with confidence, PEP.ph (Philippine Entertainment Portal) gets Fides Gimenez, a CrossFit Level 1 trainer from Avant Garde CrossFit, to demonstrate a series of fitness exercises designed to address common problem areas.
The second set targets the lower body, particularly the legs, thighs, and butt. It works out the hamstrings and quads for shapelier legs and slimmer thighs. It will also help tone the glutes to form a rounder butt.
There's no equipment needed, just any elastic loop or resistance band.
For each exercise, Coach Fides says one must do 15 to 20 reps; rest for 20 to 30 seconds; repeat the series four times.
Check out these easy-to-follow exercises as demonstrated by Coach Fides:
BANDED DEADLIFTS
For this movement, remember not to squat down. Instead, send your butt back like you're closing a door using your butt.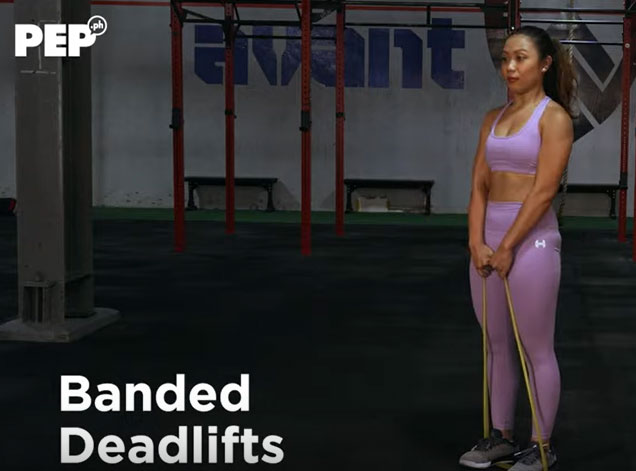 BANDED SQUAT JUMPS
As you squat down, make sure to point your knees out, so that they're tracking your toes. As you jump up, squeeze your glutes to maximize the benefit of this exercise.
BANDED SIDE SIDE STEP SQUATS
Stand straight with your feet next to each other, and squat down partially. As you step to your right, keep your knees bent and go back to the center, and repeat the same movement for your left side.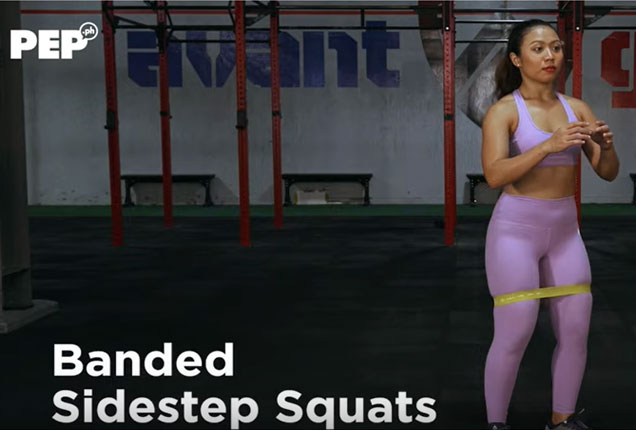 BANDED SQUAT JACKS
Jump to a wide squat stance and squeeze your glutes together as you bring your feet closer.
MORE FITNESS TIPS FROM COACH FIDES
How often should one work out?
According to Coach Fides, a newbie gymgoer can start by working out three times a week consistently for one hour, with rest days in between.
For those with more gym experience, they can go from four to five times a week, with rest days on the third or fourth day.
Coach Fides points out, though, that the frequency also depends on the workout program that one follows.
As for workout garb, she recommends wearing snug fit clothes to be able to move comfortably and a pair of close-toed rubber shoes.
Coach Fides also suggests using high-quality workout gear, such as glute bands from Dominion Fit.
For more workout tips and personal coaching, follow Coach Fides on Instagram. She also teaches Booty Strong, a group class specifically geared towards having a shapely butt, at Pole Dolls Dance Studio.