Year 2013 was the year Andi Manzano became Mrs. GP Reyes.
She recalled, "I was crying my whole wedding."
But those tears of joy were not solely due to finding the one.
Her mom had just finished her bout then against cervical cancer.
TESTIMONY. Andi is the eldest among five children of Rose Manzano, who has led a pretty healthy lifestyle.
At the launch of GlaxiSmithKline's "You Can and You Will" campaign against cervical cancer, held on May 3, at the Fairmont Makati hotel, Rose said, "I eat right. I work out regularly."
Five months before Andi's wedding, Rose started bleeding.
She initially thought, "I was going to menopause."
Nonetheless, she called her cousin, who's an OB-Gynecologist, who asked her to see him immediately.
She had a pap smear, and, "He [OB-Gyn] already could feel the tumor."
Rose was diagnosed with Cervical Cancer Stage 1B2.
She became emotional while recounting how she felt after hearing the diagnosis.
"My world crashed. Everything did not seem important. My kids, my family…"
For Andi, it was a devastating news.
But she had to remain strong and put on a brave front for her siblings.
And though she was already busy with her wedding preparations, she dutifully accompanied her mom to the hospital and was there beside Rose when she underwent her chemotherapy sessions.
Almost in tears, Andi said, "It was the thought of losing her, and each day then was so precious to me."
The treatment went on for about three months.
That episode taught Andi and her mom a lot of things, and one valuable lesson was: there are ways to protect yourself and your loved ones.
TEN THINGS YOU SHOULD KNOW ABOUT CERVICAL CANCER. Now if you are (or know) a woman who is sexually active, do not leave this page. These facts might save your (or her) life.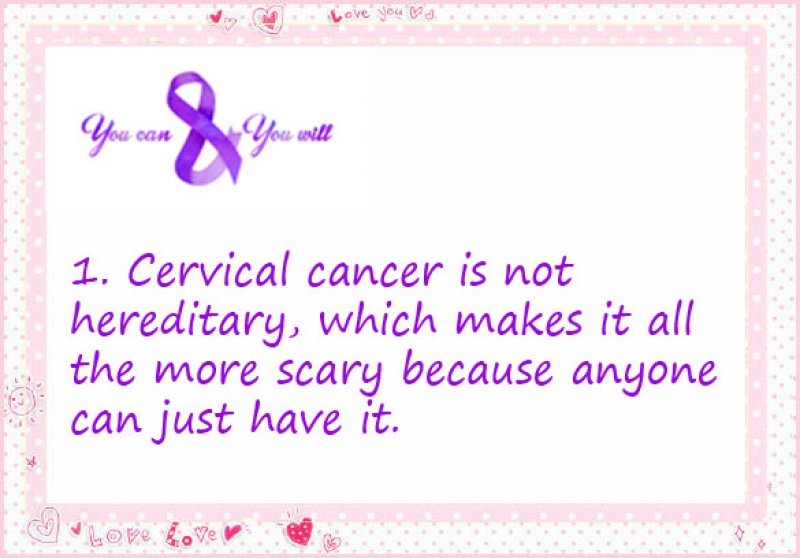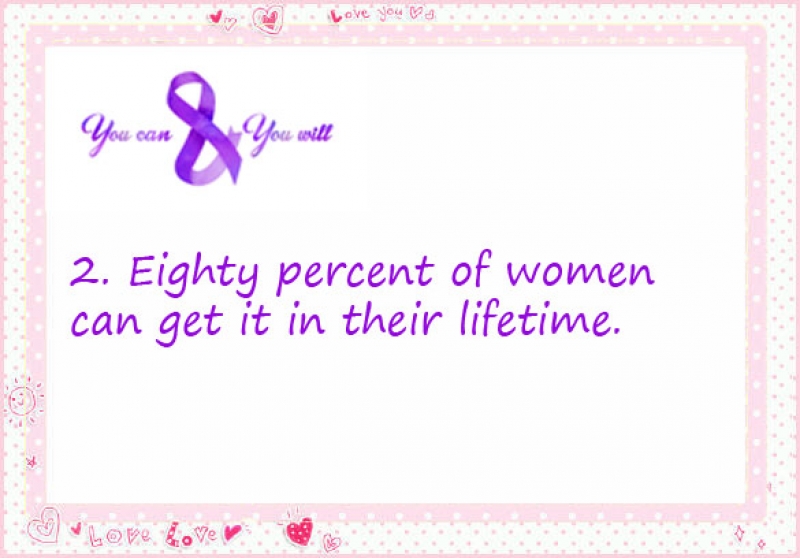 How and where? Not from poor hygiene or sanitary pad or a towel used by a Cervical Cancer patient.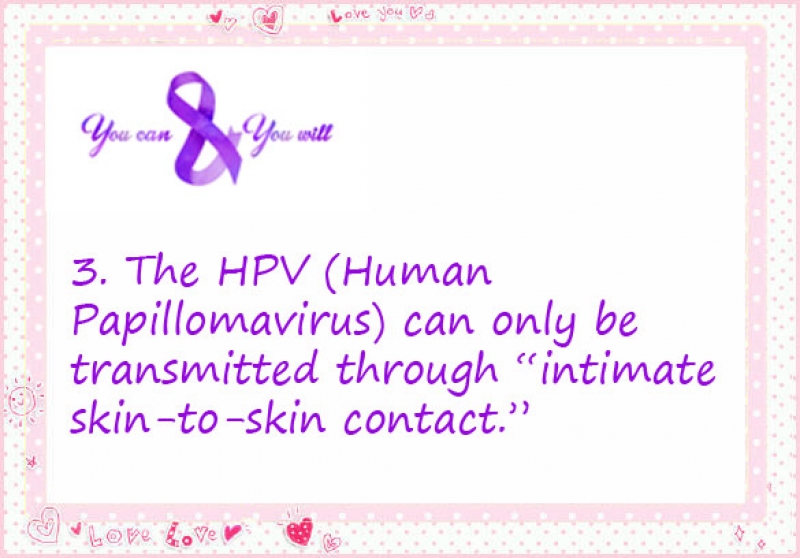 This means that as soon as you become sexually active, you become a candidate, even if it's just one-time sex.
Those who smoke, have sexual intercourse at a young age, have given birth several times, have or have had sexually-transmitted diseases are at risk.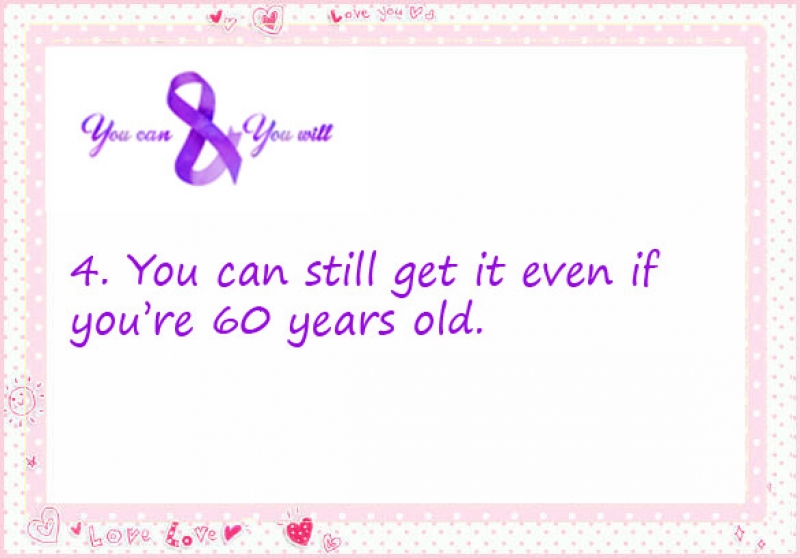 The premise here is: you had a sexual contact several years ago.
Dr. Anna Marie Ignacio-Alensuela, Chair Committee on Reproductive Health of Philippine Obstetrical and Gynecological Society explained, "Virus is unrecognized. If you were exposed to HPV before, it's a risk for the rest of your life, if it persist, for 10 to 15 years."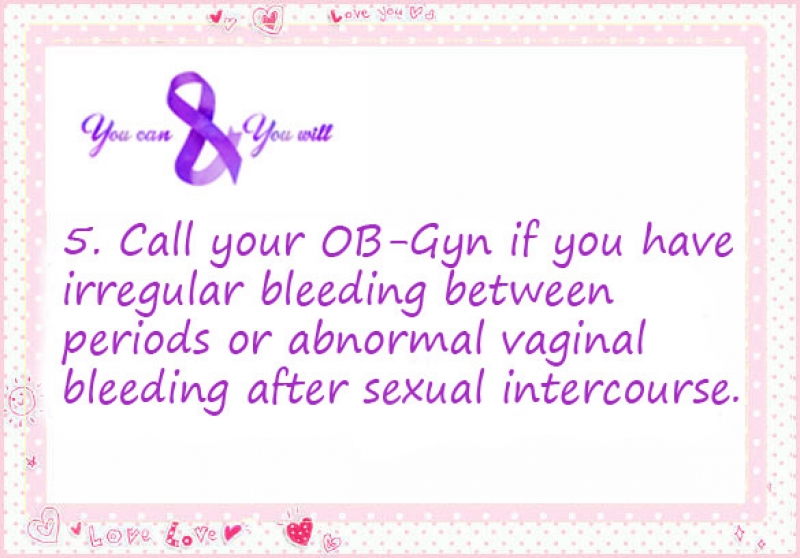 Other symptoms: back, leg, or pelvic pain, fatigue, weight loss, loss of appetite, vaginal discomfort or odorous discharge, and a single swollen leg.
They usually happen when you already have the Big C.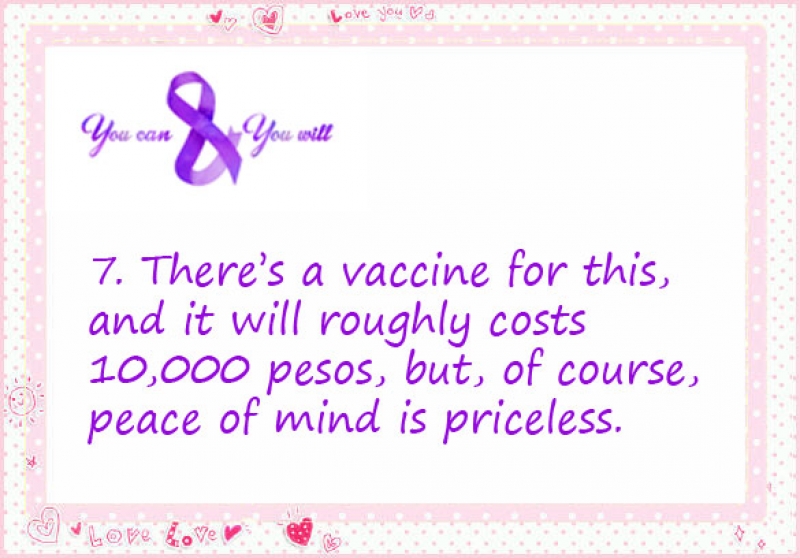 Note: the cost of treatment for cervical cancer would range from 180,000 to 400,000 pesos.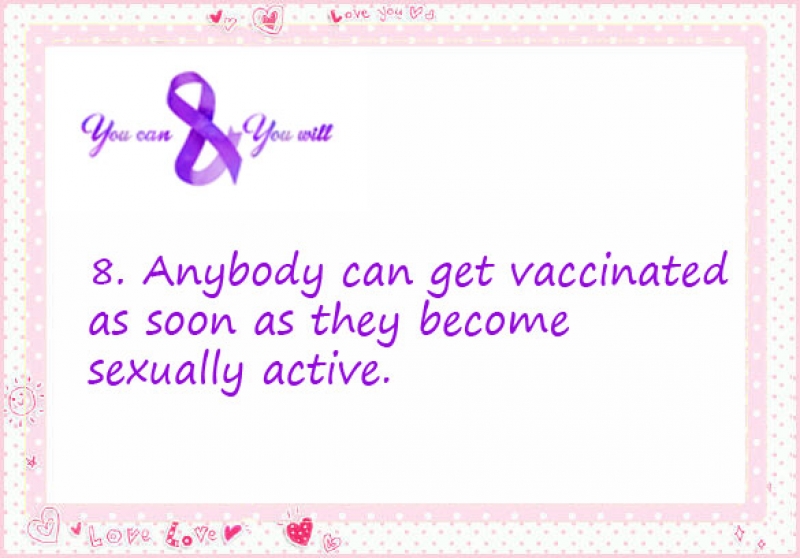 Doctors said "as early as nine years old."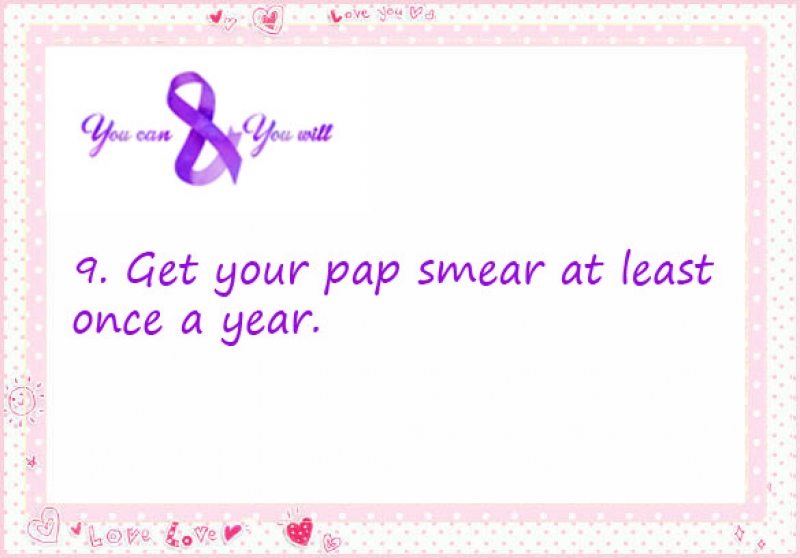 It's just uncomfortable, not painful.
And please tell the women in your barangay that health centers have cheaper alternatives for screening.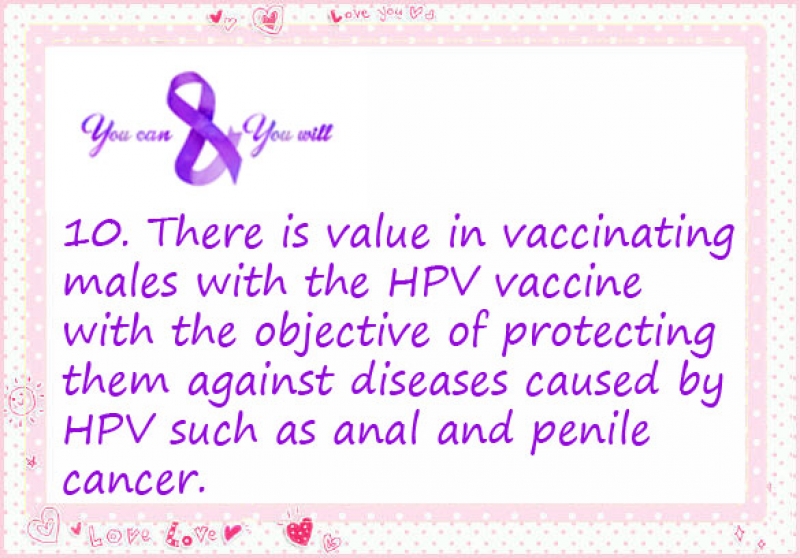 Andi summed things up, "Anybody can get cervical cancer so it's better to get vaccine, to have screening, to get your pap smear every year.
"And, you know, do it for yourself. Do it for the people you love.
"…anybody can get it. If you're sexually active, you had sex once even when you're young, you can get it.
"Actually, 80 percent of women actually get it, and seven people die every year, and only nine percent of the women in the Philippines get pap smear or they get checked, so we gotta increase that, we gotta spread the word, so get vaccinated."
And to the women who have been diagnosed or have a family who is presently fighting the disease, she left encouraging words.
"Tough, I know, it's very tough. I've been through that. So if your mom is going through it or if you are going through it, you have a friend going through it, you know it's best to encourage them.
"It's really spreading the word, and you'll never know until it's there.
"Sometimes it just hits you all of a sudden and then next thing you know you have cervical cancer.
"So my encouragement will just be, just pray, go through all these facets.
"I know it's difficult, I know it's tough, but you gotta do it for the people you love and yourself."