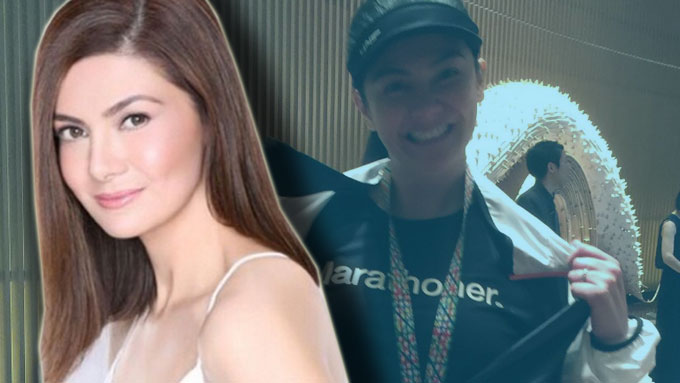 IMAGE @itsmecharleneg and @agamuhlach317 on Instagram
---
Charlene Gonzalez ticked off an item from her bucket list, yesterday, February 26, 2017, as she successfully finished her first-ever 42-kilometer run at the Tokyo Marathon, one of the biggest marathons in the world.
Sharing her feat was Aga Muhlach, her husband.
Earlier today, the TV host and actress related her experience via Instagram.
She wrote, "It was a dream come true for me yesterday to be part of the Tokyo Marathon 2017.
"Since it was my first time to do a marathon.
"I did not know what to expect.
"I'm truly thankful I was able to cross the finish line feeling good and I finished safely with God's grace."
Along with her short story was a photo of her finisher medal.
The beauty queen stills feels "kilig" to see her "name on the wall as an official runner for the Tokyo Marathon 2017."
This recent triumph would not have been possible without the help of her mentor, running coach Ken Mendola.
ADVERTISEMENT - CONTINUE READING BELOW
In another post, she said, "I just want to give a special shout out to the best running coach.
"I thank you for your patience, guidance and wisdom you shared with me.
"You have a gift to inspire and make the runner come out in anyone."
She added, "It was an honor to run along side of you for the Tokyo Marathon 2017.
"Thank you for helping me achieve one of my bucket lists."
Cheering for her at the finish line was her hubby and Ken's wife Clare Mendola. 
Prior to her first full marathon, Aga could not contain his excitement and happiness for Charlene.
Watch how Aga encouraged her during the send-off.
To those who wondered where Charlene was during the Miss Universe pageant here in Manila, the Miss Universe-Philippines 1994 was "quietly" training for her marathons.
Three days before the coronation night held on January 30, she was spotted training in Las Vegas.
ADVERTISEMENT - CONTINUE READING BELOW
Here's her husband's post: "Training for her 1st Marathon @itsmecharleneg and me training for lunch!"
Prior to this, the celebrity mom joined two half-marathons with her husband.
First was the National Milo Marathon held on July 31, 2016; second was the Los Angeles River Half-Marathon held on December 5, 2016.
Congratulations, Charlene!